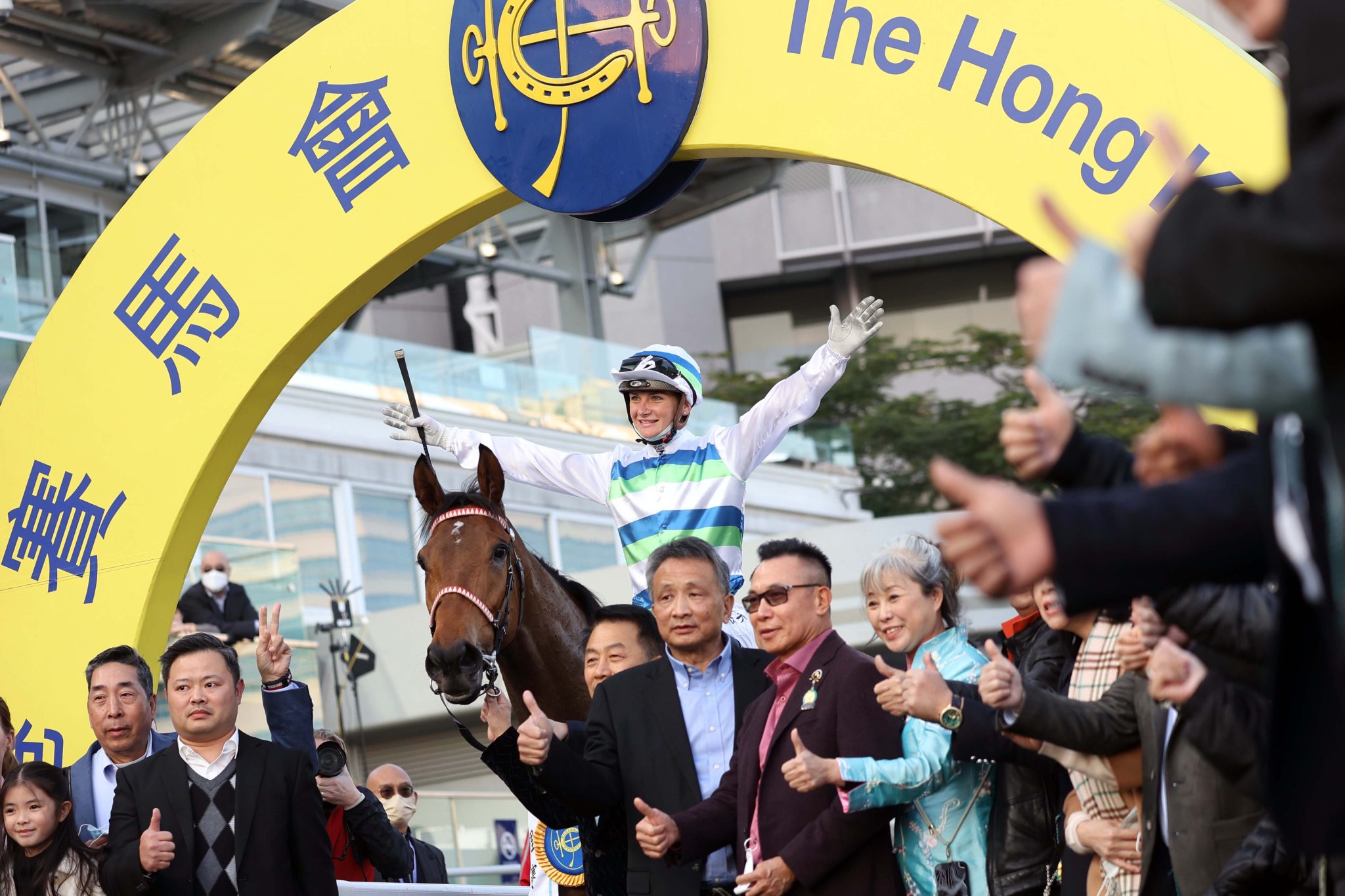 Jamie Kah savoured sweet victory at Sha Tin on Sunday aboard Voyage Bubble in the HK$12 million Hong Kong Classic Mile (1600m) for trainer Ricky Yiu.
Rated beautifully in the lead by Kah, the 26-year-old found the front and that was where she remained aboard the Deep Field gelding – extending over the closing stages to prevail in the first leg of Hong Kong's three-race Four-Year-Old Classic Series ahead of Tuchel and Packing Treadmill, clocking a winning time of 1m 34.58s.
"I'm pretty speechless, it's been a very special day. I've had such a great experience here with some beautiful horses I have ridden. I was speechless after and I got goosebumps – it's hard to make me speechless, it was a very exciting day," Kah said.
Challenged late by Tuchel and Luke Currie over the concluding stages, Voyage Bubble dug deep under the Australian's urgings to post an official margin of one and a quarter lengths.
2023 Hong Kong Classic Mile Replay – Voyage Bubble
"He was mapped to get a really nice, sweet run in the race and I was confident. I was just worried about him late as he has the tendency to lay in and I just thought something's going to swoop him late but he just built and built, he got stronger and stronger and probably at the 200 (metre mark) I thought we were never in doubt – it was a really impressive win going forward," Kah said.
The triumph was Voyage Bubble's second over a mile in as many starts and Kah is buoyant of his ability to continue raising the bar across the remaining two legs of the Four-Year-Old Classic Series.
"I was a bit concerned, he actually sat back in the gates and missed the start. I definitely didn't want to get in behind them and I had to use him a little bit but then he comes back to you and that's why I think he'll get further.
"Because in front I could have gone a lot slower than that, I think he is still a free-rolling horse but over further I think he's going to have that tactical change-up speed and I think that's going to win him races over a trip if I can bring him back and get him to settle – he's very easy to ride," Kah said.
Yiu will set Voyage Bubble for next month's HK$12 million Hong Kong Classic Cup (1800m) – the second leg of the Four-Year-Old Classic Series – with Kah engaged to ride once more on February 26. The third and final leg is the Hong Kong Derby (2000m) on March 19.
"For the time being, I think the mile would be his best trip. It'll (Hong Kong Classic Cup) be a bigger task for him but we will go for it, I think he keeps improving. We have to take a chance, mile or 1800 (metres), he has a lot of improvement in him and I have a lot of faith in this horse," Yiu said.
Today's victory was Voyage Bubble's fourth of his career and enhances his earnings to HK$10.61 million. He also collected a further HK$1 million bonus for the Sunshine And Moonlight Syndicate.
"I was a bit unsure before today but after today I think if he can get the run nice and cheaply in front like he did then further is not going to worry him, he was only getting stronger on the line and he has a few little quirks to iron out too, so with a bit more racing and maturity he'll turn into a better horse," Kah said. "He's a very easy horse to ride and that's what wins races in the end."
The win capped a double on the programme for Kah, who earlier scored atop Royal Bomb in the Class 3 Able Friend Handicap (1650m, dirt) for trainer Caspar Fownes.
"It's a beautiful racecourse (Sha Tin), I've only ridden at Happy Valley and it's a very similar track to Flemington here, it feels like riding at home – it's a beautiful surface, a really big track and it gives every horse their opportunity and I've had a great day of racing here today.
"I might be racking up some frequent flyer points soon, I'm very happy with today and I'll be back for sure, especially for the bigger races, I'll make time to come back because I've had such a great day here and everyone has been so welcoming," Kah said.
Fownes was all praise for Kah after her win aboard Royal Bomb this afternoon.
"It was a beautiful ride – she's a great jockey and I hope we can get her here," Fownes said.
"We need someone like her. I've been watching her career for a long time and she's gifted. Hong Kong could benefit from having her here, riding at 115 pounds. Horses run for her, it's wonderful to see how well she's done and hopefully she can have Hong Kong on the radar for a stint in the near future."
James McDonald scored at his first ride this afternoon aboard Happy For All for trainer Jamie Richards in the Class 4 Glorious Days Handicap (1200m).
"He's nice, he's progressive but he's still pretty green and raw still – he got to the front and just floated, so he'll improve," McDonald said.
Manfred Man celebrated a remarkable feat by training his 600th win in Hong Kong as Run Run Good dug deep under Karis Teetan to claim the Class 5 Giant Treasure Handicap (1650m, dirt).
John Size combined twice with fly-in jockey Ryan Moore, winning the Class 4 Seasons Bloom Handicap (1000m) aboard Juneau Flash before the Brit fought bravely aboard Unpresuming to land the Class 4 Helene Paragon Handicap (1400m).
Size's fruitful afternoon kicked off with Toronado Phantom's surprise 37/1 win in the Class 2 Heung Yee Kuk Cup Handicap (1200m) under Vagner Borges. Size leads the trainers' championship by one win over Frankie Lor (32-31).
Hugh Bowman sealed a double for Yiu with victory aboard Super Dynamite in the Class 3 Ambitious Dragon Handicap (1400m), while Angus Chung's 10lb claim proved decisive on Skyey Supreme in the Class 4 Blazing Speed Handicap (1650m, dirt) for Francis Lui.