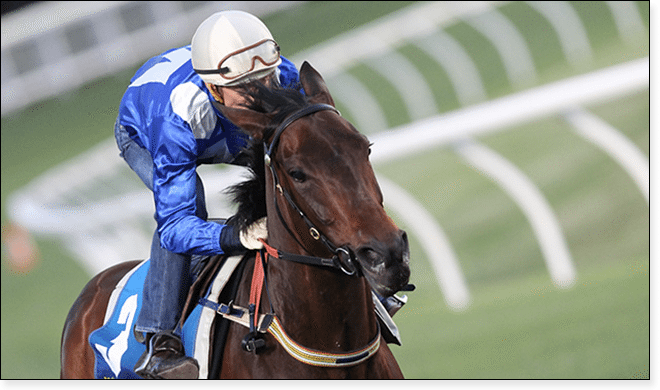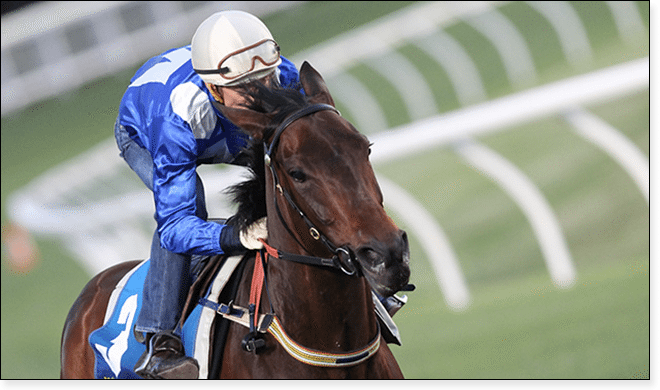 IF you can get $1.50 about superstar mare Winx in Saturday's Warwick Stakes, jump on it, because she has been absolutely smashed by the punters.
Sportsbet.com.au's Ben Bulmer reports the online bookmaker is holding a mountain of cash on the wonder mare who underwent surgery to here near fore fetlock over the winter, but has been cleared to return to racing.
And She is absolutely dominating the betting for the 1400m race for three year olds and older at Randwick, as she chases her 10th straight win in the group 2.
"It's not surprising punters have launched into Winx," Bulmer said, revealing that 85 per cent of all the money bet on the race with sportsbet.com.au had been on the five year old.
"She is the pin-up horse and looks set to take her unbeaten run to 10-in-a-row."
The surgery was performed in April after a vet check discovered a bone chip near her fore fetlock, following her win in the Doncaster Stakes.

The bone chip was successfully removed in April and she has since been cleared to race, participating in two barrier trials.
"We had a full 'vet' done on her, there were 42 X-rays taken and 41 were clear," trainer Chris Waller said.
"They scanned all her tendons and everything was fine but they found this bone chip that was long-standing.
"It was very minor and there was no heat in the joint.
"I didn't know whether to do it (surgery) or not as there is always a risk with horses.
"But in the end we decided it was better to have the bone chip removed.''
Winner of more than $6.6 million in prize money, Winx has won 13 of her 19 career starts and jockey Hugh Bowman says she is only going to get better.
"Just given she's a five-year-old mare, this could well be her best season, all going well," he told RSN 927 Radio.
"As far as I'm concerned, it's just nice to have her back.
"It's early days yet, but all signs are very positive at this stage."
Bowman rode Winx to five group one wins in 2015-16 and says the Warwick Stakes is just a springboard for international adventures.
"There's no doubt I'm confident she'd make her presence felt wherever she went," Bowman said.
"The world's becoming a smaller place for these horses.
"The Melbourne Spring Carnival is leading the way in attracting these horses, and has become a world-class event.
"With Highland Reel running second in last year's Cox Plate, to see what he's been able to do in Europe since shows that she's world-class.
"It'd be lovely if she went overseas.
"The thing is the Australian racing prize money is so healthy, it's a big mission to go overseas and you've got to sacrifice a lot here.
"I won't get involved in her program, but I'm sure if she did go overseas, she'd make her presence felt."
Waller says Winx is "ready to explode".
"There is good and bad pressures,'' he said.
"I don't have to find a champion anymore; I've found one, so no pressure there.
"I've won a Cox Plate and I have a horse good enough to win it this year, so no pressure there.
"But the pressure now is not to disappoint the public.
"Winx is like Australia's Olympic representative and I am the coach.
"I just want to get her back racing and then I will enjoy it.''

Winx has tightened from $1.50 into $1.40 ahead of Lucia Valentina ($7 into $5.50) in the $250,000 race.
And there aren't many keen to take on the superstar mare, with only eight other challengers in the race.
Maybe we have a Black Caviar situation here, with even the trainer of the highest rated challenger, Valentina, low on confidence.
Kris Lees does not even think his star charge can beat Winx over the 1400.
"Probably not at 1400m in a race where there's probably no tempo and Winx is so adaptable and can be put anywhere, where Lucia is more one-dimensional and she will be quiet and strong late," Waller said.
"She races well first up but they've probably been in bigger fields with genuine tempos … and they probably won't go quick enough for her to be honest."
"If someone can knock her off I hope it's me but I don't think she has too many chinks in her armour," Lees said. "I don't know if she can be beaten, Winx but I know my mare will be at her best when she gets to 2000m (in the Cox Plate)."
In the other big group two on the day, second favourite Manaya has firmed from $5 into $4.60.
"The move for Manaya is a strong one, but there is little support for $3.30 favourite Omei Sword in the Silver Shadow," Bulmer said.
"Calliope has plenty of admirers and has firmed from $5 into $4.80.
Warwick Stakes market
$5.50 Lucia Valentina
$11 Rebel Dane
$11 Dibayani
$15 Hartnell
$16 Vanbrugh
$51 Preferment
$81 Who Shot Thebarman
$101 Grand Marshal
Odds provided by Sportsbet.com.au
Silver Shadow Stakes
$3.30 Omei Sword
$4.80 Calliope
$9 Thyme For Roses
$9 Gretna
$11 Quick Feet
$15 Ma Tante
$17 Zelady's Night Out
$26 Cudabeen
$26 Moqueen
$34 Rather Sweet
$34 Bacarella
$51 Alluvion
$67 Zafina
Odds provided by Sportsbet.com.au