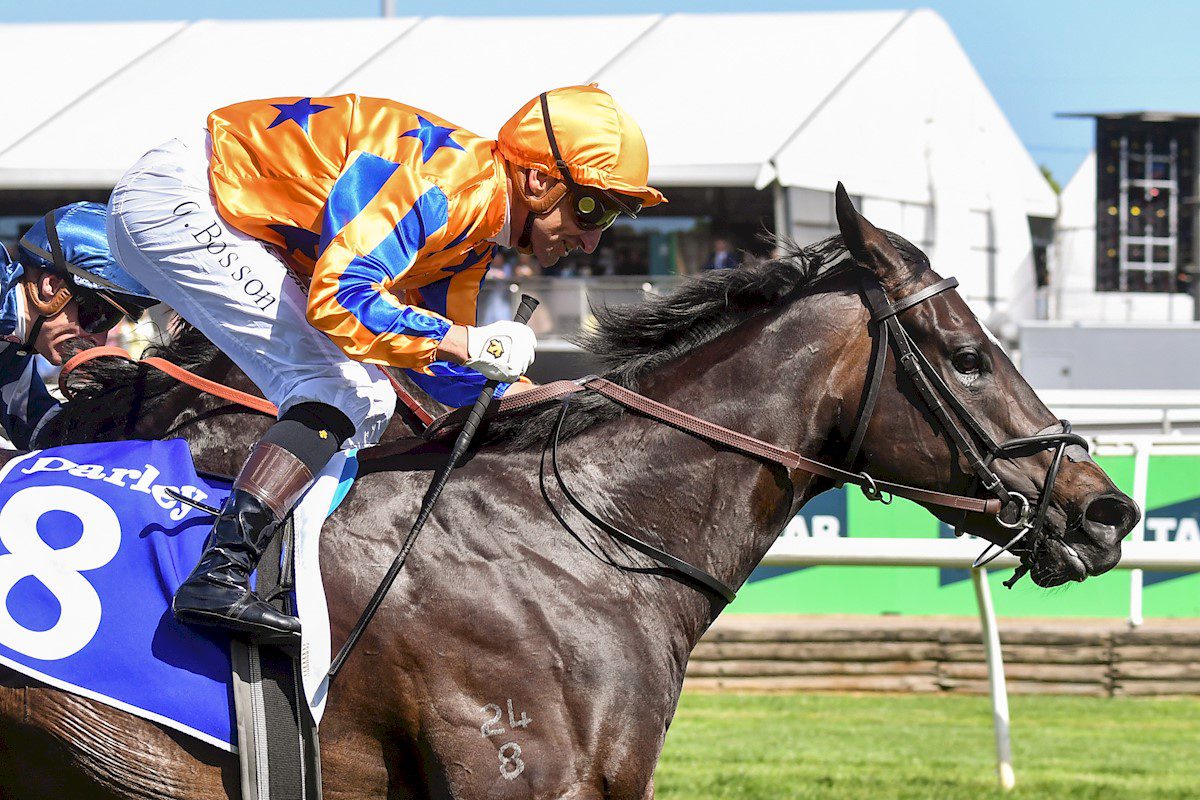 Imperatriz (+115) has remained undefeated throughout the spring after taking out the Group 1 VRC Champions Sprint at her first look down the Flemington straight to claim her third Group 1 victory in a row in Melbourne.
The Mark Walker-trained mare had won the Group 1 Moir Stakes and Group 1 Manikato Stakes at Moonee Valley in dominant fashion before going to Flemington on Saturday for her biggest test of the spring.
The daughter of I Am Invincible has settled near the rear and led in her three starts this preparation but after Asfoora (+1500) and Star Patrol (+1800) took a sit, it left the race favourite with no choice but to settle behind Front Page (+2200), who took a solid lead.
As the field hit the track proper, Opie Bosson released the brakes on the favourite and she took the lead, but for the first time this campaign, she had company on her inside as Buenos Noches (+1300) and In Secret (+240) went with her.
Buenos Noches got within half a length of the star mare, but in the final 100m, the class of Imperatriz shone through as she held him off to claim victory.
2023 VRC Champions Sprint Replay – Imperatriz | T: Mark Walker | J: Opie Bosson
Mark Walker appeared a relieved man after choosing to stay in Melbourne and not go to The Everest with his star mare.
"Probably a little bit of relief more than anything. Great to see Opie on the big stage as well," Walker said.
"Ben (Gleeson) and the team did a fantastic job.
"I went home after the Manikato and Ben has assembled a great team that we've got a Cranbourne and days like this, it makes it all worthwhile.
"Opie sums things up so quickly from the jump.
"He's been on the big stage since he was a teenager and nothing really fazes him. It was great to get the win today.
"We'll sit down in a couple of weeks once we get the Ready To Run Sale out of the way at home and we'll come up with a plan."
Opie Bosson was elated with the win on Imperatriz, and he spoke post-race.
"She's a real darling. To have a horse like this," Bosson said.
"Right up there. Te Akau, David Ellis, Mark Walker and the whole team. It is a dream come true riding a horse like this.
"I was expecting Asfoora to slot forward but he took a hold.
"So I used Front Page as my bunny. Probably got there a bit soon.
"Geez its a long way up that straight.
"To her credit she knuckled down and put her ears back.
"We always knew she was really talented.
"She's just getting better with age and she is the real deal and she has proven it now.
"Hopefully there is more to come for both of us.
"I'd love a trip away. It'd be nice to get to Ascot and show them how good she is."