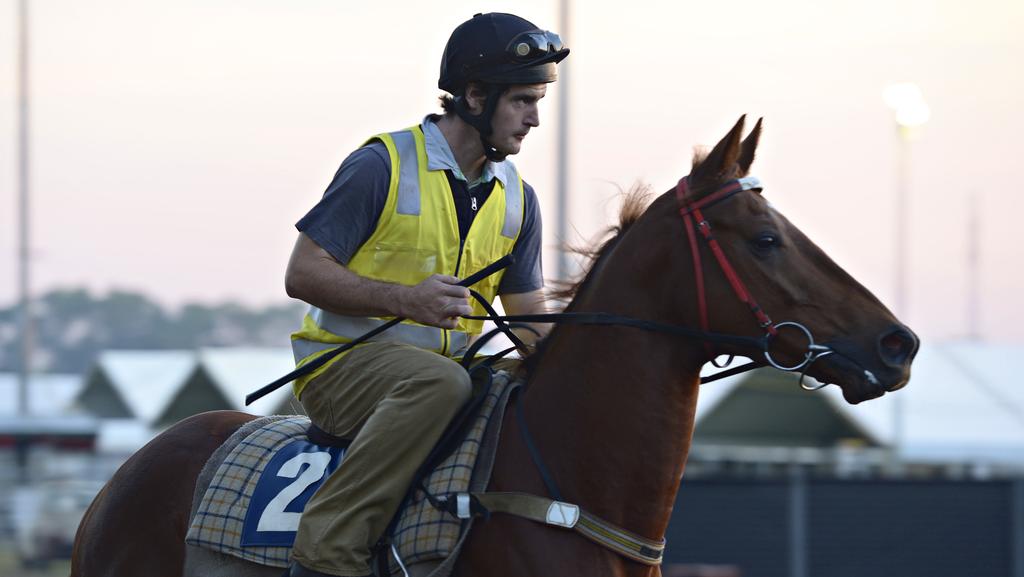 Although he brought good form to the table, Ideas Man failed to make an impression in the $135,000 Palmerston Sprint (1200m) during the 2022 Darwin Cup Carnival.
The former South Australian gelding isn't the first and won't be the last to appear in the Northern Territory's premier event for the speedy types without making an impact.
The five-year-old arrived in the Top End from the stable of Goolwa trainer David Jolly and under the guidance of Darwin trainer Chris Nash carried 60.5kg before finishing a narrow second behind El Magnificence in his first Fannie Bay start on May 7 over 1100m (0-64).
In the month before the start of the Darwin Cup Carnival, Ideas Man had tongues wagging after making it back to back wins in June over 1000m (0-70) and (0-76) – the former by six lengths and the latter by the bearest of margins.
The Cup Carnival was in full swing and on July 13 he booked his ticket in the Palmerston with yet another win – albeit by a close margin in open company over 1100m.
Come the Palmerston, Nash was looking for another win in the NT's second biggest race after getting the cash with Mayameen in 2021.
Dropping from 57kg to 54kg and jumping from gate four in the Palmerston on July 30, Ideas Man was making just his second start over 1200m and was never sighted in the 12-horse field before finishing 10th behind Syncline.
His other race over 1200m to that point was as a two-year-old in the 2020 Blue Diamond Stakes at Caulfield where he finished 12th behind Tagaloa for Ballarat trainers Ciaron Maher and David Eustace.
Ideas Man backed up two days later on Darwin Cup Day in the Montgomerie Lightning (1000m) at open level and could only manage a fourth behind Glock, so Nash decided to give him a break.
Returning to the action over 1000m (BM76) on August 27, Ideas Man (59kg) settled in third place and appeared to fade once turning for home, but finished strongly in the closing stages to trail the fast-finishing Cielo D'Oro by a length and a half in second place.
When last they raced at Fannie Bay three weeks ago, he settled in second place over 1200m (BM76) and was every chance of winning after hitting the front in the home straight before relinquishing the lead to Mister Monaro in the shadows of the post in a blanket finish.
Nash is backing the horse up again on Saturday in open company over 1100m in what should be an extremely competitive race with Ideas Man jumping from 58kg to 60kg.
The son of Brazen Beau was quoted as a $5.50 hope on Friday night, but is certainly in the mix if his last two efforts are any guide.
Having the services of top jockey Paul Shiers is an added bonus as he partnered Ideas Man in those three wins and he was on board in his two previous starts.
Getting the win in the feature race on the six-event program, which has attracted eight starters, won't be easy as Mark Nyhan's Mister Monaro (Stan Tsaikos), Gary Clarke's Mr Cashman (Jarrod Todd) and Phil Cole's Cielo D'Oro (Wayne Davis) are racing well, while Chris Pollard's Illustrating Law (Casey Hunter) is attracting plenty of support.
Mister Monaro, who was the $3.30 favourite on Friday night, has won three of his past five starts, but carries 59kg on this occasion – an extra 3.5kg compared to when he won on September 10.
Mr Cashman ($3.90) is aiming for three wins in a row, Illustrating Law ($3.90) has got plenty of zip and despite making the step up in grade has already impressed in his two Darwin starts, and Cielo D'Oro ($6.50) caught the eye in his debut win in late August and wasn't that far away when fourth behind Mister Monaro three weeks ago.
Despite confronting decent opposition, Nash goes into the race with an element of confidence.
"Ideas Man was in good form going into the Sprint," he said on Friday.
"I thought he was a really good chance, but he probably just found it a bit tough and the pressure a bit hot.
"These smaller fields are probably more his go.
"He's found his feet again – I don't think he's a horse that is going to get any better or any worse.
"He's sort of found his mark – he's going to be a good open handicapper in Darwin for a while.
"He's going well and it appears as though he's going to hang around.
"I expect a good run again on Saturday."
Nash is also buoyed by Idea Man's last two starts.
"He had every chance in those two races – he just found one better," he said.
"I was never really confident last start – he never drew clear or anything like that.
"It was a close finish, but he gets a bit of a pull in the weights on the horse that beat him last time and it was only a narrow finish, so that will go in his favour.
"He's a bit of a different horse.
"Sometimes he misses the start and gets back a bit and other times he flies the gates and leads them up.
"You can't really predict what he's going to do.
"That's why it's good to have someone experienced like Paul Shiers on him who sums it up and hopefully gets the job done."
Nash agreed that the race on Saturday was not only strong, but was basically an "even money" bet.
"Yeah, it is," he said.
"To be fair, it's probably the sort of race Ideas Man is going to have to line up in all year.
"They're going to run a race like that every fortnight or three weeks.
"He's a nice tough horse that I think we'll get a good long season out of him – touch wood.
"It's one of those things, once horses get to that level like Ideas Man they all line up as long as they're competitive.
"They probably take turns a bit when it comes to winning – hopefully it's his turn tomorrow."
Ideas Man ended up getting a start in the Blue Diamond Stakes after winning the $500,000 Inglis Banner (1000m) for the two-year-olds at Moonee Valley in his very first career start in October 2019.
After five starts in Victoria for just the one win, the horse ended up in South Australia where he raced for Jolly on eight occasions from 1000-1100m and although he failed to get a win he managed a second, a third and two fourths at Morphettville, as well as a third at Murray Bridge.