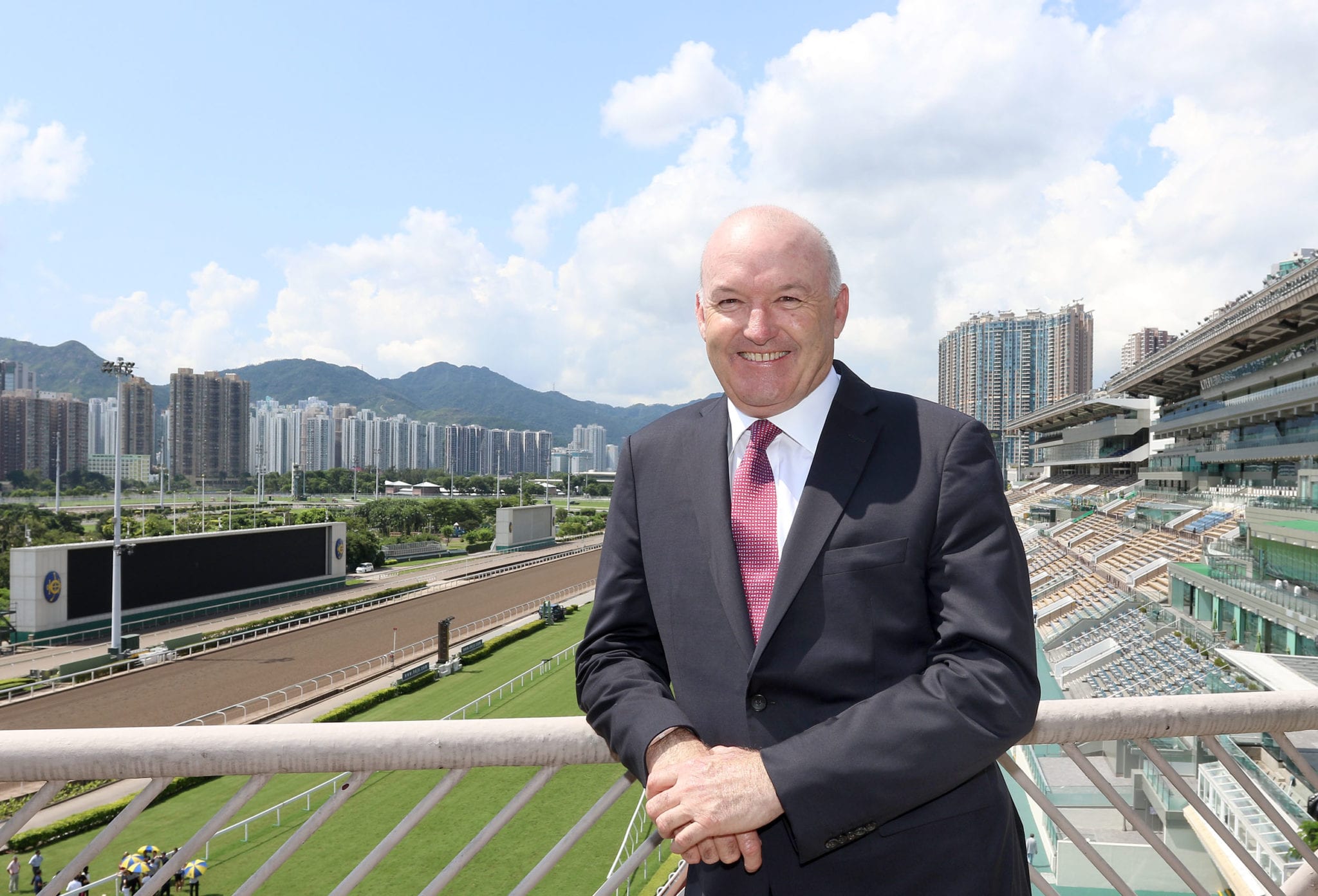 David Hayes is returning to Hong Kong as a Hong Kong Jockey Club licensed trainer. The Australian Hall of Famer will rejoin the trainers' roster at Sha Tin for the start of the 2020/21 season.
The Jockey Club officially unveiled Hayes during a media conference at Sha Tin Racecourse this morning, Tuesday, 10 September.
"My hair is probably a bit greyer than when I left but it's lovely to be back, I'm very excited," the handler said. "I'll be looking to get my seat back on the second floor of the trainers' stand!"
Hayes, 56, first moved to Hong Kong at the age of 33 in 1995 and left at the end of the 2004/05 season with two premierships (1997/98 & 1998/99) under his belt. He trained the winners of 458 races, a tally that includes majors such as the Group 1 Hong Kong Sprint (2002 All Thrills Too) and the Hong Kong Derby (2003 Elegant Fashion).
His Hong Kong achievements, combined with his elite success in Australia, mark him as one of the world's very best racehorse trainers. He has accrued 77 Group 1 wins in all, with the Melbourne Cup, two Cox Plates, three Caulfield Cups, and a Japan Cup numbered among that haul, as well as 16 local Group 1 contests in Hong Kong.
"I only ever left Hong Kong because of the tragic situation of my brother dying and my father passing away within a matter of 18 months. I had a young family and I was keen to educate them as young Australians and develop them as young trainers," he said, adding that the Jockey Club had first asked him "four or five years ago" about a future return to Hong Kong, during one of Criterion's Group 1 assaults at Sha Tin.
"I always made my intentions clear that I would like to come back one time," he said. "And then I was thrilled to get a call a couple of months ago and it took me probably 15 seconds to make the decision and say yes.
"I think opportunity only goes past you occasionally and you have to catch it," he added.
Hayes has in recent years led his Lindsay Park training operation in partnership with his nephew, Tom Dabernig, and son, Ben, and claimed a seventh Melbourne Premiership in the 2018/19 season. Now, he is looking forward to returning to Sha Tin at an exciting time for Hong Kong racing.
"I'm dying to see how Conghua Racecourse evolves: that excites me," he said. "China really interests me, it's opened up for the Hong Kong Jockey Club and I'm looking forward to seeing Conghua in the flesh, but it looks wonderful.
"I'll be opening a stable there as soon as I'm allowed to. I've been training in stables in different locations all my life so it won't be a huge challenge for me. If I have the numbers of horses I'll be certainly applying, if not the first year, certainly the second year. I think it would be an advantage to have horses there. I think it's a great option to take your horses from the Sha Tin set-up and have a different environment for the horses, I'm sure that's going to be a great asset for trainers."
Hayes' initial goal is "to train as many winners as possible and be competitive" when he kicks off again next term.
"My dream would be to have horses that are competitive in Hong Kong's big international races," he said. "I've always watched them and admired them. I was lucky enough to win one while I was here and to win another one would be nice."
In the meantime, the handler is determined to maintain the championship standards he has set in Australia.
"I want to go out on a high in Australia and will be fighting hard to retain the Premiership in Melbourne this season," he said. "My dream before I leave Australia probably would be to win the Melbourne Cup – I've just got a feeling that I'll be competitive in the Melbourne Cup this year.
"It will be business as usual in Australia until definitely May and then it will depend on what stables are available in Hong Kong as to when I start putting my team together. Hopefully, I'll have them in full training for the start of next season."
Andrew Harding, the Hong Kong Jockey Club's Executive Director of Racing, said: "Hong Kong is synonymous with world-class racing and it is a magnet for the best racing talent. Unquestionably, David Hayes is one of the most talented and successful racehorse trainers on the planet.
"In considering who we would issue a new trainer licence for next season, the Club, as always, has set a very high bar. The investment that the club has made over multiple years, in our racecourse facilities, in investment in Conghua, in the HK$1.3 billion in prize money on offer this year, all says very distinctly that the Club is committed to not just maintaining our current world- class status but to achieving even greater levels of success. With 77 Group 1 victories, success in campaigning horses internationally, multiple training championships here and in Australia, a deep affinity and love for Hong Kong, and with outstanding success in both developing and operating multi-stable operations, there is no one who could be better suited than David Hayes."