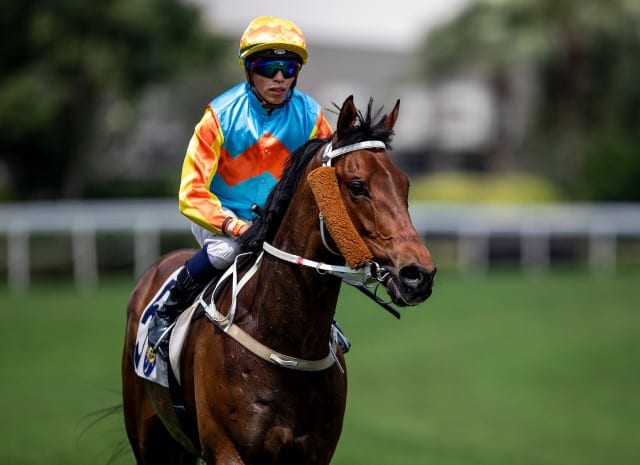 Vincent Ho faces one of the biggest tests of his career and is relishing the challenge as he prepares to fly the Hong Kong flag in the prestigious Shergar Cup at Ascot this Saturday (10 August).
The 29-year-old rider earned his invitation to one of the world's premier jockey challenges following a breakthrough season in Hong Kong which saw him finish fourth in the table with 56 winners including Group-race victories aboard Ho Ho Khan and Rise High.
That winning streak has continued during a second summer stint based with leading British trainer Mark Johnston in the historic Yorkshire racing town of Middleham.
The Hong Kong Jockey Club Apprentice Jockeys' School graduate has partnered three winners from his first eleven rides – the latest on Good Night Mr Tom at Hamilton last weekend – and is taking advice from two Shergar Cup champions as he prepares to join a three-man Rest of the World team who will be up against Great Britain and Ireland, Europe and a team of star female riders.
"To represent Hong Kong as part of the Rest of the World team is a huge honour," said Ho. "I was surprised to get the invite – and I had to keep it secret for a while – but I always want to challenge myself. I was at Ascot as a spectator when Enable won the King George two years ago but riding there has always been an ambition of mine and I want to go there fully prepared."
With that in mind, Ho has been consulting fellow homegrown rider Matthew Chadwick and former Hong Kong legend Gerald Mosse.
Chadwick won the Silver Saddle awarded to the Shergar Cup's leading individual rider in 2012, while Mosse took the same trophy in 2008 and 2013 while leading Europe to victory in the team event.
"I've been messaging Matthew to ask him about riding Ascot and how his experience went and I will have a good chance to get some valuable advice from Gerald as I'm staying with him at his place in Newmarket this week," added Ho.
Nick Smith follows the global scene closely in his role as Ascot's Director of Racing and Communications and is eager to see whether Ho can continue his strong form on a day when twelve competing riders will have five rides each on a six-race card which begins at 8.05pm Hong Kong Time.
He said: "The British public have already seen what an outstanding talent Vincent is, and how professionally he is taking his preparation, through his remarkable record during his brief stay with Mark Johnston."
Star Japanese rider Yuga Kawada will captain the Rest of the World team, while seven-time UAE champion Tadhg O'Shea will lead the Great Britain & Ireland team. Four-time German champion jockey Filip Minarik will lead the European squad while Britain's leading female rider Hayley Turner will captain the Girls. Other famous faces include Gerald Mosse, Jamie Spencer, Danny Tudhope and Australian stars Mark Zahra and Jamie Kah.
Smith added: "The Shergar Cup has always been about trying to capture the now and the moment and we have key people in that respect again. The Girls have been very strong in winning two of the last four team events and they look strong again, but overall we have a great mixture of experience and new faces for what is always a very popular day."
Ho spent Wednesday and Thursday morning riding out for legendary Newmarket trainer Sir Michael Stoute and is thoroughly enjoying his summer both on and off the track.
"Middleham and Newmarket have so much space and I really enjoy the relaxing atmosphere," he added. "I've made new friends and Mr Johnston is great to ride for as he gives you great confidence to ride your race without strict instructions.
"I also took the chance to see the sights on a day off in Edinburgh last week, which was beautiful, but I'm really looking forward to Ascot now. The travelling involved in riding in Britain can be tiring but I definitely feel this whole experience is helping me.
"Of course, in a competition like this you need a bit of luck in drawing the right horses. To ride a winner would be very special but, whatever happens, this will help open up my mind a lot more and help me to become a better rider."