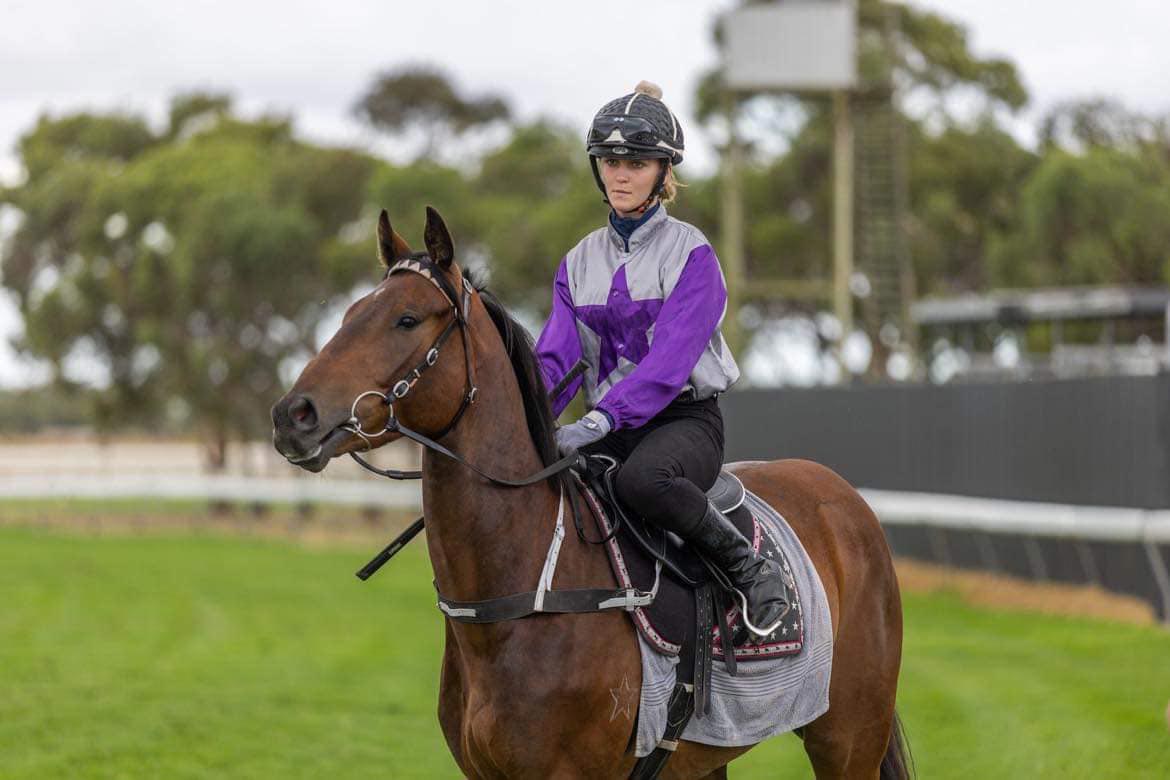 Estimated Reading Time: <1 minutes
She only debuted as an apprentice jockey in the Northern Territory in April, but the rise of Jade Hampson only continues.
The 18-year-old created yet another first last Sunday when she rode a winning treble at Alice Springs to make it nine wins from 38 career starts.
On her previous visit to the Red Centre on June 19, which was in fact her first appearance at Pioneer Park, Hampson had three rides and ended the day with two winners.
That's after riding a winner in her very first race for Darwin trainer and her boss Tayarn Halter when Pointo's Pick saluted at Fannie Bay on April 14.
The teenager has now posted five wins from eight starts in Alice Springs, while her record in Darwin is four wins from 30 starts and 12 minor placings.
To cap off what has been an eventful three months, Hampson had a fall at Fannie Bay on Anzac Day injuring her ankle – that kept her sidelined until June 11.
And – you guessed it – she rode a winning double upon her return in the Top End.
Hampson managed another win at Darwin on June 18, and after riding that double at Pioneer Park the following day her 4kg claim ended.
She has a 3kg claim now, and although there was no success at Fannie Bay on June 25 and on Saturday – the first day of the 2022 Darwin Cup Carnival – the good fortune returned on Sunday.
No denying the claim helped, but Hampson showed maturity beyond her years to secure victory on Harbour Express and Zelring for Lisa Whittle, and on Debbonarie Boy for Ray Viney.
As a consequence, Whittle (30) has now skipped two wins clear of Terry Gillett in the Alice Springs trainers' premiership for the 2021/22 season with two meetings remaining in July.
Harbour Express (0-58) and Zelring (0-76), a back-to-back winner, stormed down the outside with beautifully timed runs in the home straight to win over 1100m and 1600m, respectively.
Hampson elected to stick to the fence aboard Debbonaire Boy (0-58) in the 1400m contest when Gillett's Future Dreams (Stan Tsaikos) applied the pressure at the final turn.
It was nip and tuck all the way down the home straight with only a whisker separating the pair before Tsaikos lodged a protest – which was subsequently dismissed.
"It was a quiet day Saturday, just a few placings in Darwin, but a great day in Alice on Sunday – so that was good," Hampson said.
At the Darwin meeting, Hampson finished second on Mark Nyhan's Prembroke Castle, third on Kym Healy's Magnossiva and third on Halter's Eastwood – all three horses weren't that far away and the trio are expected to make an impact during the Cup Carnival.
"The claim helped on Sunday, but I went to the races pretty confident about a few of my rides," Hampson said on Monday.
"Zelring was my best hope because I won on him the meeting before – I thought he was almost a certainty to win that.
"I was extremely happy with how Harbour Express ran and he did it so easily.
"He gave me the feeling that I had a lot of horse under me, so I was lucky there."
Recommended!
In regards to the protest, Hampson didn't think she would lose the race – however visiting the stewards room proved daunting.
"They were both rolling out up the straight – there was no contact made or interference," she said.
"I was surprised when the protest was lodged, but I wasn't worried about it at all.
"First protest, I was a bit confused on what to do, but hopefully there's not too many to come – but it happens.
"I had (fellow jockey) Paul Denton in there with me representing me and Ray Viney, and we were all pretty confident that the protest would be dismissed."
Having the opportunity to ride for the Whittle stable is something Hampson has appreciated adding that she was very lucky in that department, but the 3kg claim definitely played a significant role.
Viney, who got to know Hampson reasonably well during the Alice Springs Cup Carnival, booked her to ride Debbonaire Boy for that very reason.
"The opportunity came up and we thought that we'd put a 3kg claim apprentice on Debbonaire Boy and when we rang her she took the ride," he said.
"It was an excellent ride to be honest – that's exactly how we wanted her to ride him.
"In regards to the protest there was no bumping.
"Jade was hands and heels on our horse – Tsaikos was definitely whipping and doing what he had to do on the other horse.
"And let's face it, the other horse was a length in front of us at the turn – we came underneath him."
Hampson admitted that with the start of the Darwin Cup Carnival there was a lot more pressure on Saturday adding that she enjoyed the experience, but more than anything she appreciated the opportunity to ride Eastwood.
After a busy weekend riding, Hampson flew back to Darwin from Alice Springs on Sunday night before arriving for track work at Fannie Bay at 4am on Monday – something that isn't lost on Halter.
"She puts in the hard yards, rides a lot of work and is willing to go that extra mile to get rides – Jade is going fantastic and she's got talent," Halter said.
"She's very level headed and deserves everything she gets.
"Jade gets tutoring from the other jockeys and goes over to the turf club and rides the mechanical horse."
And Halter, who celebrated a win on Saturday when Harpuna (Paul Shiers) dead-heated with Phil Cole's Mini Boom (Wayne Davis) at 0-70 level (1100m), was happy for Hampson to ride Eastwood.
As an apprentice, the youngster won't be able to ride in many feature races during the Darwin Cup Carnival.
"The stewards have restricted her – there's some days that she can't accept rides in some of those qualifying races," Halter said.
"So basically, we had a conversation with Paul Shiers because Jade has done a lot of work with the horse and we wanted to give her a ride on him.
"We just wanted to reward her for all her hard work that she's put into him – and obviously now she won't get the opportunity to ride him again until there's claiming races after the carnival."
There is no denying the fact that Hampson is a breath of fresh air for NT racing, and Viney was asked to identify the secret to her early success.
"I just think that she just wants to ride winners, she wants to be better," he said.
"I don't think she wants to be maybe an Alice Springs or a Darwin rider, I think she's got the potential to be a better rider than that and that's the direction she is going at the minute."