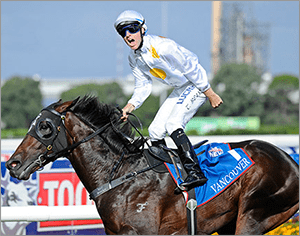 Estimated Reading Time: <1 minutes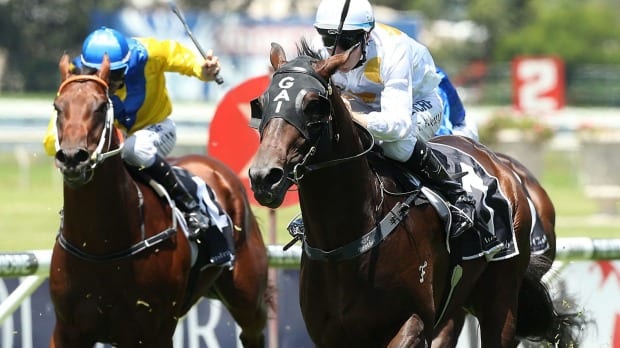 THE writing might have been on the wall when the connections of Golden Slipper winner Vancouver decided to bypass the Golden Rose.
They said they wanted the $40 million mare to focus on the Caulfield Guineas, but now all it will be focussing on is the chaff bag after master trainer Gai Waterhouse told stewards yesterday that the colt would go to the paddock and miss the entire Spring Racing Carnival.
The gun horse, which has already won some $2.3 million in prize money, was the favourite for both races at Sportsbet.com.au, before being removed.
Vancouver won all four of its starts as a two year old, but was a soundly beaten fourth on its return to racing as a three year old in the San Domenico at Rose Hill last month.
And it appears he hasn't improved enough for the trainer – or powerful Coolmore syndicate – to allow him to hit the track again this spring.
Last week Vancouver trialled at Rosehill over 1030m and he was third after being hard pressed under jockey Tommy Berry.
"He is a colt and they can go on and off very quickly and it is definitely better off sending him out now and bringing him back for the autumn," Berry said.
Coolmore racing manager James Bester said of the decision to remove Vancouver from the Rose: "Gai was still confident he would have won the Golden Rose, but this is an owners' decision."
"The Caulfield Guineas is the stallion making race that we want to win.
"A decision on his next run will be up to Gai.
"The owners would rather see him at his peak."
That decision will now look likely to be made in the autumn in Sydney.
Following the Golden Slipper win, Waterhouse said of Vancouver: "He is a joy."
"He is a dominant colt," Waterhouse said.
"We'll worry about the (triple crown) after today … we'll let him go home and eat his dinner."
"He is the dominant colt and this proves it.
"He is going to be a stallion eventually but we are going to keep racing him because there is so much more for him to do."
Coolmore purchased the then unbeaten colt for $40 million in April, a record price for a Golden Slipper winner.
"There was obviously a massive amount of interest in the horse so we are delighted to have secured him," Coolmore's Tom Magnier said at the time
"He's a brilliant colt and we and our partners, who include the China Horse Club, Ramsey Pastoral and Peters Investments, couldn't be more excited about his future.
"Vancouver, along with another of our recent investments, Pride Of Dubai, serve to illustrate the long term commitment of Coolmore to the Australian breeding industry.
"Both of these wonderful race horses were born and raised at our Jerrys Plains property in the Hunter Valley and are a ringing endorsement that there is no finer source of quality bloodstock."
Coolmore manager Michael Kirwan added: "Vancouver is a very good looking horse from a dominant sire line and just look at the record of Slipper winners at stud."
Chris Waller trained Press Statement has now taken over favouritism in the Caulfield Guineas after Vancouver's shock omission from the October 10 race.
As far as the Guineas goes, sportsbet.com.au has a market on offer featuring 90 runners.
Ready For Victory, who was fourth behind Vancouver in March's Golden Slipper, second pick at $5.50.
No other horse is in single figures for the 1600m group one race for three year olds.
The race is worth $1 million to the winner and was first run in 1947.
Shooting To Win took out last year's incarnation of the event, making it three Caulfield Guineas victories for father and son trainers Peter and Paul Snowden.
Rated a $7.50 chance, Shooting To Win upset hot $1.80 favourite Rich Enuff.
Exosphere is next in the line of betting at $11.

In the weekend's Golden Rose, Waller's charge is also a fancy at $3.60, but the massive Exosphere is the $3 favourite.
Home in the Run to the Rose, the Godolphin charge weighs in at a hefty 600kgs as a two year old. Most fully grown horses weigh about 500kg.
"We were having trouble with Exosphere's shins last season because of his size and immaturity,'' trainer John O'Shea said.
"On Slipper Day when he struck that firm track, I just think he became too anxious and that caused the issue.
"By the time we got him back to the stable that night, he was fine.
"Since he has been back in work, he hasn't been a problem for us.
"He is growing into that huge frame of his now.
"We know he is a class horse, we've said that all along.
"We had an aberration in the Slipper but we've learnt a lot more about him and hopefully going forward he can still continue to race well."
One horse that the bookies have written off is Let's Make It Rain.
Not so trainer Ron Quinton, who was encouraged when Vancouver pulled out.
"I really had no intention of running him, but when Vancouver trialled no good and was subsequently not going to take his place I had a think about it for a few days and, outside the first couple of favourites, he's (Let's Make It Rain) more than capable of taking his chance," Quinton said.
"My horse is only having his fifth run, which is still a relatively light preparation.
"The other horses going in second up are trained by very good trainers so they'll be fit.
"His form has been very good.
"I picked him out at the sales and paid a good bit of money for him and I'm actually one of the major shareholders in him, so whatever he does I'm very happy with."
Legendary trainer Bart Cummings, who passed away last month, was the last winner of the Golden Rose with undefeated colt Hallowed Crown, trained in partnership with Cummings' son James.
Updated 2015 Caulfield Guineas market
Press Statement ($5 with sportsbet.com.au)
Ready For Victory ($6.50)
Exosphere ($11)
Santa Ana Lane ($15)
Puritan ($17)
Sovereign Nation ($17)
Shards ($21)
Rageese ($21)
Mr Individual ($26)
Snoopy ($26)
Keen Array ($26)
Prince Of Brooklyn ($26)
Gold Symphony ($26)
Mawahibb ($31)
Bassett ($31)
Ability ($34)
Faatinah ($41)
Wind Force ($41)
Danuki ($41)
Holler ($41)
Dal Cielo ($41)
Well Sprung ($51)
Odyssey Moon ($51)
Extra Choice ($51)
Last Bullet ($51)
Manhattan Blues ($61)
Brockhoff ($61)
Tulsa ($61)
Handfast ($61)
Secret Prophet ($61)
Black Vanquish ($67)
Mostly ($81)
Odds provided by sportsbet.com.au
2015 Golden Rose market
1. Press Statement (3) ($3.60 win, $1.40 place with sportsbet.com.au)
2. Exosphere (2) ($3, $1.35)
3. Gold Symphony (1) ($26, $5)
4. Rageese (9) ($18, $4.40)
5. Shards (6) ($12, $3.20)
6. Sebring Sun (7) ($15, $3.70)
7. Let's Make It Rain (8) ($34, $7)
8. Holler (5) ($15, $3.60)
9. Speak Fondly (4) ($4.80, $4.50)
Odds provided by Sportsbet.com.au