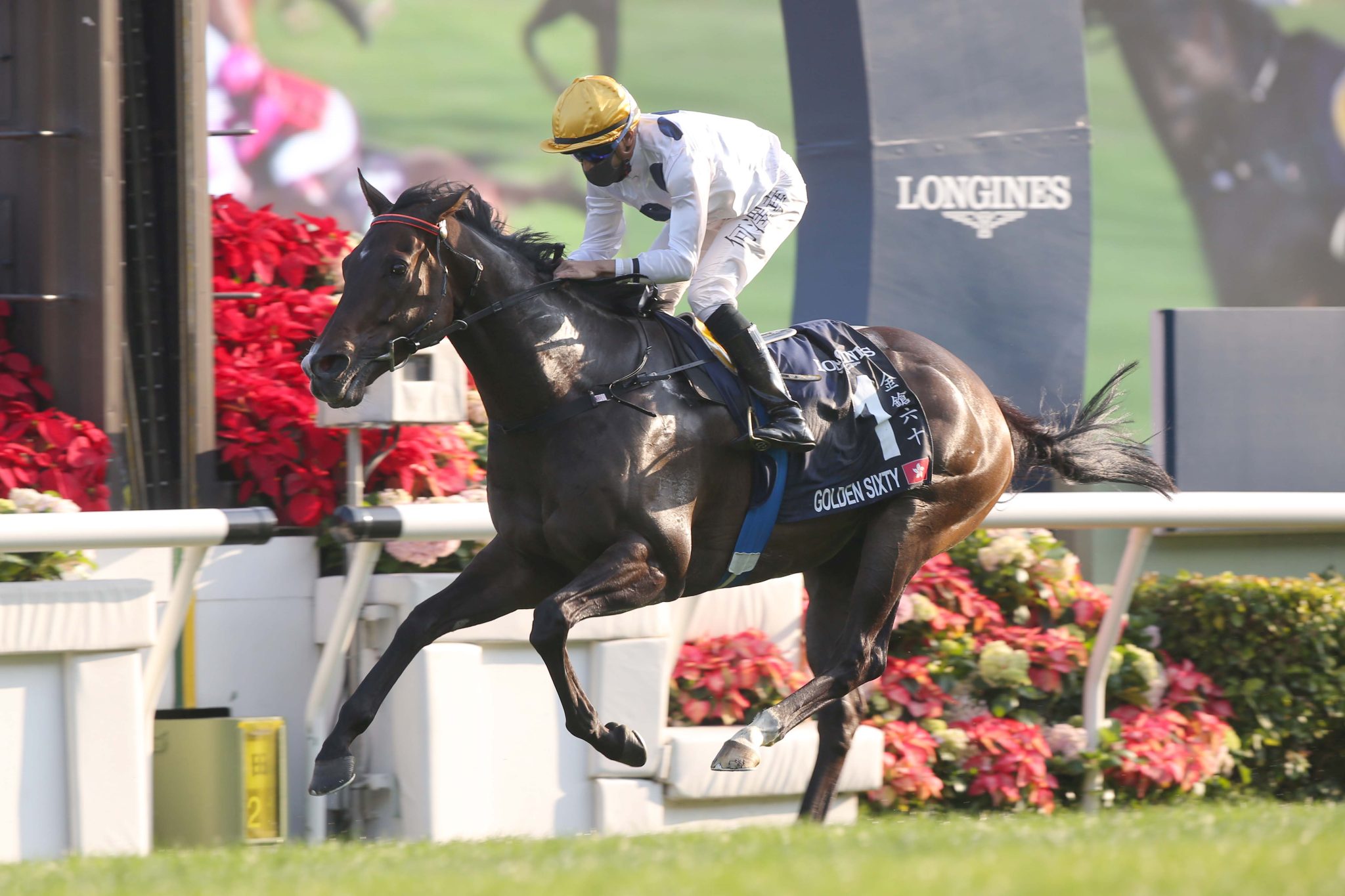 Golden Sixty is expected to follow the exact path he took last season towards the 2022 G1 LONGINES Hong Kong Mile (1600m), however, this time around he'll be looking to join Good Ba Ba – a Hong Kong racing immortal – as the only three-time winners of the race.
Chasing a career 800th winner at the season-opener at Sha Tin on Sunday (September 11), trainer Francis Lui indicated that Hong Kong's champion is sound and healthy as he begins to slowly prepare for his highly anticipated return in the 2022 G2 BOCHK Private Wealth Jockey Club Mile (1600m) on Sunday, November 20.
"He seems ok, healthy and he's back to work. He seems more relaxed in his gallops," Lui said. "He has such a good fighting heart; I can't see any change in him and after the barrier trial we'll know more. Maybe that will be at the end of September."
Sealing the sixth Group 1 win of his career at the end of last season in the 2022 G1 FWD Champions Mile (1600m), Golden Sixty enhanced his all-time bank to HK$113,400,600 – surpassing the mantle of HK$106,233,750 previously held by Beauty Generation – to stand alone as Hong Kong's highest prize money earner in history.
His 21 wins are the most in recent history, which also includes four Group 2s, a pair of Group 3s as well as his 2020 Four-Year-Old Classic Series sweep.
"I think in November, he'll run in the Jockey Club Mile and then into the Hong Kong International Races – just like last season.
"He's the same, towards the end of last season we kept him trotting until the season break and the track closed and after it opened it again, we started again. When he gallops he's much more relaxed," Lui said.
With 798 Hong Kong victories achieved, Lui remains confident in Golden Sixty's ability ahead of this season, admitting that he won't need to improve – instead, maintain his current level, especially as a seven-year-old.
"It's hard to tell, I'm confident in the horse but he's seven years old, he won't improve but he'll keep his form," Lui said.
Good Ba Ba won a treble of Hong Kong Mile crowns in 2007, 2008 and 2009, while Golden Sixty claimed the last two editions in 2020 and 2021.
Discussing the upcoming season, Lui is hopeful of capturing similar success to recent years – that is, as long as his new wave of young hopes can rise to meet the challenge.
"I hope I can have more winners but across the last few seasons I've had 50 to 60 winners every season and most of the older horses, their rating is at their peak, so I'm looking for young horses to come in and keep the quality level (high)," Lui said. "It's too early to tell how the younger horses will go."
This Sunday, Lui has five runners at the season's first fixture: Keep You Warm, Lucky Gold, Turbo Power, Gallant Waking and Theta Hedge.
Keep You Warm (115lb) tackles the Class 1 HKSAR Chief Executive's Cup Handicap (1200m) at Sha Tin against a stacked field which features Sky Field (135lb), Lucky Patch (132lb), Duke Wai (124lb) and Lucky Sweynesse (115lb).
"He's ok, he had a good trial at Conghua, but the race is tough with Sky Field, though a light weight, well, you never know," Lui said.
Yesterday morning (Tuesday, September 6), The Irishman – fifth in the 2022 BMW Hong Kong Derby (2000m) – stepped out to trial with Zac Purton at Sha Tin ahead of his five-year-old campaign, finishing midfield and under his own steam behind Panfield who crossed the line first in 1m 10.33s for 1200m on dirt.
"He seems ok, that was his first trial and he's a bit keen because he drew outside and the pace was slow, but Zac (Purton) said he was happy with the trial," Lui said.
At both Sha Tin's (Sunday, September 11) and Happy Valley's (Wednesday, September 14) season-opening fixtures there will be Triple Trio and Six Win Bonus' up for grabs with a colossal HK$88 million spread across the two meetings.
More Hong Kong horse racing news