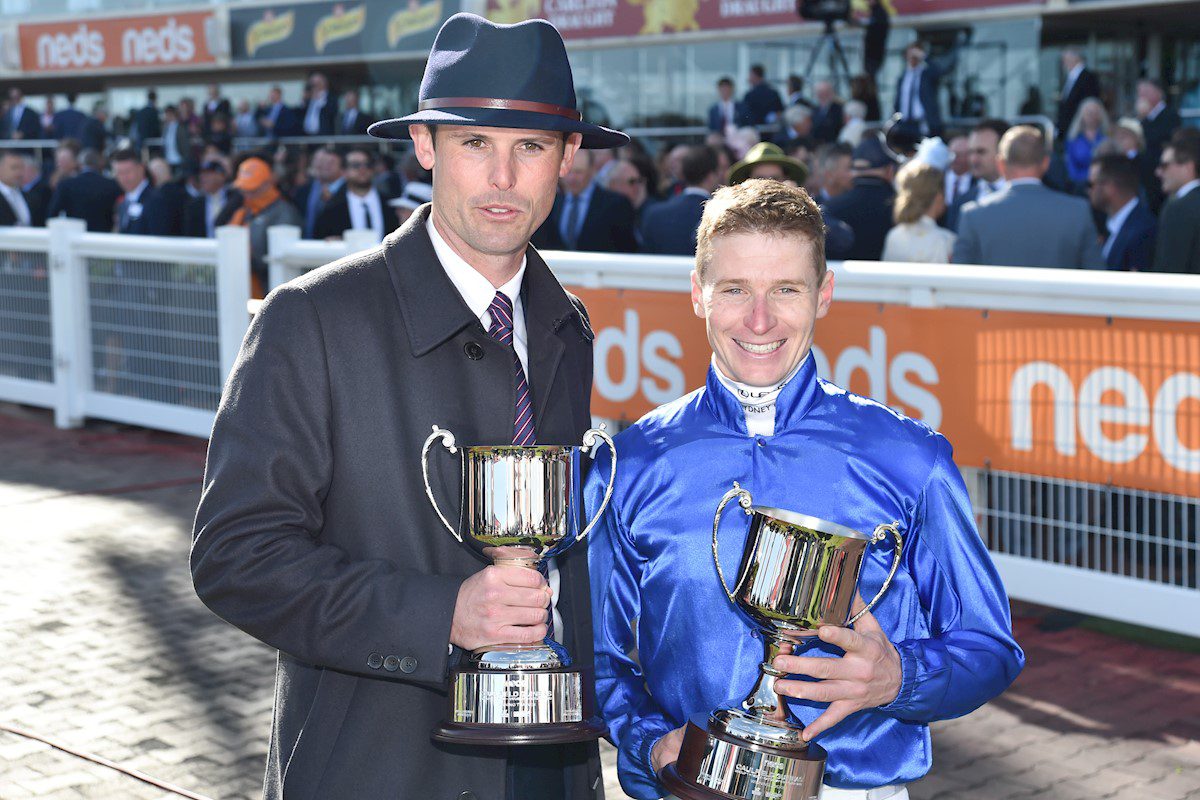 You wouldn't have thought it, but just two weeks ago in his mind James Cummings was in the depths of despair.
Saturday's Caulfield Guineas winner Golden Mile had just finished fourth in the Golden Rose Stakes.
But as stablemate Anamoe did when he looked gone at the turn before winning the Might And Power in breathtaking fashion, the three-year-old colt had to lift himself off the canvas over the past fortnight.
And do that he most certainly did.
2022 Caulfield Guineas Replay
Also like Anamoe, Golden Mile had to rally late from fourth position.
With champion jockey James McDonald aboard, he managed to do that with 100m to go and give Cummings his second consecutive Guineas victory, after triumphing with Anamoe last year.
"He (McDonald) was huge and the ride was a pure ride. It makes a big difference when you can get a top jockey on," Cummings told Racing.com.
What a day it was for Cummings, picking up the two main features on Caulfield Guineas Day and winning four races overall, of course without forgetting Paulele's classy triumph in the Schillaci Stakes.
But two weeks ago, Cummings' mind was racing as he battled some demons.
Thankfully, some wise words from his late, great grandfather Bart Cummings helped him stay positive.
"Bart used to laugh about going from the zenith of hope to the abyss of despair," Cummings said.
"And that was how I felt walking off the track. But to have turned it around … and to have still emerged with the winner, you can't imagine the sense of satisfaction.
"It's pretty special to us. This is a big race, the son of Astern … Hasn't that been the story for us this season?
"The emergence of a powerhouse stallion and we're very lucky to have him in the barn.
"And if he (Astern) keeps producing horses like Aft Cabin and Golden Mile, we're well and truly there with a big advantage."
Cummings said it was a joint-effort between his teams in Sydney and Melbourne to have Golden Mile at his best for the Caulfield Guineas.
"Big shout out to my staff at Crown Lodge who babied this horse all the way through as a young horse," he said.
"They were confident he was a better horse than he was showing us at Warwick Farm. So we slipped him down the highway and got him into Carbine Lodge.
"The horse emerged to win on his debut. Got him back to Sydney and gave him a good break, and he just hasn't stopped running slashing races in Sydney with the Caulfield Guineas written all over him.
"And in the background of all that, Carbine Lodge kept improving the horse in every run."
Cummings said his staff never lost their intensity when preparing Golden Mile and Anamoe for Saturday, despite the bucketloads of natural ability they both possess.
"They deserve the accolades they get because they can produce colts like Golden Mile and Anamoe to get here," he said.
"They're saddled up perfect and they're presented perfect, and they savage the line like they're the underdogs.
"And that's the way they should."
McDonald said Golden Mile had the presence of mind to keep himself in contention after his race could've gone pear-shaped early.
"He was great. He had a great turn of foot, the horse. That probably won him the race today," he said.
"He worked into a nice enough spot. He was quite messy for the first bend. He actually went to go right instead of going left.
"And he was just off-kilter a little bit. But then he bridled into the race.
"James would rather me being held up and flashing late than going too soon and getting run down.
"It was a bit close. I got lucky there, but I had to take the chance as he's a good horse.
"And he won well."