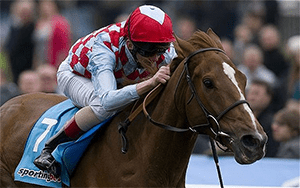 Estimated Reading Time: <1 minutes
NINE-year-old stayer Red Cadeaux continues its travels and heads to the Group 1 QEII Cup at Sha Tin this Sunday.
The Ed Dunlop-trained globetrotter traveled to Hong Kong with Criterion – which defeated Red Cadeaux in the Queen Elizabeth Stakes at Randwick – and travelling companion Robin Trevor-Jones said the veteran is in good order.
"He's fit and he's travelled well," Trevor-Jones said.
"He'll have an easy week.
"We might give him a breeze on the turf on Thursday morning but we'll see how he does.
"He doesn't need much."
If Red Cadeaux finishes in the first six on Sunday, its career earnings will surpass the Euro $5 million barrier, which converts to $AUD 9.6 million.
It has won only one Group 1 from 50 starts – the Hong Kong Vase in 2012 – but it's finished second in some of the world's biggest races, including three Melbourne Cups, the Dubai World Cup, Coronation Cup and the Queen Elizabeth Stakes last start at Randwick.
"He just takes it all in his stride," said Trevor-Jones.
"He's in great order and he still wants to be a racehorse. He'll tell us when he's had enough, but right now he hasn't.
"Right now, you'd hope he'll run another great race on Sunday and could be back here in December after another Australian Spring campaign."
Current favourite Criterion is expected to gallop on Wednesday when co-trainer David Hayes arrives in Hong Kong.
QEII Cup final field and odds
Criterion – $2.80
Designs On Rome – $3 at CrownBet.com.au
Military Attack – $6.50
Red Cadeaux – $11
Smoking Sun – $13
Blazing Speed – $18
Staphanos – $21
Helene Happy Star – $26
Helene Super Star – $51
California Memory – $101
Packing Llaregyb – $101
Same World – $151
Mr Gnocchi – $151
The David Hayes and Tom Dabernig-trained Criterion is the current $2.80 favourite at Sportsbet.com.au after its win in the Group 1 Queen Elizabeth Stakes at Randwick earlier this month.
Closing in on Criterion in the market is Hong Kong superstar Designs On Rome, which has made a very strong case for favouritism this season.
Red Cadeaux currently sits on the fourth line of betting at $11 and after an unlucky run at its last start, the nine-year-old will be looking for redemption in the form of its second Group 1 victory.
No rush to retire Criterion
Co-trainer David Hayes says punters can expect to see Criterion on the racetrack for quite some time despite its large breeding value.
Criterion is shooting for its fourth Group 1 win in Sunday's QEII Cup at Sha Tin after winning the Queen Elizabeth back in Australia earlier this month.
Hayes said connections would meet in Hong Kong, but would likely discuss the stallion's racing plans, rather than the possibility of going to stud.
Hayes said Kiwi owner Sir Owen Glenn was keen to race the son of Sebring for at least another season.
"He [Glenn] is not in a hurry to sell him, he's enjoying racing him," Hayes said.
"He doesn't want the interference of people retiring him the moment he makes a mistake. He wants to race him for another year.
"He's earned $3.7 million in four months and he might never have a horse that good ever again."
Hayes travelled to Hong Kong on Tuesday to oversee the four-year-old's light workouts to familiarise itself with Sha Tin.
Hayes flagged the idea of taking Criterion to Royal Ascot in June to compete in the Group 1 Prince of Wales Stakes but did mention in an earlier interview that he would consider heading to the Royal Ascot carnival.