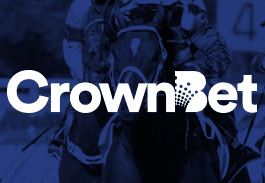 Estimated Reading Time: <1 minutes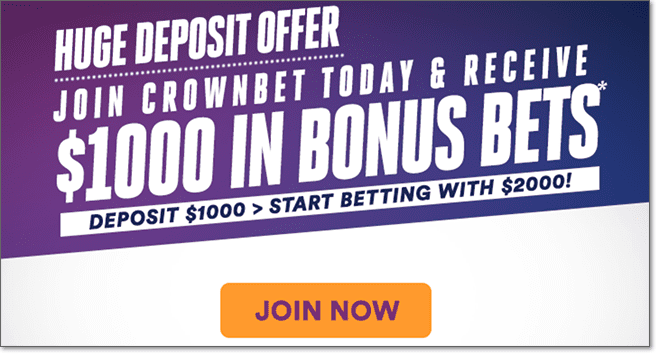 THIS is the deal to end all deals.
Cupsbetting.com has teamed up with our friends at CrownBet.com.au to offer our readers something very special.
Our 1000 For 1000 promotion gives new members a chance to double their betting bonanza on their first deposit.
Deposit $1000 and receive $1000* in Bonus Bets
Deposit $800 and receive $800* in Bonus Bets
Deposit $500 and receive $500* in Bonus Bets
Simply click on the link and sign up with CrownBet.com.au
Bonus bets will be credited to your account once you have made your first deposit and it has cleared in to your account.
Take your pick about what you want to use your matched funds on. Place a wager online on any race or sporting event or multi bet.
Cupsbetting.com executive editor Bradley McGrath said the site was proud to partner with the leading bookmaker in bringing readers such a unique offer.
"We're one of only a handful of affiliates around the world that will provide this offer," McGrath said.
"It's testament to the exciting rise Cupsbetting.com has enjoyed as a major player in the sports and racing betting world.
"Our readers are some of the most knowledgeable punters you'll find and it's great to be able to offer them such a substantial bonus.
"And similarly, CrownBet.com.au has managed its own ascendance to stardom as a major player in the world of online gambling."
The moral of the story? If you want the best deals and more bang for your buck, the only place to be is CupsBetting.com
And hey, if the $1000 carrot dangling isn't enough, perhaps some of the superb deals CrownBet.com.au has on offer will be enough to whet your whistle:
Get around the Game of Drones to win yourself a chance at $250,000.

One lucky CrownBet member's dreams will come true on AFL Grand Final day when the 'Game of Drones' becomes a $250,000 reality.
The drone will drop a specially marked ball at the MCG before the first bounce in the AFL decider and the punter who catches it will win big.
It's the mark worth $250,000.
How about a taste of some specials?
In the first three weeks of the AFL finals, punters who place a head to head bet will get a bonus if the team they punt on leads at any time of the second half, but isn't in front at the final siren.
A bonus bet of up to $100 is on offer.
The bookie is also offering a bonus bet on the most disposals market when you place a bet on the first goal scorer.
Get an instant Bonus Bet on every AFL Finals match from week 1 to 3! Place a First Goalscorer bet and get an instant Bonus Bet on the Most Disposals market! The bonus bet is for up to $25.
Still on the AFL, the bookie is offering multi bets on most team votes on Brownlow Medal night.

So you can get your taste of a multi up to 12 legs.
Whack it on Patty Dangerfield for Adelaide into Sam Mitchell for Hawthorn with the skinny Nat Fyfe tacked on the end for Fremantle and you'll go close, we reckon.
Love your league?
CrownBet.com.au is offering the same bonus on the NRL finals as it is on the AFL finals – if your mob leads at any time in the second half, but loses, get a bonus bet of up to $100.
It's also going from first to last – try scorer, that is.
Get an instant bonus bet by placing a first try scorer bet on any game of the finals in the first three weeks.
CrownBet will match that bet up to $25 on the last try scorer in the same match.
It's double the fun.
We like to call it stayin' alive.
League not your cup of tea?
How about a bit of union?
More specifically the Rugby World Cup.
How about some insurance on your first try scorer bet on every match throughout the world cup?

If the first try is not converted, the bookie will match your stake with a Bonus Bet up to $50.
Like your men padded up?
How about some American Football?
Enjoy every week of the NFL season with a little insurance on your multibet.
Just place a four plus leg multi bet NFL matches using head to head markets and if one of the legs doesn't win, the bookie will match your stake up to $50. All bonus bets will be credited within 24 hours after the conclusion of each week's matches.
Here's final thought.
Reckon your the king of the hail Mary bet?
Let CrownBet.com.au know about it and they will give you a pile of bonuses.
Here's their latest amazing story from the CrownBet website:
"Shane of Victoria got his week off to a flyer on Monday morning, enjoying the luck of the Irish with an impressive win on the Dundalk races in Ireland.
"With race 7 about to commence, Shane liked something about massive outsider Cape Discovery, which was paying a huge $51 for the win.
"Despite it given barely a chance according to the odds, Shane thought differently and put $50 each way on the big roughie.
"To Shane's delight, Cape Discovery shocked the field and stormed home to be first past the post, paying $51 for the win and $11 for the place.
"It may have been a Monday morning, but it was time for big celebrations, because he'd just turned $100 into $3100!"
That could be you using your bonus $1000 on your next bet with CrownBet.com.au
Please gamble responsibly.
Get $1000 in free bet bonuses when you sign-up with Crownbet today!