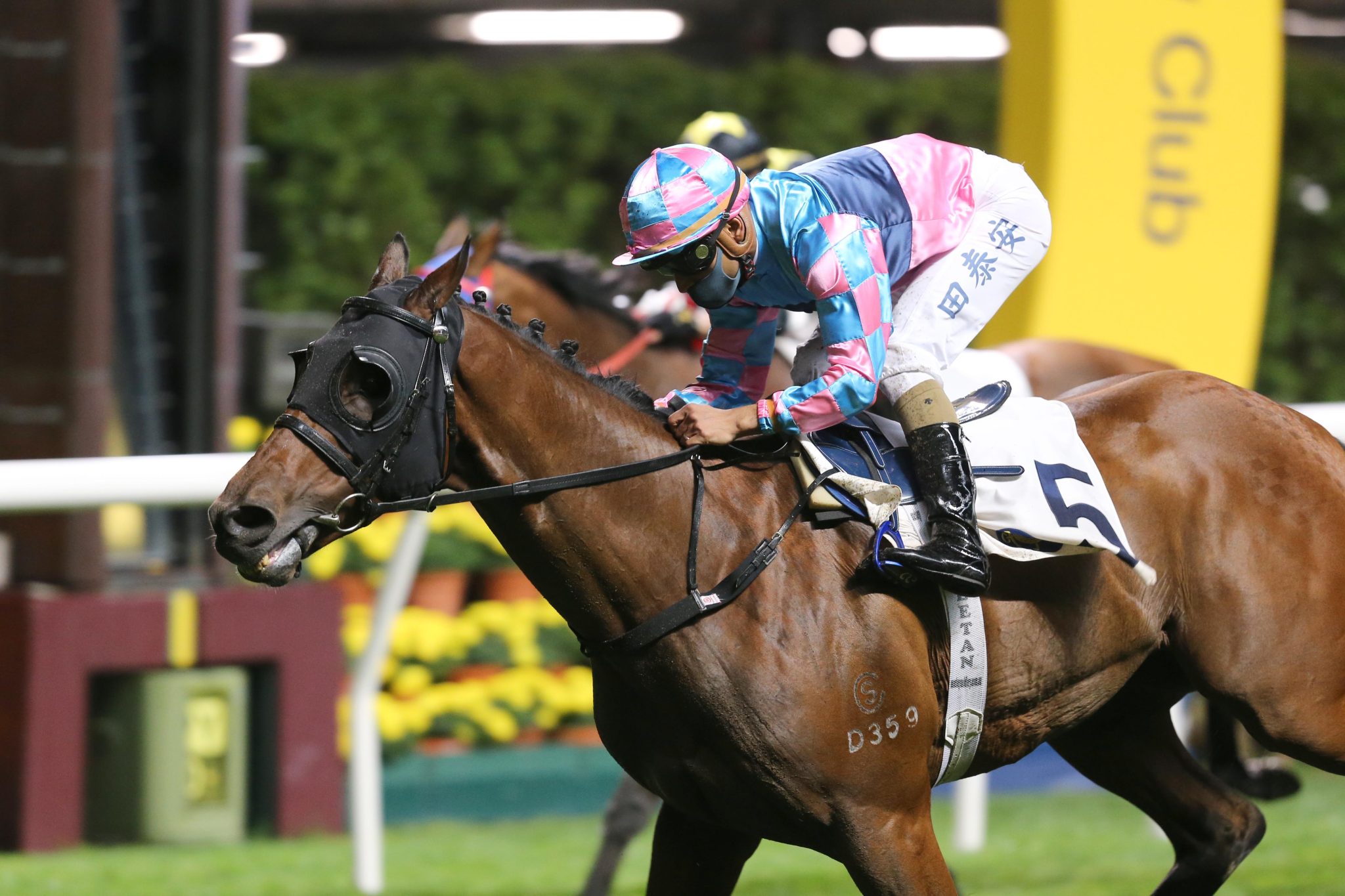 Gallant Crown exploded to a surprise win at odds of (+5100 last start at Sha Tin but on Wednesday night, the 71-rater switches to Happy Valley in a bid to reprise his winning groove under lights when he tackles the Class 3 Sand Martin Handicap (1650m).
A four-time winner over Happy Valley's 1650m course for trainer Tony Millard – including twice with Karis Teetan in the plate – Gallant Crown steps out for only his second outing this season as he chases a first win at the city circuit since June, 2021.
"He goes well at the Valley, last time his win at Sha Tin was a nice win, I thought, but he's doing everything right in his trials and he's ready to go back to the races," Teetan said.
Gallant Crown won first-up this season on 11 September under Teetan. He's since trialled twice, letting rip in the second of the two last Tuesday when crossing the post first over 1200m on dirt under Teetan in 1m 10.55s.
"He hasn't run for a while but I think he's a horse who likes to be kept fresh. Tony (Millard) has looked after him, taken his time and given him a few trials and I think he's ready to go back to the races and he's done well at Happy Valley before – it's one of his favourite track and trips," Teetan said.
Gallant Crown (130lb) faces a stacked field of 11 others including Master Delight (134lb), Gallant Waking (133lb), Good Buddy (133lb), Dynamic Spirit (132lb) and Prince Alex (129lb).
One race earlier, Teetan hops aboard Harmony Fire for trainer Douglas Whyte in the Class 3 Robin Handicap (1000m).
"I think he (Douglas Whyte) has the horse going as well as he would like him to. He trialled really well with me in his last trial at the Valley but I think Douglas has him in a good space at the moment and if he gets the right run, I know he has a lot of speed, so if he gets his own way and a position where he can switch off then I think he will let down," Teetan said.
Harmony Fire is a three-time winner at the Valley and will look to salute the judge for the first time since June, 2021. He finished ninth first-up over tomorrow night's course and distance last month.
Returning from illness two meetings ago, Teetan is out to make up for lost time which has seen him miss the bulk of the season's first three months.
"I had a good start and I had so many horses I was looking forward to ride and nice rides I was looking forward to but then everything shut down, I lost all my decent horses and good rides," Teetan said.
The Mauritian ace – who boasts 552 Hong Kong wins – closes out his book aboard Crystal Powerful for trainer Danny Shum in the Class 3 Tern Handicap (1200m).
"He looks a little bit green still and he looked a little bit lost in his first run but with the way Danny's stable is going you would want to be on his horses at the moment, any ride for Danny is acceptable – he has so many good horses," Teetan said.
Wednesday's nine-race fixture at Happy Valley kicks off at 6.45pm with the Class 5 Frigatebird Handicap (2200m).
More Hong Kong horse racing news