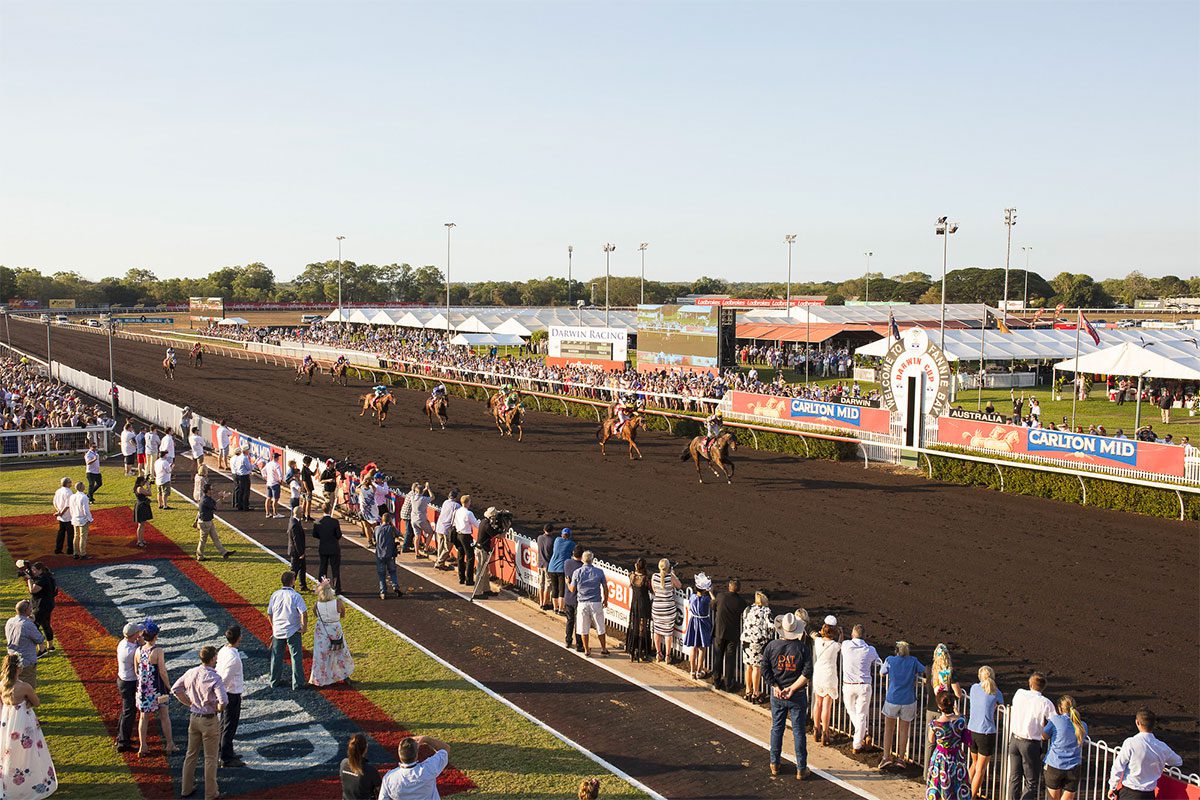 Four heat winners in the Darwin Turf Club's Lightning Wet Season Series have nominated for the A$40,000 final over 1200m (0-70) at Fannie Bay on Australia Day.
It's the second year of the concept for the mid-range sprinters during the so-called offseason in the Top End and the purse rivals that of the prestigious St Patrick's Day Cup over 1600m (0-76) scheduled for March 18.
Such prizemoney is usually afforded during the Darwin Cup Carnival, with last year's final going to the Gary Clarke-trained Blue Odyssey (Barry Huppatz) from stablemate Mr Cashman (Jarrod Todd).
A similar series kicked off last year in Alice Springs – the Winter Series – with the Lisa Whittle-trained Liberty Blue (Sonja Wiseman) taking out the $40,000 final over 1200m (BM66) on August 26.
There were 11 nominations for the Lightning Wet Season Series Final, including heat winners Crazy Lad (Phil Cole), Beachhaven (Tayarn Halter), New Roman (Kerry Petrick) and Noble War (Halter).
Crazy Lad won Heat 1 over 1200m (BM54) on November 12, Beachhaven won Heat 4 over 1200m (Class 2) on December 9, Noble War won Heat 6 over 1100m (0-64) on New Year's Eve and New Roman won Heat 5 over 1300m (0-64) on January 14.
Heat 5 was deferred after the Darwin meeting on December 17 was washed out.
New Roman will feature in the final once again after finishing fourth last year.
A points system applied during the Lightning Wet Season Series with five points for first, three points for second, two points for third, and one point for an unplaced participant.
After the seven heats the highest-placed horses automatically qualified for the final, but in the end it was left up to the trainer and connections if they desired to enter their runner.
Kirakat (Jason Manning) won Heat 2 over 1100m (0-58) on November 19, War Games (Dick Leech) won Heat 3 over 1100m (BM54) on December 3 and Brazenpine (Cole) won Heat 7 over 1000m (BM54) on January 14, but they weren't nominated for the final.
Subsequently, it was next cab off the rack based on the final points tally when it came to getting a start in the final, and once again it was the prerogative of the trainer and connections.
Cole stablemates Looking For You (Heat 5) and Colhoun (Heat 7), who finished eighth in the Winter Series Final in the Red Centre in late August, finished second in their respective heats.
Others to finish second in their respective heats that weren't nominated for the final were Yowza (Halter) in Heat 1, Hard To Excel (Clarke) in Heat 2, Rojo Boom (Mark Nyhan) in Heat 4 and Manly Cove (Clarke) in Heat 6, while Light And Dark (Manning) in Heat 3 has retired.
Of the other nominations for the final, Virtuous Miss (Tom Logan) finished third in Heat 6 and Courageous Hearts (Cole) finished fourth in Heat 3 and Heat 7.
Lucky Dog (Pollard) and Brother Bassy (Cole) were also nominated after finishing unplaced in Heat 1 and Heat 6, respectively.
As part of the qualifying process, a horse is only eligible for the final on the condition it has had at least one start in a heat of the series.
Only seven runners lined up in the 2022 final, so a full field of 12 won't greet the starter for the second-straight year.
The points system continues in the final with the leading trainer overall securing $2000.
Having already picked up five points, Beachhaven, Crazy Lad, New Roman and Noble War are in the box seat to make it an additional windfall for their trainer.
The DTC is also hosting the Summer Sprint Series for the fourth-straight year – it kicked off on December 31 with Noble War winning Heat 1 over 1100m (0-64) and Pollard's Cudjerie taking out Heat 2 over 1200m (0-70) on January 14.
The next six heats are set for January 26 over 1300m (Benchmark Handicap), February 4 over 1100m (0-64), February 10 over 1100m (0-76), February 17 over 1000m (0-64), March 4 over 1100m (0-64) and March 18 over 1300m (Open Handicap).
The Summer Sprint Series will not only see horses pick up points for finishing first (10pts), second (5pts), third (3pts) and fourth (2pts) in a heat, but a further one point for lining up in two heats and a further two points for appearing in three or more heats.
There is no final, with the horse topping the points leaderboard picking up $2000, while the trainer will pick up a $1000 bonus.
The owner of the horse which has the most starts in the series also receives a $1000 bonus.
After winning the first two heats, Noble War and Cudjerie currently lead the way on 11 points.