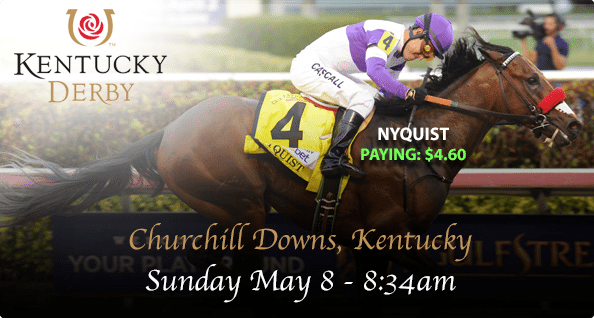 THE most exciting two minutes in sport is back – but has a hard act to follow in 2016.
A little over 12 months since American Pharoah clinched the first triple crown in 37 years, Kentucky Derby favourite Nyquist is the punter's favourite to be the next champion of America's biggest race.
The Doug O'Neill-trained Nyquist is paying $4.60 at Crownbet.com.au and has drawn barrier 13, which O'Neill is happy with.
"We see a good sign," he said.
"We were post No. 13 when we won the Breeders' Cup Juvenile."
The main challengers to Vanquist in the 20-horse field according to punters are Exaggerator ($9), Mohaymen ($9) and Creator ($11). There's also been some interest in Gun Runner ($13), which brings good form into the race.

The race, which starts at 8.34am Australian time on Sunday morning, will be the 141st time the field of America's most talented thoroughbreds will 'run for the roses' on the home straight at Churchill Downs, Louisville.
Like any race with such a big field, it's easy for punters to get led astray. There are a lot of gun horses in the field and just as many donkeys who are capable of surprising on the day.
Having a punt on the 2016 Kentucky Derby? Sign up at Crownbet.com.au and take advantage of up to $1000 in bonus bets
Below is info, odds and free tips for each of the 20 runners.
2016 Kentucky Derby field, odds and tips
1. Trojan Nation
Odds: $51 @ WilliamHill.com.au
Record: 0-1-3 in six starts
Trainer: Patrick Gallagher
Jockey: Aaron Gryder
Trojan Nation at his absolute best could run a place at Churchill Downs, but in five maiden races it has barely been a factor. We can't recommend backing a horse that's never won a race in this field.
2. Sudden Breaking News
Odds: $21
Record: 3-4-0 in eight starts
Trainer: Donnie Von Hemel
Jockey: Luis Quinonez
Sudden Breaking News likes to sit at the back of the field and leave its run till late, which could be well-suited to the Kentucky Derby, as long as it doesn't get stuck in traffic. This gelding has the talent and could be a nice each-way bet, but too much needs to go right to be a serious contender.
3. Creator
Odds: $11
Record: 2-4-1 in eight starts
Trainer: Steve Asmussen
Jockey: Ricardo Santana Jr.
Creator is one of the main fancies in the field because of its form over the distance and its recent form, which saw the colt win its last race and also place in three runs prior. Trainer Steve Asmussen is a recently-named Hall of Famer and his belief in this runner has not been ignored by punters. This is a very good each-way bet.
4. Mo Tom
Odds: $11 @ WilliamHill.com.au
Record: 3-0-3 in seven starts
Trainer: Tom Amoss
Jockey: Corey Lanerie
The one attribute being trumpeted for Mo Tom in the lead up to the race is its closing speed. The colt has winning form at Churchill Downs in the $80,000 Street Sense Downs and trainer Tom Amoss is very bullish.
"I'll simply tell you that my horse has a devastating late run, and he's yet to be able to use it in his last two starts. I'm looking forward to getting that chance on the first Saturday in May."
Tip: back Mo Tom as an each-way bet

5. Gun Runner
Odds: $13
Record: 4-0-0 in five starts
Trainer: Steve Asmussen
Jockey: Florent Geroux
Gun Runner has the form and is one of the fastest horses in what has been labelled a slow field. We expect the colt to lead from the front early and give the favourites a big shake for their money if given a clean, uninterrupted run. Don't discount trainer Steve Asmussen's duo (Gun Runner and Creator) working together to deliver a strong showing. A fine each-way bet for those who like a front-runner at Churchill Downs.
6. My Man Sam
Odds: $21
Record: 1-2-0 in four starts
Trainer: Chad Brown
Jockey: Irad Ortiz Jr.
Coming off a second placing at the Blue Grass Stakes last month in just its fourth career race, My Man Sam is a strong finisher who likes to sit well off the pace and finish strongly.
Having only just qualified for the Kentucky Derby by a whisker, My Man Sam would be a fairy tale story, but we don't think it's a serious contender, but could be a good place bet.
7. Oscar Nominated
Odds: $51
Record: 3-2-0 in seven starts
Trainer: Mike Maker
Jockey: Julien Leparoux
Oscar Nominated is another in the field who likes to stalk the front runners and finish wide. It's recent form is good, winning the 91 Brisnet Speed Figure, but its performances were against easier fields than what it will encounter on Derby day. A long shot at best.
8. Lani
Odds: $17
Record: 3-1-0 in six starts
Trainer: Mikio Matsunaga
Jockey: Yutaka Take
Trainer Mikio Matsunaga is aiming to become only the second Japanese trainer to win the Kentucky Derby in its 141-year history.
Lani stumbled out of the gate in the UAE Derby, but finished strongly to win thanks to a quality ride from jockey Yutaka Take. The horse been prepared for this race a long way out and should be primed and at the peak of its powers.
Take may have said it best in the lead in: "He's not a horse with a temperament willing to run always, so I cannot tell you if he wants to run on Derby day," the jockey Take said.
"If he does, we have a big chance."
Considering that a UAE Derby winner has never won the Kentucky Derby, we don't think this horse will be the first.
9. Destin
Odds: $17
Record: 3-1-0 in five starts
Trainer: Todd Pletcher
Jockey: Javier Castellano
The last time Destin raced it won the Tampa Bay Derby, but that was eight weeks ago and the impressive colt has been spelled since. While Todd Pletcher's runner has talent and potential, it is unproven at the distance – it's never past 1700 metres and this may be a tough place to start.
10. Whitmore
Odds: $26 @ Sportsbet.com.au
Record: 2-2-1 in six starts
Trainer: Ron Moquett
Jockey: Victor Espinoza
The best thing Whitmore has going for it in this year's race is the form of its jockey. Victor Espinoza has won the last three Kentucky Derbies and knows this track better than anyone else. Whitmore has a win at the track before, had a placing in last month's Arkansas Derby and has been the subject of a betting plunge since attracting Espinoza to run.
This is our big smokey tip for the race – a very attractive each way bet.

11. Exaggerator
Odds: $9
Record: 4-2-1 in nine starts
Trainer: Keith Desormeaux
Jockey: Kent Desormeaux
Few horses in the field can boast Exaggerator's class, winning form and experience. The father son duo of Keith and Kent Desormeaux bring with them a strong reputation that punters have been drawn to.
While Exaggerator did win last month's Santa Anita Derby, it enjoyed a very wet and heavy track and has only won one race in dry conditions, which was a sprint. Look for Exaggerator to be up with the leaders in the last 300 metres, but the extra distance may be too much.
12. Tom's Ready
Odds: $34
Record: 1-3-0 in nine starts
Trainer: Dallas Stewart
Jockey: Brian Hernandez Jnr
While Tom's Ready has experience over the distance, its form does not warrant any kind of confidence in betting. The closer has failed to notch a win in its last six races and the only race it ever won was in a maiden late in 2015. You may want to avoid this one.
13. Nyquist
Odds: $4.60 with Crownbet.com.au
Record: 7-0-0 in seven starts
Trainer: Doug O'Neill
Jockey: Mario Gutierrez
There's a very good reason why Nyquist is the heavy favourite in the 2016 Kentucky Derby.
This thing just wins.
Unbeaten from its seven races, the Florida Derby-winner has four Grade 1 victories and is easily the most physically-gifted horse in the field.
While there is a query on its ability over the distance, this colt carries with it big expectations and many believe it has the ability to win the triple crown.
Nyquist has proven it can be both a front-runner and sit off the pace, but with such a big field, it's tipped to run to the front and avoid being stuck in traffic. Trainer Doug O'Neill is confident with barrier 13 and has publicly-challenged his competition to test the field with a fast start.
The $4.60 on offer at Crownbet.com.au is attractive – we expect punters to come for the colt in a big way and it could start as short as $3 – a price it's already reached with most US bookmakers.

14. Mohaymen
Odds: $9 with Crownbet.com.au
Record: 5-0-0 in six starts
Trainer: Kiaran McLaughlin
Jockey: Junior Alvarado
This Shadwell colt by Tapit has had an exhilarating start to its career, winning its first five races before fading away as the favourite in the Florida Derby last month – a race won by Kentucky Derby favourite Nyquist.
Punters and bookmakers alike rate Mohaymen as the best threat to challenge Nyquist, but it will need to rediscover its best form quickly.
Trainer Kiaran McLaughlin has said his colt should be at its best and has been prepared specifically for the Derby.
This is a horse that likes to either stalk the leaders or lead itself – a potential match-race with Nyquist would bring the punters to their feet.
We have Mohaymen finishing in the top three, but its run in the Florida Derby is a worry.
The $3 for a place at Crownbet.com.au is value.
15. Outwork
Odds: $17
Record: 3-1-0 in four starts
Trainer: Todd Pletcher
Jockey: John Velazquez
Outwork is a colt that could provide a lot more value than its lofty odds suggest.
The three-year-old lived up to its name in the Wood Memorial last month when it won in an extremely-heavy track and is expected to drive to the front early and be one of the horses who looks to control the pace of the race.
Outwork could be worth a look at odds and is a solid each-way bet.
16. Shagaf
Odds: $26
Record: 3-0-0 in four starts
Trainer: Chad Brown
Jockey: Joel Rosario
While Shagaf was disappointing in the muddy conditions at the Wood Memorial, it saves its best form for the dry tracks and is not without a shout on what should be a perfect day for racing at Churchill Downs.
17. Mor Spirit
Odds: $15
Record: 3-4-0 in seven starts
Trainer: Bob Baffert
Jockey: Gary Stevens
A serious contender given its form – three wins and four second placings from its seven starts.
Mor Spirit seems to like the slop a bit more than a dry track, which will be the main concern on a nice Lousiville day, but can't be discounted, especially while paying $4.40 for a place.
18. Majesto
Odds: $34
Record: 1-2-2 in six starts
Trainer: Gustavo Delgado
Jockey: Emisael Jaramillo
Majesto is an interesting prospect in this race. Up against a similar field in the Florida Derby, the colt finished a close second when paying $21 for the win.
It's only win was in a relatively-easy maiden race in Florida and while not many punters are giving it a chance, of all the horses in the field, it has got closest to Nyquist so far.
Keep an eye on the betting markets – there could be a late plunge.
19. Brody's Cause
Odds: $15
Record: 3-0-1 in six starts
Trainer: Dale Romans
Jockey: Luis Saez
Brody's Cause has shown promise, but the gap between its best and worst has been wide so far in its career.
The colt won last month's Blue Grass Stakes, but will need to bring its best to compete with the front runners.
20. Danzing Candy
Odds: $17 @ Crownbet.com.au
Record: 3-0-1 in five starts
Trainer: Cliff Sise
Jockey: Mike Smith
Danzing Candy is one of the big x-factors in this race. Its best is more than good enough to compete with the field and as a front runner, could play a big part in setting the tempo of the run.
The biggest query for the horse is the distance. The fear is that it won't have the legs to push to the final 300 metres, but if the speed over the first half is slow, it's every chance of pulling up an upset.
At $17, it's a likely smokey and another good each-way bet.