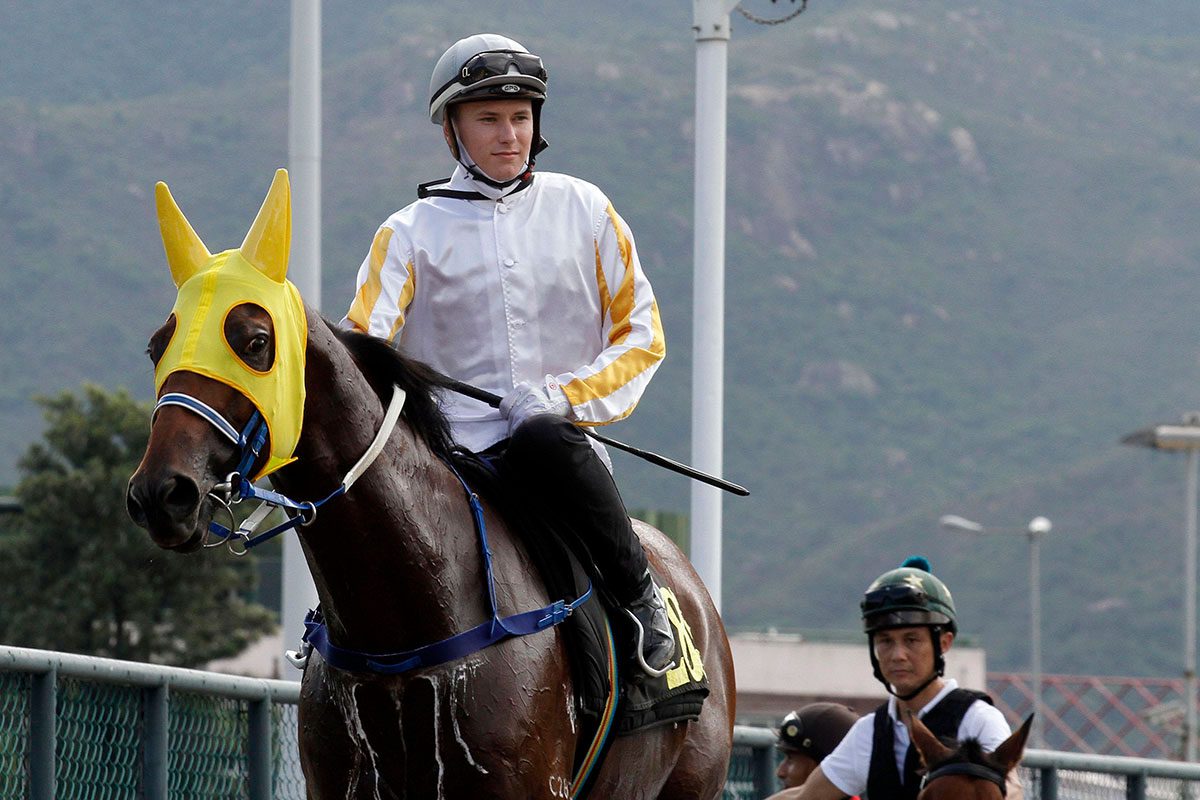 Estimated Reading Time: <1 minutes
South African jockeys have a rich and successful history in Hong Kong and young gun Luke Ferraris – the son of currently licensed Hong Kong trainer David Ferraris – is eager to add further gloss to his nation's racing heritage in the world's most competitive jurisdiction.
Following in the footsteps of highly successful compatriots Douglas Whyte, Basil Marcus, Felix Coetzee and Robbie Fradd, to name a few – Ferraris, at just 19 years of age joins the riding ranks as the second-youngest expatriate rider awarded a contract in Hong Kong history after Michael Walker in 2003.
"There were a bit of mixed emotions – having grown up here I have seen how tough and competitive it is but riding back in South Africa, the more success I had the more my confidence grew and if you'd asked me at the start of my career whether I would be here at age 19 – I probably would have laughed.
"As time went on and I rode in big races getting the results that I wanted, Hong Kong became more of a dream turning into reality – I'm happy and honoured to be here," Ferraris said.
Ferraris honed his craft at the well-regarded South African Jockey Academy, this came a few years after shadowing father David around the stables at Sha Tin Racecourse in his youth.
"I was born in South Africa but moved here at a very young age and for the early part of my childhood I grew up here going to trackwork with my father. It feels a little bit different to be riding trackwork but at the same time I'm very excited and happy to be on the other side of the fence," Ferraris said.
The youngster has enjoyed a stellar 2021 with five Group 1 wins, including a Group 1 Cape Town Met (2000m) triumph aboard Rainbow Bridge. His South African Triple Crown success this year aboard Malmoos included a pair of Group 1s and was the fourth in history with only Horse Chestnut (1999), Louis The King (2014) and Abashiri (2016) accomplishing the feat before him.
"It was a huge milestone of my career, what was really rewarding was knowing him (Malmoos) as a two-year-old and getting on his back then. The special ones have that sort of sparkle in their eye and you could see it as a very young horse and to stay with him from his maiden win through to the big races was huge.
"The Triple Crown has two Group 1s in it which was massive for me and being the fourth Triple Crown winner, especially at my age – I was over the moon winning it and it has had a huge impact on my career," Ferraris said.
Ferraris attributes much of his rapidly successful career to grandfather Ormond, whom he was indentured to as an apprentice in South Africa.
"I started going up to Johannesburg when I first started riding in South Africa and I was stable apprentice to my grandfather – he just about moulded me into the rider that I am today.
"He's had a lot of success, my dad was assistant to him when he was trying to get his license to be a trainer – that was a long time ago, but when I came through ranks, I was his stable apprentice and he gave me lots of good support and advice on what to do and that has made me the rider that I am today," Ferraris said.
Twice crowned champion apprentice in South Africa (2018/19 and 2019/20), Ferraris has had success with a number of the country's top trainers including Mike de Kock as well as a Group 1 triumph for Vaughan Marshall atop Ambiorix, earlier this year.
"Working with some of the big names like Mike de Kock, who is recognised worldwide, I had to step up hugely when I rode some of his big horses owned by the likes of Sheikh Hamdan and that matured me a lot as a rider, it made me a lot more 'sharp' because you had to be on top of your game every time you rode for him," the rider said.
Ferraris is under no illusion regarding the challenges he will face through his first contract to ride in Hong Kong which will conclude on 13 February, 2022.
"Racing in Hong Kong, I've seen how competitive and tough it is having grown up here and support is definitely a huge thing. I think the hardest part is coming in here new and trying to prove yourself to trainers and owners that you can ride against the big names and still be successful," Ferraris said.
Mr. Andrew Harding, the Club's Executive Director, Racing, welcomed Ferraris.
"We're very excited that Luke is joining the ranks of jockeys in Hong Kong, he's a gifted athlete whose precocious talent was honed at the highly-regarded South African Jockey Academy.
"At the young age of 19 he's already established an extraordinarily impressive CV with six Group 1 wins to his credit. We're very excited that he joins the ranks of jockeys licensed by the Club," he said.