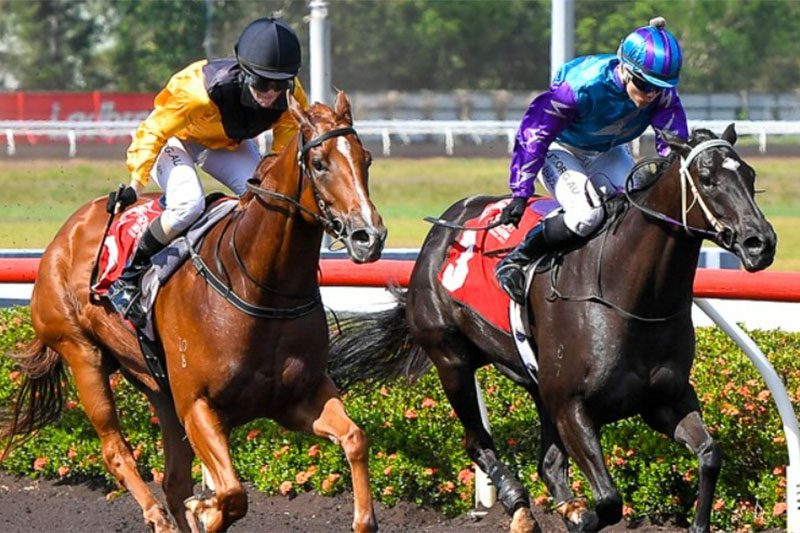 He was nominated for the Three-Year-Old Horse of the Year title at the 2022 Top End Racing Awards, and the Darwin-trained sprinter Expert Witness has justified the accolade.
The four-year-old gelding missed out on the award, but continues to make a name for himself in the NT having brought up a third-straight win at Fannie Bay on Saturday.
The former Queenslander showed plenty of grit and determination before edging out the Tom Logan-trained Poupee (Sonja Wiseman) by a head in the TAB 0-76 Handicap (1000m).
Expert Witness jumped well in the four-horse field and settled on the rails with the Gary Clarke-trained Papalet (Jarrod Todd) sitting on his outside with Poupee camped three wide.
Poupee, back from a four-month spell, eased off leaving the back straight and was four lengths adrift down the side as Expert Witness (Casey Hunter) and Papalet held sway out in front.
Turning for home, Expert Witness dispensed with Papalet and was in good shape before Poupee rallied along the rails with what appeared to be a winning burst.
With 100m to go Poupee had the momentum and looked the likely winner before Expert Witness lifted under the guidance of Hunter to find something extra in the shadows of the winning post to seal victory in what proved a titanic battle.
"His last two starts, he's actually shown a bit of kick and a bit of fight – and he was worse off at the weights compared to his last start," Halter said.
"He had gone up considerably in weight against Poupee – she's no slouch, so it was a good tough effort."
Expert Witness (59kg) jumped 4kg following his last-start win, but in the first of his three wins on September 10 the son of Star Witness lumped 60kg.
Poupee carried 56.5kg on the weekend.
Last year, Expert Witness had three starts in Queensland, winning an 860m maiden on debut at Gatton in May before disappointing in a 1000m maiden at Toowoomba and then as a three-year-old in a 900m maiden at the Gold Coast.
In his first Darwin start on New Year's Day, Expert Witness saluted in an 1100m maiden before coming second against fellow three-year-olds and maiden performers over 1100m on Australia Day.

He had one more start for a third over 1000m (0-64) in February before having a break where he was also switched from the Garry Lefoe Jnr stable to Halter.
During the Darwin Cup Carnival in July, Expert Witness had three starts over 1000m for a win (0-58), a third (0-66) and another win (0-62) before an unexpected fifth over 1100m (0-64) in late August.
Victory over 1100m (0-64) in September was followed by success over 1000m (BM76) in October, so apart from making it three wins from as many starts for the well-credentialled Halter stable, Expert Witness has finished unplaced once at Fannie Bay in 10 starts.
"He's maturing into a nice horse – he was probably a little green in the early days," Halter said.
"It looks like the owners have bought themselves a really nice little horse.
"They bought him at the 2020 Magic Millions Two-Year-Olds In Training Sale on the Gold Coast – he was a bit immature early and the owners have done the right thing giving him time.
"Now he just seems to be finding his way, and he's starting to settle down and putting a few together."
Expert Witness is clearly racing well, but Halter has confirmed that he's off to the paddock for a well-earned break.
"I've spoken to the managing owner and a couple of the other owners – basically now I think we'll just put him away," she said.
"Give him another break and maybe bring him back and target some of the better sprint races.
"You won't see him for a little bit."
Although Expert Witness is a horse on the rise, it is safe to say that the A$100,000 Pioneer Sprint (1200m) in Alice Springs next May and the A$135,000 Palmerston Sprint (1200m) in Darwin next July are out of his 'weight division' at this stage.
Poupee, yet another former Queenslander with an impressive CV, won three straight after debuting in the Top End in March before two fifths during the Darwin Cup Carnival, so with an eye to the future she might well be getting back to her best.
Papalet won six of his first nine starts in Darwin after making his debut in July 2020, which included four straight wins before having a spell in April last year.
After a 10-month break, Papalet headed back to South Australia and wound up in the stable of Murray Bridge trainer Heather Lehmann, where he finished eighth over 1000m (BM76) at Morphettville Parks in February.
He had five poor results for the Clarke stable when he returned to Fannie Bay in May, but on October 22 he ran his rivals off their legs with victory over 1000m (0-64).
Papalet had every opportunity on Saturday, but he was gone at the home turn and faded to finish fourth behind Halter's Wild Rover (Stan Tsaikos).
Although happy with Expert Witness' win, Halter could have had an even better day with Hattan Man (Tsaikos), Zou Der Zee (Vanessa Arnott) and Yowza (Arnott) finishing second in their respective races.
All three horses settled at the rear of the field and perhaps gave the front-runners too much of a start before producing stirring finishes in the home straight.
"Yeah, I had a good day – got a few seconds, but what can you do," she said.
"They're earning the owners prizemoney, so you'd have to be happy with that and they're putting in, so I can't complain at all.
"I'm not unhappy with any of them.
"Other horses just got a kick on them and they were better horses on the day, but that's alright – they're going good, so we're happy at the moment.
"We've got some new ones coming through in the next few weeks – their fitness is nearly ready, so there will be some fresh ones starting for us over the next few weeks."