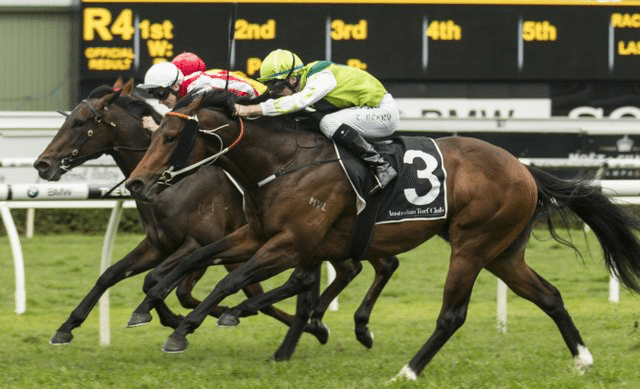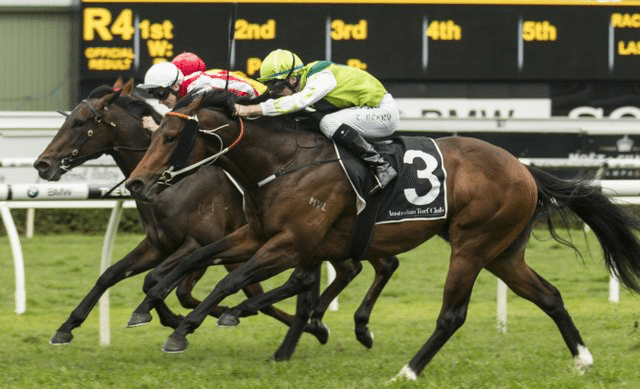 WEEKEND winners Divine Prophet and Omei Sword signalled their Group 1 intentions on Saturday at Randwick and have become the punter's favourites for the Golden Rose.
Divine Prophet produced a great turn-of-foot to win the Up And Coming Stakes over race-favourite Derryn and Tommy Berry likened to performance to that of Chautauqua.
"I know it sounds silly, but it kind of reminded me of Chautauqua in the TJ (Smith Stakes)," Berry said following the win.
"I was still last at the 200m and as soon as I pulled the stick through to my right hand and give him a little tickle with that he was right.
"He is a miler as well so he is going to get over further and might even stretch out the 2000m."

Co-trainer John Hawkes hasn't confirmed whether the current $6 favourite at Sportsbet will line up in the Golden Rose on September 10 and is taking the spring campaign one step at a time.
"He showed a little bit of promise as a young horse and he has gone the right way and trained on and it was a good strong win," Hawkes said.
"I think he will improve a bit, it's only his first run back and he has a long way to go through the spring but we will just take it one step at a time."
Omei Sword ($7 at Sportsbet for the Golden Rose) is another runner which was impressive on Saturday and although it has been strongly backed for the Golden Rose, it's not trainer Chris Waller's first option.
"I don't want to go to 1200m again, because she needs to step up, so the Golden Rose is an option, but the Tea Rose Stakes in four weeks is probably our first choice at the moment," Waller said.
"We will see how she comes through it and make a decision because that was impressive."
One horse looking likely to run in the Golden Rose is Winx's half-brother El Divino, which lines up in this Saturday's Run to the Rose.
Hugh Bowman will take the ride aboard the unbeaten colt and after an impressive trial when it battled with Capitalist, El Divino looks tough to beat at $6 with CrownBet.com.au.
"I have only been on him three times and that last trial was inconclusive because he couldn't get happy on the track," Bowman said.
"The first trial was good but he gave me the feel I wanted in that gallop (exhibition gallop on Saturday.
"He is very powerful and between the 600 and 300. As he got into the work he felt very strong. We will find out more about him on Saturday but he is [a] nice ride."
San Domenico Stakes winner Star Turn is the current $3.80 favourite for the Run to the Rose this Saturday after beating a quality field last start and it's $8 to take out the Golden Rose next month.
Group 2 Run to the Rose market
Punters can take advantage of the early market on offer at Sportsbet.com.au. The current market is "all in" so be weary that if your selection does not run in the race, you will not get your money refunded.
Star Turn – $3.80
Astern – $5
El Divino – $6
Mediterranean – $6
Impending – $6
Good Standing – $9
Teleperion – $13
Leotie – $15
Nikitas – $26
Cellarman – $26
Tessera – $41
Manolo Blahniq – $41
Gadfly – $151
Lilac Lane – $251
Weir lines up four in Group 1 Memsie Stakes
Champion trainer Darren Weir will enter four runners for the Group 1 Memsie Stakes at Caulfield this Saturday, which includes 2015 Melbourne Cup winner Prince Of Penzance.
Mahuta, Palentino and Black Heart Bart make up the four with the latter two runners being aimed towards a possible Cox Plate run. Black Heart Bart ($2.70 at Sportsbet) has been a model of consistency for Weir over the sprinting distances, but the owners are suggesting Weir takes a chance on the Cox Plate.
"The owners have always suggested he could run 2000m," Weir said.

"He's one of those good horses who'd be a chance in anything you'd run him in.
"We'll give him his chance to see whether he's good enough."
Prince Of Penzance has been in the headlines for most of this season after regular rider Michelle Payne was sacked by its owners. Harry Coffey takes the ride on Saturday, but punters are staying clear of the $26 on offer at Sportsbet.
Weir has the first three runners in the market with the next best being New Zealand champion Sofia Rosa ($11) which kicks off its spring campaign following a win in the Group 1 Australian Oaks last April.
Group 1 Memsie Stakes market:
Black Heart Bart – $2.70
Mahuta – $8
Palentino – $8
Sofia Rosa – $11
Tarzino – $11
He Or She – $13
Lord Of The Sky – $13
Alpine Eagle – $13
Entirely Platinum – $15
Rising Romance – $17
Tavago – $17
Tally – $17
Charmed Harmony – $21
Prince Of Penzance – $26
Awesome Rock – $26
Tashbeeh – $31
Hi World – $41
Ayers Rock – $126