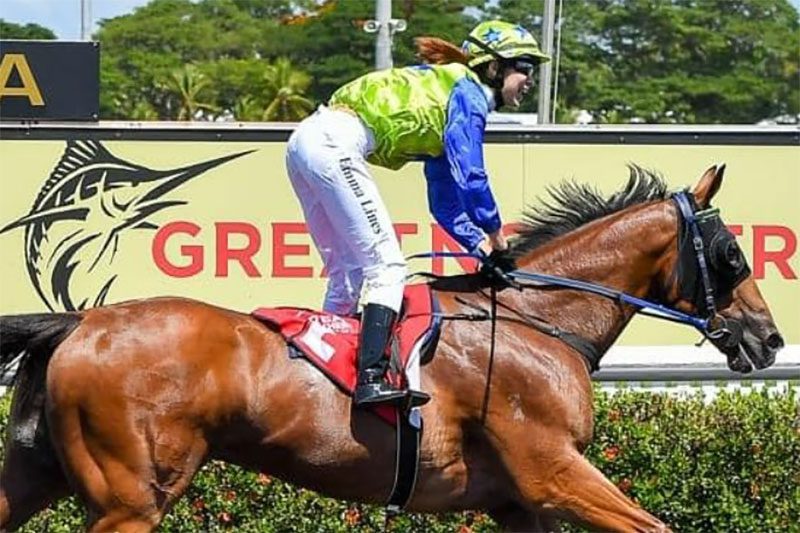 Darwin trainer Phil Cole has every confidence in apprentice jockey Emma Lines.
The 16-year-old debuted at Fannie Bay on December 9 and in her first race she won the opening event aboard Cole's Looking For You.
In her only other ride that day, the teenager came within a length of making it a memorable double when Meadows Young Buck, also from the Cole stable, finished third.
On December 20, Lines was riding Familja in a trial for Cole when she fell injuring her knee.
Not the greatest Christmas present, but the New Year started well when she recovered to pilot Brazenpine to victory for her boss on January 14.
Lines also appeared at two Alice Springs meetings in January, but she made everyone stand up and take notice after guiding Nokondi to an imposing win in Darwin on Australia Day.
That means she has won a race on each of the three occasions she has ridden at Fannie Bay.
In most of her races she claims 4kg and that helped when she saluted on Looking For You and Brazenpine, but Lines' minimum riding weight is 54kg.
Apart from five minor placings in 13 starts in Darwin, Emma has had two minor placings in five starts in the Alice.
She's not over the line just yet, but in two of the four rides she has in the Top End on Saturday the apprentice is certainly in the mix.
Lines will partner seven-year-old gelding Charretera, runner-up in three of his past four starts, in the feature race over 1300m (BM76) and four-year-old gelding Courageous Hearts, who has finished fourth twice in both of his Fannie Bay starts, over 1200m (BM54).
"Both horses have been racing quite well in Darwin of late," Cole said.
"Hopefully they get the chance to break through on Saturday.
"Emma's come from a non-racing background and we had to do a lot of work to mould her and teach her a lot about racing tactics.
"She's taking it one day at a time and she's been doing everything we've asked of her, and I couldn't be happier at this stage.
"I think she's a bit of a natural – she seems to put the horses in the right place and she's got a very level head.
"She's a really hard worker and she has a great work ethic.
"Emma's not soft or anything like that, she's pretty tough.
"She's happy to ride anything you put her on at track work and not too much phases her.
"For a kid that's only had 18 rides now, you couldn't be disappointed with any one of her rides that she's had to date and it looks like she's going to have a bright future."
Even the fall during the trial didn't dampen Lines' spirits after the euphoria of winning her first race 11 days previously, with Cole adding that the incident didn't worry her at all.
"Emma ended up having a couple of weeks off after suffering ligament damage to her knee," he said.
"It wasn't long before she was back riding track work, just didn't have full mobility in the knee due to all the swelling."
Charretera (54kg) — who has had 43 starts for four wins at Newcastle, Randwick, Canterbury and Ipswich, as well as 20 minor placings — debuted in Darwin in August and will be seeking his first win at the eighth attempt this weekend.
He did finish strongly on January 26 when second behind Mr Cashman, who led throughout in open company over 1300m.
"Charretera's been knocking on the door, he's ran in some pretty strong quality races lately," Cole said.
"He just got beaten by Poupee (December 31) and Mr Cashman on Australia Day.
"I just think the only thing that probably doesn't help him too much is the lack of tempo in his races.
"He's sort of a get back horse and he loves finding the line – hopefully they just roll along a little bit more and it will increase his chances on Saturday."
Courageous Hearts (57kg) is a recent arrival from South Australia, where he had 15 starts for a win, two seconds and two thirds – his only win a 1000m maiden at Morphettville Parks in August.
He did get back before finishing with intent in his two Darwin starts, so perhaps the 1200m trip is the key – especially if he is within striking distance of the leaders when it counts.
"Courageous Hearts was bought by one of my good friends and one of my main supporters of the stable, Michael Neumann," Cole said.
"He hasn't been far away either and we may have found the right race for him on Saturday, especially with the 4kg claim, gives him a really good chance.
"We've been happy with the way this horse is going.
"I had him nominated for the Wet Season final on Australia Day, but he just wasn't quite right.
"As everyone is aware, we've had so much rain this year and he was a little bit off in the feet – we've rectified that and I'm pretty happy going to the races on Saturday."