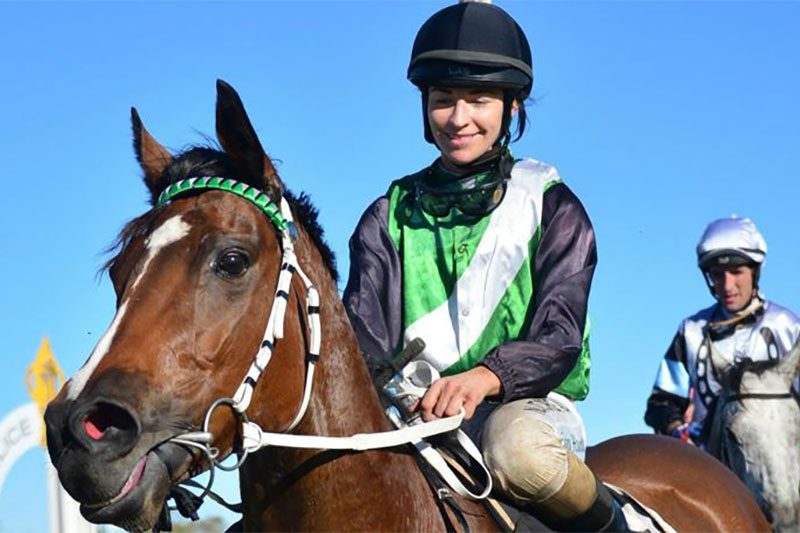 Estimated Reading Time: 4 minutes
She once considered school teaching as a career, but Casey Hunter is booting home winners as a jockey in the Northern Territory and wouldn't have it any other way.
The 28-year-old, who is based in Darwin, has spent the past three years in the NT and she enjoyed a highly successful 2021/22 season, riding 29 winners.
That comprised 15 wins at Fannie Bay during the Top End campaign, as well as 12 wins at Pioneer Park in Alice Springs and two wins at Tennant Creek's Hagan Park.
Born and raised in Albany in Western Australia, Hunter joins a long list of interstate jockeys who have found their niche in the NT over the years.
She ended her four-year apprenticeship in Perth in 2018 before deciding to go on a working holiday where she ended up riding in the northern region of WA.
"I ended up here because I did a Broome season and then Alice Springs trainer Dick Leech actually asked me to go to Kununurra," Hunter said.
"So I met him and a few Northern Territory trainers there and then I ended up going to Alice Springs that year where I rode for Dick Leech at the Cup Carnival the following year.
"I ended up in Broome because I went up to ride for Darryn Pateman.
"It was good to get out of Perth and just have a bit more of a cruisy lifestyle for a little while."
Hunter's father is a horse trainer, but when Casey finished school the plan was to go to university and become a school teacher.
She had a gap year once completing her secondary education and worked for her dad before deciding to pursue a career as a jockey.
Parents Paul and Christine weren't pleased at the time, but Casey stuck to her guns and, like any mum and dad, they supported their daughter with Casey relocating to Perth to further enhance her career.
"I was mainly apprenticed to my dad for the four years," she said.
"I ended my apprenticeship with Grant and Alana Williams.
"I did a stint in Kalgoorlie for a while, but mainly I was apprenticed to my dad for the whole time."
After her first Alice Springs Cup Carnival in 2019, Hunter went and did another Broome season before doing a stint in Melbourne where she did track work for leading trainer Mick Price.
She returned to Alice Springs to not only continue riding, but for lifestyle reasons.
"I did stay in Alice for a little while and then I lived in Darwin," Hunter said.
"I did a wet season here, which can be a little bit testy, but I'm definitely settled in Darwin now.
"I really enjoyed my time living in Alice, but at the end of the day Darwin is a nicer place to live."
Hunter could not fault one aspect of the NT racing community, adding that it was a fantastic environment for any jockey looking to develop their career.
"The lifestyle is great for me, that's a big bonus," she said.
"You don't have to drive four hours to the races and drive fours back, so I love that.
"You ride every weekend, you ride work during the week.
"I still don't mind flying down to Alice.
"I've got great people I ride for there, so yeah, I'm very committed to going to Alice for race meetings.
"If you can get some good contacts, good people to ride for in the NT it's a really good place to be.
"At this stage, I love riding up here – very happy to stay.
"I work for Kerry Petrick, so she's my main trainer at the moment.
"And then in Alice, I've been riding a lot lately for Jess Gleeson.
"Also for Kerry when she's there because she comes and goes a bit.
"I sort of freelance which really suits me a bit, but in saying that other trainers such as Chris Pollard, Phil Cole, Ursula Dobbe, Ray Viney, Tayarn Halter, Terry Huish, Chloe Baxter, Barry Cooke, Rene Taylor, Will Savage and Garry Lefoe have been very supportive in recent times."
As mentioned, Hunter had more than just an average 2021/22 season and she is well and truly looking forward to the future.
"I was really happy with the end of my season," she said.
"I ended up with six winners over the Darwin Cup Carnival, which was really great – I was stoked with that.
"I have no plans to leave Darwin, but who knows in the future.
"I'm happy doing what I'm doing for the moment and just see where it takes me.
"I might look at getting a dual licence or maybe training.
"I might go back to Perth where all my family and friends are."
And yes, Hunter has a few favourite horses right now – especially the Kerry Petrick-trained Our Luca, who had already recorded three wins in Alice Springs this year before saluting during the Darwin Cup Carnival.
"I love Our Luca, he won the Flying Sprint in Darwin – he's definitely my favourite," she said.
"My mum and dad actually have a share in First Crusade too, so I was really happy to get a win on him for Chloe Baxter.
"And then there's the Jess Gleeson horses too.
"I know Jess and her partner Dylan Bairstow from Perth, so it was great to get a couple of wins over the Cup Carnival for them."
Hunter is one of seven female jockeys carving out a career in the NT.
Hunter, Vanessa Arnott, Sonja Wiseman and apprentice Jade Hampson are based in the Top End, while Jessie Philpot, Lorelle Crow and apprentice Dakota-Lee Gillett are located in the Red Centre.
"It's good that there are a few girls here – we all get along really well," she said.
"Riding at places like Tennant Creek and Katherine is also something different.
"It's just taken me to so many places and I've met so many great people.
"I'm so glad that I'm doing this."
Hunter has already chalked up one victory for the 2022/23 season after piloting Phil Cole's 10-year-old mare Roughly to back-to-back wins at Alice Springs on August 6.