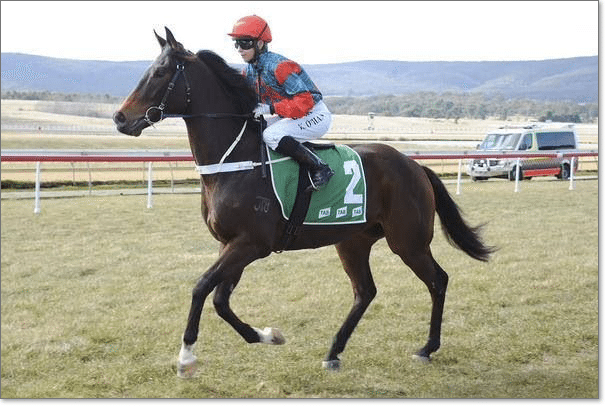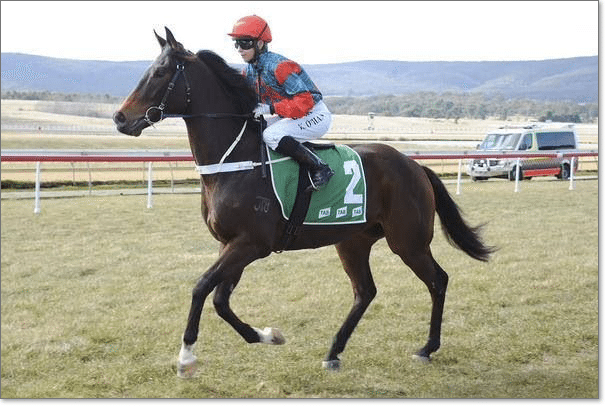 CANNYESCENT is the three-year-old rising star on the lips of Aussie punters right now.
And connections of the Gabrielle Englebrecht-trained up-and-comer have high hopes for his future.
It all starts when the brooding youngster steps out tomorrow in race six at Royal Randwick on Australia Day.
The bay gelding, progeny of Canny Lad and Juicy, is the red hot $2.80 favourite with Sportsbet.com.au to take out the 1100 metres Schweppes benchmark 71 handicap race, with John Hawkes trained Cana ($4.20) and Ultimate Shock ($4.80), prepared by Anthony Cummings, snapping at his heels.
He has a maiden win under his belt and caught the eye with an unlucky fifth in the Group 3 Up and Coming Stakes last prep.
So the question is, Canny win tomorrow?
Trainer Englebrecht says while he will be first up, he has the class to take out the race.
"He went out for a spell after the Ming Dynasty and he has strengthened up a lot more and come back as a lot more furnished style of horse," Englebrecht said.
"I am really happy with him and that is going to hold him in good stead for this preparation.
"I think he is very capable of winning it, however it is first up and he is not fully wound up yet.
"The 1100 metres might be a bit short for him.
"I guess that does make him a touch vulnerable, but I think he has got the class to win the race any way."
Jockey Tye Angland will ride the horse for the first time and he has some solid experience behind him after winning the Stradbroke Handicap in 2009 aboard Black Piranha.
The Wanabadgery 26-year-old has ridden the horse in training and Englebrecht said he has high hopes for Cannyescent.
"We were looking for bit of change of luck this prep and we've decided to go with Tye," she said.
"I had a chat to Tye this morning and he is very confident in the horse's ability and his potential.
"We will discuss tactics a bit more heavily this evening and in the morning, but we are all on the same page.
"We believe the horse's best racing pattern is to sit midfield or a bit worse off and then swoop home and we are hoping that is what he will do tomorrow."
Angland, nicknamed 'Rooster', only had one ride booked at Randwick on the weekend after he suffered a slipped disc while riding at the same venue earlier this month.
While tomorrow's race will be a warm up, there will be bigger things to come for Cannyescent, with Englebrecht saying she and Sona Bloodstock connections, including Kevin Pitstock, are targeting the Group 1 $1 million Randwick Guineas on Saturday, March 5.
She says the horse "could be anything" and hasn't ruled out a step up to 2040 metres for the Cox Plate.
"We've got some big targets for him, but it's a matter of getting him there," she said.
"Ever since he was a yearling, I always said to Kevin, he just strikes me as a Doncaster Mile horse.
"That looks like the race and it's the one goal I have for the horse at some point in his career. That's how I sort of see him.
"I'd love to get him up to 2000 and also be a Cox Plate contender.
"But our main aim at the moment is going to be the Randwick Guineas.
"I'm very confident he will run the mile and I think he can possibly run more than that.
"We'll give that a go at some point, but we'll take it run by run for the moment."
That is some real confidence from the Warwick Farm trainer who has a rich family history with thoroughbred racing and is just starting to make waves in the industry.
"I'd say over the last 18 months, things have really developed in my career a lot stronger than they ever have and a lot of that has to do with Kevin and Cannyescent," she said.
"At the end of the day, as a trainer, there is only so much I can do.
"I can't turn water into wine.
"I depend on the horse's ability.
"You go through a lot of horses, but only a small percentage have the talent he (Cannyescent) does.
"It's a bit like playing lotto I guess."
She said Pitstock took a keen interest in each of his horses, but Cannyescent was his pride and joy.
"Kevin is very heavily involved," she said.
"It is a very exciting time for him and he has got some outstanding horses racing under the Sona Bloodstock banner.
"He's a smart man and we are a good team.
"We work together and he always puts his opinion forward and I put mine forward and I think that is best way to come up with a great outcome."
She said the pair rarely clash over the horses and have the same goals, but sometimes each has their own opinion about the best way to get there.
"Sometimes we both want to get there a slightly different way," she laughed.
"Our ultimate goals for the horse are the same.
"Kevin is probably a bit more bold than what I am, I guess, in terms of he is happy to take more risks, whereas I'm probably a bit nervous about throwing him (Cannyescent) in the deep end sometimes.
"But I'm glad he has that confidence.
"It's what will take the horses to that top level."
Englebrecht has other Sona Bloodstock horses in her stables, with the other shining light a two-year-old bay filly called Aghna.
"Aghna is a really nice exciting filly on the way up," she said.
"She's a natural athlete and is really intelligent.
"She loves racing, loves comp and is just a really smart little horse.
"She ran third behind Capitalist in the Wyong Magic Millions race, had a freshen up and now she goes in the $150,000 group three Widden Stakes at Rosehill on January 30.
"I am truly grateful to Kevin for the opportunity he has given me in training horses like this."