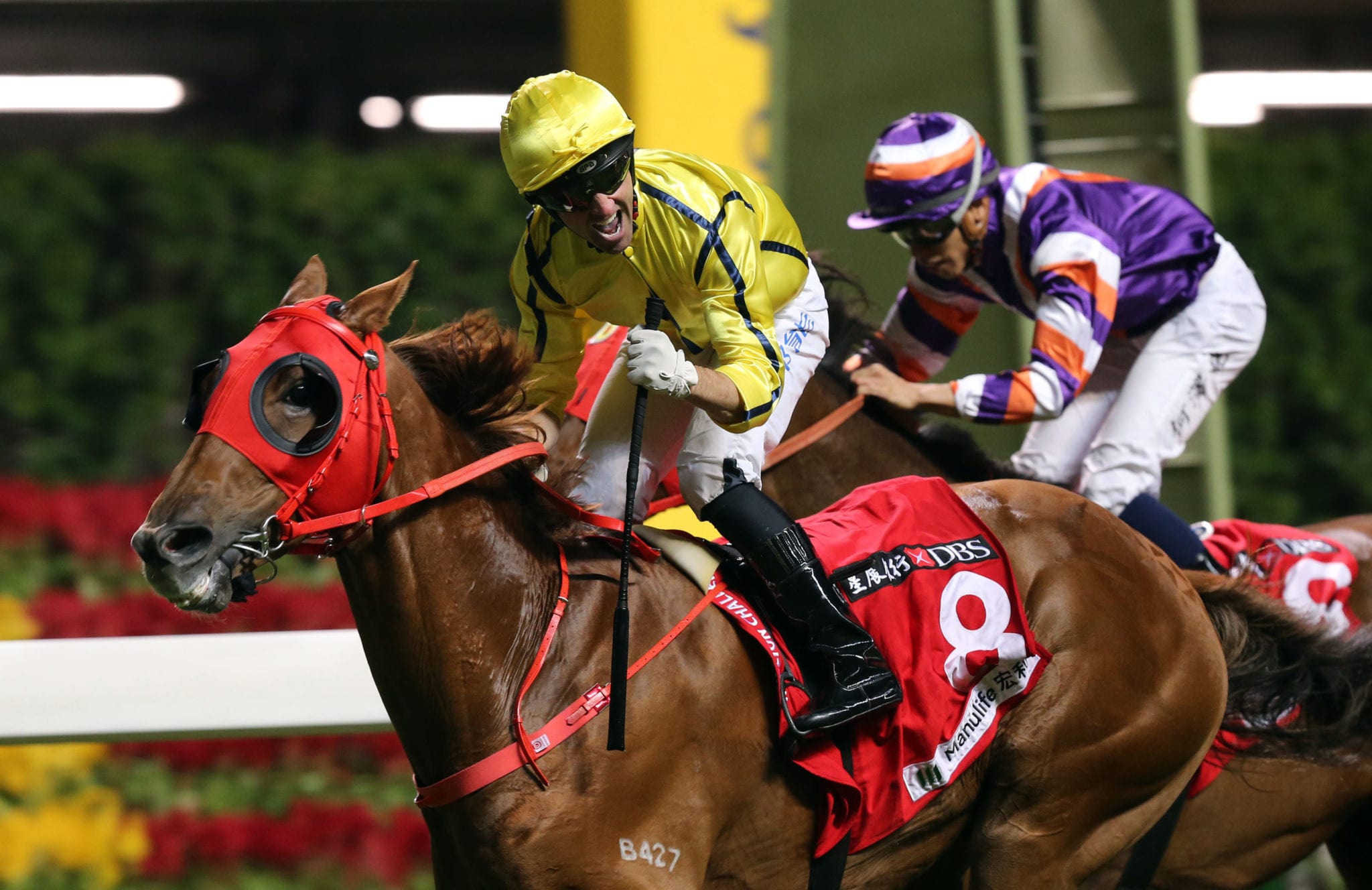 There was relief and satisfaction for Neil Callan at Happy Valley on Wednesday (16 October) with a double that lifted the 'Iron Man' off the cold list for the season.
The Irishman's campaign so far had in fact been frost-bound: zero wins from 44 rides before Wednesday and no score on the board since 26 June. But the ice warmed when Owners' Star sizzled down the stretch to open Callan's account and the thaw was set fair one race later thanks to Happy Warrior's late charge.
"It was a bit more relief than usual maybe," Callan admitted after Owners' Star carried off the Class 3 American Club Challenge Cup Handicap (1800m).
"I've said it numerous times, I've been here before, when I first arrived here it wasn't easy so it's not like I haven't been here and done it. I was relaxed because it just comes down to opportunities and I wasn't getting many good rides.
"I've been coming here nearly seven full seasons and on and off for 10. I've not ridden one season here when it's not been competitive – it's the most competitive racing environment in the whole universe."
The win aboard Danny Shum's 19/1 shot had a particularly sweet flavour. Callan had ridden the market second pick Xiang Bai Qi at that horse's previous two starts only to be replaced by the in-form Joao Moreira.
"I was jocked off Xiang Bai Qi, I wasn't happy about it but that's Hong Kong so it was sweeter when I won on Owners' Star. Danny asked if I'd ride at 121lb; I've been on a different diet and my weight had come really good and I was going to the races 122lb and not having to sweat.
"He got into a perfect position from the start and he gave me a lovey kick in the straight, just staying on."
With his first win in the bag at the season's 11th meeting, the jockey, 41, wasted no time in following up. Along came the John Moore-trained Happy Warrior in the very next race, the Class 4 Tai Lam Chung Handicap (1200m).
"They're like London buses, when one comes they all come," Callan said.
"I've been riding him all week, cantering and galloping him, and I said to John he felt that good that, even though it wasn't his right trip, if they were to go fast and he got the right run, he'd go close. He looked at me like I had two heads, but the horse was fresh, he was just bouncing around and ran a cheeky race.
"Hopefully the tide's turned for me and hopefully I can stay on a crest for a long time," he added.
Moore left the track with a double too, having hit the mark earlier with the three-year-old G Unit. The Danerich gelding opened his account at the fifth ask, with Grant van Niekerk delivering the 17/1 shot for a half-length win in the Class 4 Plover Cove Handicap (1000m).
The South African rider had one win from 11 rides for the stable last season and is already two from 12 this campaign.
Another man to bag a brace was Karis Teetan who learned on Tuesday that he would partner Hong Kong's latest buzz horse Aethero in next month's Group 2 Jockey Club Sprint (1200m).
That turn of events came about as a result of Moore's exciting Southern Hemisphere three-year-old being set to carry a featherweight 113lb in that lead-up to the Group 1 LONGINES Hong Kong Sprint (1200m).
Moore has turned to the lightweight previously, notably when Able Friend scorched to the top of the world sprint rankings in the 2015 Group 2 Premier Bowl Handicap (1200m).
"I'm delighted, of course," the Mauritian rider said. "I'm taking this opportunity with both hands. He looked impressive last time and he's shown from day one what he is. Mr. Moore has always supported me, I've been on his big horses before so I just hope I can make a big connection with this one and hope everything goes well."
The rider tallied his first win of the night when the Tony Millard-trained Righteous Mate stormed to a two and a quarter-length score in the Class 4 Shek Lei Pui Handicap (1650m).
"When you work him at home he doesn't feel like a Class 4 horse, he feels better than that," Teetan said.
"Tony asked me to ride him because he had a very nice weight and I've won on him before. When I worked him he felt different class, he felt really well so I was happy to take the ride.
"I gave him a good warm-up to get him focused nicely and he jumped and ended up getting a nice spot to settle three back on the fence. When I pressed the button I knew he would have something to give me and he did."
Teetan's second score came on the John Size-trained Shining Ace in the Class 3 Tai Tam Handicap (1200m). The four-year-old held off the Moreira-ridden Dancing Fighter by three quarters of a length.