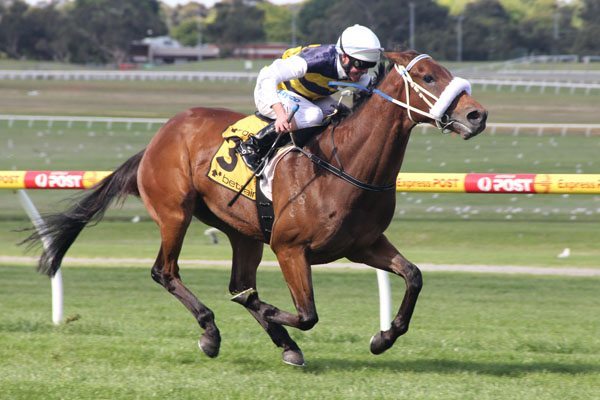 Estimated Reading Time: <1 minutes
Brambles' journey to the 2014 Caulfield Cup is nothing short of remarkable.
The Peter Moody-trained son of Savabeel and Prickle gained a start in the prestigious 2400 metre event as a second emergency after both Gris Caro and Dandino were scratched during the week, but that's not what's so fantastic about this story.
Brambles,currently the equal $9 second favourite with Sportingbet to win the Caulfield Cup, is part owned by the Dooner Armidale Racing Syndicate. Bill Miller is a part of that Syndicate. While admittedly his share in the Caulfield Cup contender is a small one, a more enthusiastic and passionate owner you wouldn't find.
Miller is part of the Syndicate with his friend Eris Dooner, Dooner's family and a work colleague Kevin Dupé. Brambles gave Miller and the Syndicate from rural New South Wales the thrill of a lifetime in 2012 when he took out the Group One Queensland Derby at Eagle Farm, before injury struck and put an ominous cloud over the remainder of his career.
"It was a huge thrill (winning the QLD Derby) and we were so excited for the future, but then he was out for two years while he was nursed back to health", Miller explained.
"He had travel sickness at first and then he was out for the Spring. They brought him back for the Autumn and he did a tendon which meant he was virtually out of racing for two years and to be honest we didn't think he would make it back."
Tendon injuries can be one of the most severe injuries for racehorses to overcome and it wasn't an easy recovery for Brambles.
"They took him to a trotting trainer by the name of Ebison and he trained him like a trotter for months and months just to build his tendon back up."
"It was an absolute surprise when he came back to racing. When he came back he ran some good races, but they were all midfield (finishes) as he tried to get some of his condition back during the winter."
Brambles showed a glimpse of his former self in August when running second behind Stipulate, rated a $21 chance to win the Caulfield Cup with Sportingbet, in the Listed Australian Thoroughbred Bloodstock Stakes at Caulfield over 1700 metres.
He followed that run with a strong win at Flemington over the same distance, defeating another Cup contender in Big Memory, currently at $21 with Sportingbet.
His last run was his best in recent starts, finishing third in the Group One Turnbull Stakes behind Lucia Valentina and Lidari. Both of these horses will be strong chances in the Caulfield Cup. Lucia Valentina is the clear-cut favourite at $3.80 with Sportingbet, while Lidari is the joint second favourite with Brambles at $9.
His last start performance has given Miller some hope that Brambles is ready to peak in the Caulfield Cup.
"He pushed through the field (in the Turnbull) and from what I am told he needed the run. He was blowing a bit afterwards so that gives us a bit of confidence.
"I think his preparation and the timing is pretty good and I think he will go really well, but whether he wins is another thing. He has a light weight (53.5kg) and he is fit and he will either lead or be right there, so it's just whether something gets him on the line. There is some good horses in it, it's a good race."
The patience of his trainer and owners to get Brambles back to the track and where he is today can only be compared and matched with the guts and determination that this fantastic horse possesses.
It would be a fairytale result to see Brambles snare top honours in the Caulfield Cup and potentially push on towards a berth in the 'big one' on the first Tuesday in November.
"We have always have plenty of faith in him. I think it is just the thrill of it really and the possibility of him going onto the Melbourne Cup, that's something you dream of", Miller enthused.
Sign up with Sportingbet via CupsBetting and receive an exclusive $700 free bet to back Brambles.