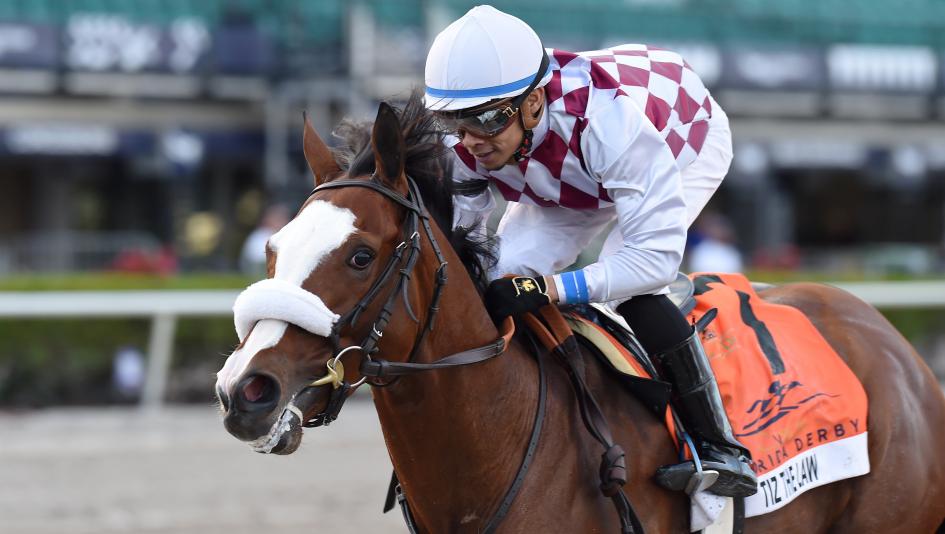 The Belmont Stakes is usually the third and final race in horse racing's Triple Crown, and it is best known for being notoriously difficult to win due to its grueling 1 1/2-mile distance. But this year, with the COVID-19 pandemic forcing the Kentucky Derby and the Preakness Stakes to be postponed, the Belmont will be the first race of the triple crown in 2020 and will be raced at a much more manageable 1 1/8 miles. Tiz The Law will be the US betting sites favorite in this 10-horse field on Saturday in Elmont, New York
Belmont Stakes Betting Favorite
8. Tiz The Law – Opened: +120 | Current Odds: -140.85 at BetOnline
The one to beat. Tiz The Law has won four of the first five races of his career and has posted impressive recent Beyer Speeds of 108 in the Holy Bull Stakes and 100 in the Florida Derby. The three-year-old is the only Grade 1 stakes winner in the field and will have a familiar jockey in Manny Franco who has ridden the horse in each of its last four races. The only concern here is the three-month layoff since his last race; if Tiz The Law is in top form on race day, he'll likely find his way into the winner's circle.
Belmont Stakes Contenders
2. Sole Volante – Opened: +450 | Current Odds: +700 at BetOnline
9. Dr. Post – Opened: +500 | Current Odds: +750 at BetOnline
1. Tap It To Win – Opened: +600 | Current Odds: +750 at BetOnline
10. Pneumatic – Opened: +800 | Current Odds: +1450 at BetOnline
Sole Volante is the only horse in the field that has a comparable average speed to Tiz The Law, albeit against weaker competition. The horse has won four of its first six career races with a sharp closing style; that ability to close should come in handy here with a lot of fast horses in the race. But Sole Volante is racing on only 10 days of rest, so energy could be a concern.
Tap It To Win coasted to an easy wire-to-wire victory on this track in an allowance race on June 4. John Velasquez will be looking for the same result here; if he can get a clean stake of the lead early, he may have enough energy to hold off the closers down the stretch.
Pneumatic will be pushing for the early lead as well, while Dr. Post is another closer. Both make for intriguing options in the exotics for bettors looking to round out trifectas and superfectas.
Belmont Stakes Long Shots
3. Max Player – Opened: +1500 | Current Odds: +2500 at BetOnline
4. Modernist – Opened: +1500 | Current Odds: +2500 at BetOnline
5. Farmington Road – Opened: +1500 | Current Odds: +2500 at BetOnline
6. Fore Left – Opened: +3000 | Current Odds: +4000 at BetOnline
7. Jungle Runner – Opened: +5000 | Current Odds: +6600 at BetOnline
Farmington Road figures to be the best of this group with six career races and two straight Beyer Speeds in the mid-90s. Another deep closer, Farmington Road's best shot at cracking the top three will be a ton of early speed up front wearing out some of the other contenders in this race.
Max Player has won each of his last two races, but he'll be getting a steep rise in difficulty in this field. It will be hard to make an impact coming off of a four-month layoff as well. Modernist has a pair of wins under his belt but doesn't seem to have enough speed to fight for the early lead in this group. Fore Left and Jungle Runner round out the field without too many realistic paths out of the back of the pack.