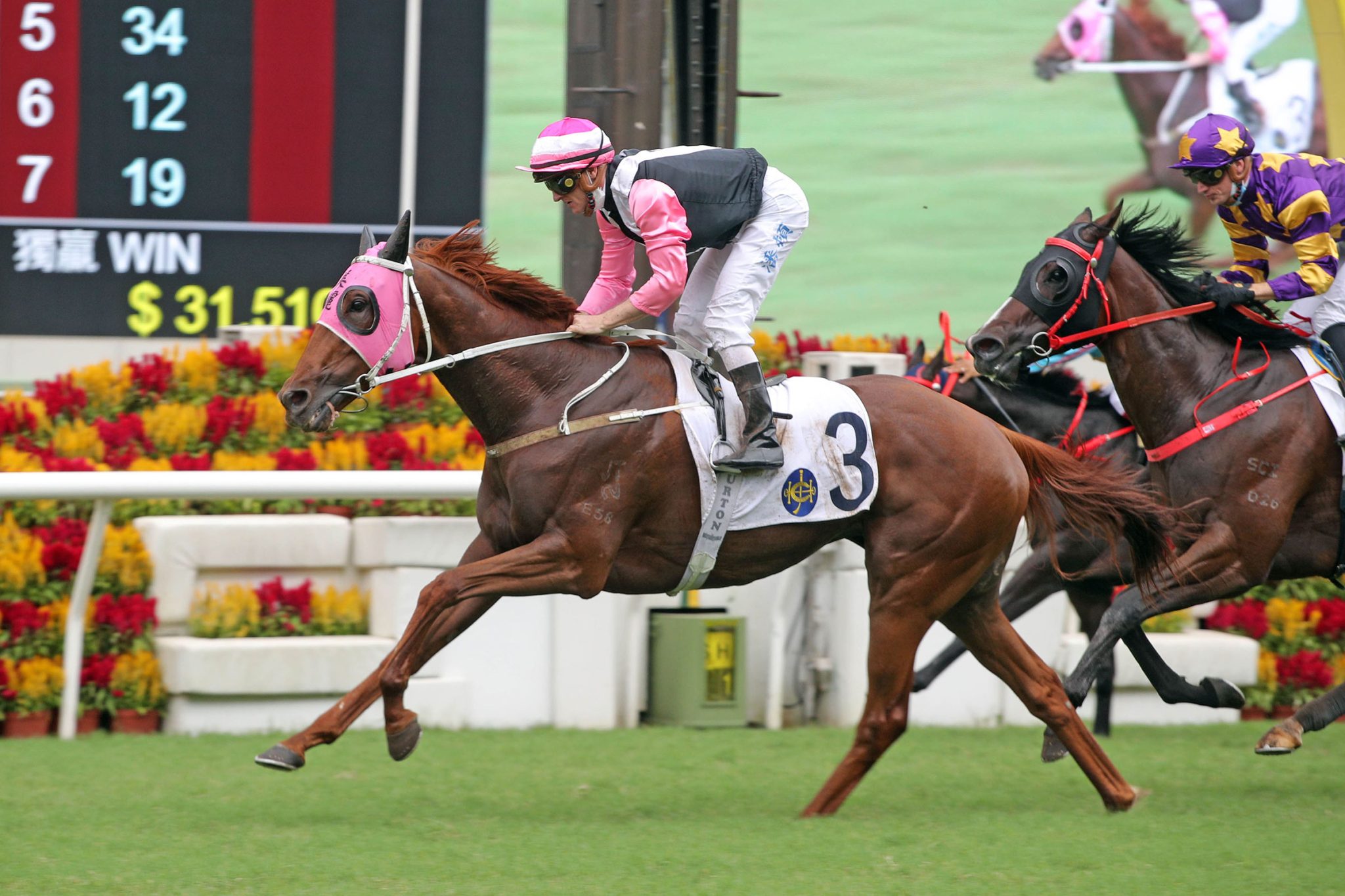 Steadily bridging the gap to Joao Moreira in the Hong Kong jockeys' championship with a four-timer, Zac Purton was stunned by Beauty Joy's incredible Group 3 Premier Cup Handicap (1400m) triumph at Sha Tin on Sunday (June 19) after the talented gelding conceded rivals a huge start before winning emphatically.
Tailed off last at the 800m mark, the quirky five-year-old closed off in a blistering 44.29s, including a final 400m burst of 21.83s, to slot his fifth win from nine starts in Hong Kong after posting four victories from as many starts in Australia when known as Talladega.
The Sebring gelding has developed a reputation for waywardness in an ascendant Hong Kong career, with Purton revealing he was uncertain of even completing Sunday's race – let alone winning it.
"Every race is something different with him, isn't it? He was quite chilled behind the gates today and I thought 'Oh, this is going to be nice. Maybe, he's at the end of the season, he's going to give me a nice ride today," Purton said after crossing the line a length in advance of Lucky Express, while Healthy Happy was third, a further length and a quarter away.
"But he jumped out and he just didn't want to go. He was really stiff in his action. He couldn't stretch out properly and he wasn't comfortable. I was looking down (at the horse's legs). I was a little bit 50-50 (about continuing) on him and I thought I would just keep on urging him along and keep him going for a little bit and see if he could warm into it.
"Once he got to the 1000m, he was okay – but I was that far off them, I thought the race was over. But he swept into it really nicely, he got there in plenty of time and then he had to fight for the win at the end.
"He's obviously talented but he can't keep producing performances like today and (also) in his previous starts and getting away with it. He's got to start getting it right from here on."
Trainer Tony Cruz believes Beauty Joy will be best suited over extended trips next season after a possible Group 1 LONGINES Hong Kong Mile (1600m) tilt in December.
"I think the horse hasn't got the early speed any more and we will think about even 2000m next season," Cruz said. "But first I will plan for the (Group 2 Jockey Club Mile in November) and then go for the (LONGINES Hong Kong Mile), but nothing is confirmed yet. To me I think he is a good miler, but I also think he can go further than that. I'm sure he can improve.
"Zac said 'Tony, the horse seemed very short in his stride, he wasn't stretching out, but on the turn when I gave him a smack it literally ignited him and he came home 100 miles an hour'."
Winner of the Group 3 Lion Rock Trophy Handicap (1600m) at his previous start, the son of Sebring "was a bit too switched off and he was too relaxed in the race," according to Cruz.
"His problem (before) was that he was difficult to relax in a race and in previous races when they slowed it down and you see his head going up, but I think we need to train him to be much more like today, then he can run further – we're definitely running him a lot further next season," Cruz said.
"He was a beaten horse but I'm very happy with the way he ran today, even though he didn't show that early speed. I believe he needs a lot further distance, that's why."
Riding in supreme form, Purton slotted a quartet to slash Moreira's lead to two – 127-125 – with only eight meetings left in the season, prevailing on Beauty Joy, Sauvestre, California Vanes and Tuchel, who continued an impressive trajectory with success in the Class 4 Lapis Lazuli Handicap (1400m).
"Now that he's (Tuchel) had four races, he's starting to put it together more efficiently," said John Size, who trails Frankie Lor 85-79 in the trainers' championship. "To win by a margin (two and a quarter lengths) with a heavy weight (133lb), it's hard to do. He's got a future."
Lor teamed with Purton to snare the Class 3 Sapphire Handicap (1400m) with Sauvestre, giving Lor a double after he had successfully combined with Moreira to land the Class 4 Topaz Handicap (1600m) with Chevalier Prince.
Lucky Eight's brilliant debut performance to win the first section of the Class 4 Spessartine Garnet Handicap (1200m) under Karis Teetan prompted trainer Ricky Yiu to compare the Pride Of Dubai three-year-old with 2014 Group 1 Al Quoz Sprint (1000m) winner Amber Sky.
"He reminds me a little bit of (Amber Sky) – he'll go close to what this horse achieved. He's just smart, he's got a good brain," Yiu said. "The win was expected. He got better with each trial and he's got a relaxed mind, which is most important for a sprinter. He's got a very good mindset."
Cruz lauded Purton's ride after California Vanes denied Beauty Tycoon to clinch the second section of the Class 4 Spessartine Garnet Handicap (1200m).
"It was a very good, patient ride," Cruz said after notching his 61st victory of the campaign. "All credit to Zac."
Cruz and Lor shared training honours with Danny Shum, who teamed with Harry Bentley to win the Class 3 Amethyst Handicap (1600m) after earlier collaborating with Alexis Badel to clinch the Group 3 Premier Plate Handicap (1800m) with Tourbillon Diamond.
Matthew Chadwick edged closer to snaring the Tony Cruz Award for the leading home-grown jockey when Chris So's Turf Brilliant speared through a narrow gap to land the Class 5 Ruby Handicap (2000m). Chadwick has 46 wins for the season, three more than Vincent Ho.
David Hall was pleasantly surprised with Eight Trigrams, who prevailed at odds of +4600 in the Class 3 Emerald Handicap (1200m) under Dylan Mo.
"It's a little bit of a surprise because the race looked a lot stronger today," Hall said. "The key to him was to have a nice, smooth ride and Dylan executed that really well and he was able to pinch another win."
More Hong Kong horse racing news