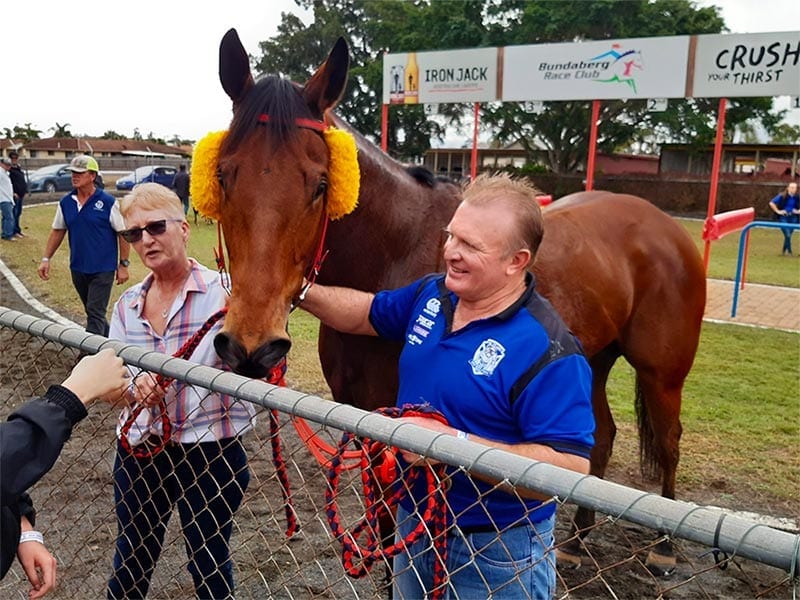 Estimated Reading Time: <1 minutes
Australian Queensland thoroughbred King Klaus made it back-to-back wins on Wednesday in an Open Sprint at Queensland's Toowoomba race track as he claimed his eighth career victory.
The rising five-year-old jumped brilliantly from barrier three under jockey Ron Stewart and was able to hold the inside and the lead throughout to win in a ding-dong battle.
Bundaberg-based trainer Gary Clem was full of praise for his Love Conquers All sired gelding, who has taken him for a terrific ride so far in his career.
"The owners had him over here at Warwick and he hurt his leg and said he has got to go for a spell," said Clem.
"They told me he's gotta have nine months off, so I said 'oh well, I'm young, you're old' – they laughed at me!
"He had the nine months off and this is him now."
The ex-jockey said that King Klaus is easy to train, eating 6kg (13lb) of food a day and doing everything he asks of him.
"He loves his work," said Clem.
"He just ticks all the boxes, he travels down here, you don't know he's on the float, he has a pee, he does everything right.
"That's why he comes here and races.
"First time he's been here, he ticks every track, any surface – sand, good, heavy.
"How many horses do that?"
They looked to go along fairly quick in front and the pressure was on early when Spirit's Choice came and sat outside King Klaus, which made a win look unlikely at the top of the straight, but the drifting favourite's will to win lifted him over the line.
Spinning Spirit got the drop on the two leaders and looked to have the race won at the 300m (1.5 furlongs) with 5kg (11lb) less than King Klaus, but the four-year-old mare didn't have as much fight in her as the eventual winner.
Clem admitted that the low barrier was key to his runner's success given he may not have been lining up if he drew poorly.
"I told the owners during the week, if he draws outside, I'm not coming five hours and I said we can wait another day," he said.
"Two of them [owners] turned up today.
"They just love him."
Although King Klaus is yet to win beyond 1100m (5.5 furlong), Clem is hopeful that his tough on-pacer will get to 1200m ( 6 furlongs) eventually, which could see him find a nice race somewhere over the Australian Queensland Winter Carnival.