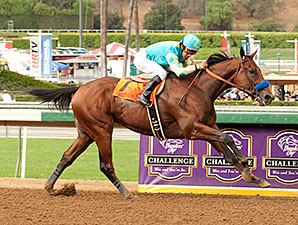 Estimated Reading Time: <1 minutes
PUNTERS of current 2015 Kentucky Derby favourite American Pharoah await a nervous couple of days after it drew barrier 18 earlier this week.
The Bob Baffert-trained runner was sitting steady at around $3 prior to the barrier draw, but has drifted to $3.75 at Sportsbet.com.au following a horror draw.
It won the Arkansas Derby by eight lengths leading into the Kentucky Derby and will need all that class to overcome the unfortunate barrier.
Second favourite and stablemate Dortmund received a much friendlier barrier of eight and looms as the major danger to the favourite – currently paying $4.33.
The big danger which has been overlooked by punters is Mubtaahij, which won in Dubai by eight lenghts, beating a world class field in the process. The Mick de Kock-trained runner is more popular with Australian punters, currently at $11 but is paying 20/1 in the U.S.
The best thing about the Kentucky Derby is that you just never know what's going to happen. Every now and then the favourite's win, but America is in waiting for their next hero and American Pharoah could be just that.
2015 Kentucky Derby barrier draw and odds
1. Ocho Ocho Ocho – $67
2. Carpe Diem – $9
3. Materiality – $13
4. Tencendur – $40
5. Danzig Moon – $41
6. Mubtaahij – $11 at CrownBet.com.au
7. El Kabeir – $34
8. Dortmund – $4.33
9. Bolo – $41
10. Firing Line – $15
11. Scratching (Stanford)
12. International Star – $21
13. Itsaknockout – $41
14. Keen Ice – $67
15. Frosted – $13
16. War Story – $51
17. Mr. Z – $67
18. American Pharoah – $3.75
19. Upstart – $17
20. Far Right – $41
21. Frammento – $51
22. Tale of Verve – $226
Kentucky Derby omen bets
Everyone loves an omen bet and it's extremely popular in the Kentucky Derby.
There are a few omen bets in the 141st edition of the Run to the Roses, which include a slippery surface and a war theme.
We'll start with Keen Ice and Frosted. There will be many omen bet punters licking their lips about the prospect of these two horses running the quinella.
Keen Ice is a long shot chance at $67 and isn't fancied among bettors, but Frosted ($13 at CrownBet.com.au) is owned by Darley and will resonate with Australian punters.
Boxing both runners in a $1 quinella would pay in the region of $140-$180, so it's well worth the risk.
The war theme we talk about concerns another two runners in the field. Firing Line ($15) and War Story ($51) are linked well enough to be labeled an omen bet, but War Story's form has been suspect this season.
Firing Line is a strong chance and we're getting overs compared to those in the U.S. The Simon Callaghan-trained runner will be ridden by Gary Stevens who is seeking his fourth Kentucky Derby.
Seeing as the Floyd Mayweather vs. Manny Pacquiao fight also screens this Sunday, what better horse to back than Itsaknockout at $41!
What's even better about Itsaknockout is that it was promoted to victory after the winning horse was disqualified in the Fountain of Youth Stakes, just like a boxing headline.
Bob Baffert still confident despite wide draw
People gasped when Kentucky Derby favourite American Pharoah drew barrier 18, but trainer Bob Baffert is still confident about his chances.
"As long as there's been a winner [from that gate]," Baffert said. "I didn't want to carry that with me, but it takes a good horse to win it. I mean the break is going to be so important."
Amercian Pharoah's owner Ahmed Zayat (who also owns Mr. Z and El Kabeir) is also confident about his chances.
"The good ones find a way to win," he said. "At least we are not handicapped.
"We should have no excuse."
Jockey Victor Espinoza will take the ride after winning the Kentucky Derby last year aboard California Chrome.
"I definitely didn't want to be the one horse [Ocho Ocho Ocho], that's for sure," Espinoza said. "I mean, I don't think it matters, but just to be safe.
"I feel more comfortable to be on the outside."
Legendary trainer Bob Baffert also lines up second favourite Dortmund which drew much better in barrier eight.
"He gets going," Baffert said. "He's quick and so he'll be right there in the mix."
Trainer Todd Pletcher has four horses in the Derby and Carpe Diem ($9 at Sportsbet.com.au) drew the best of them in barrier two.
"I mean there there was limited numbers left at that time, so it is what it is," said Pletcher.
"You don't get to pick. I'm happy he's in there.
"We're going to go with it. What are you going to do."