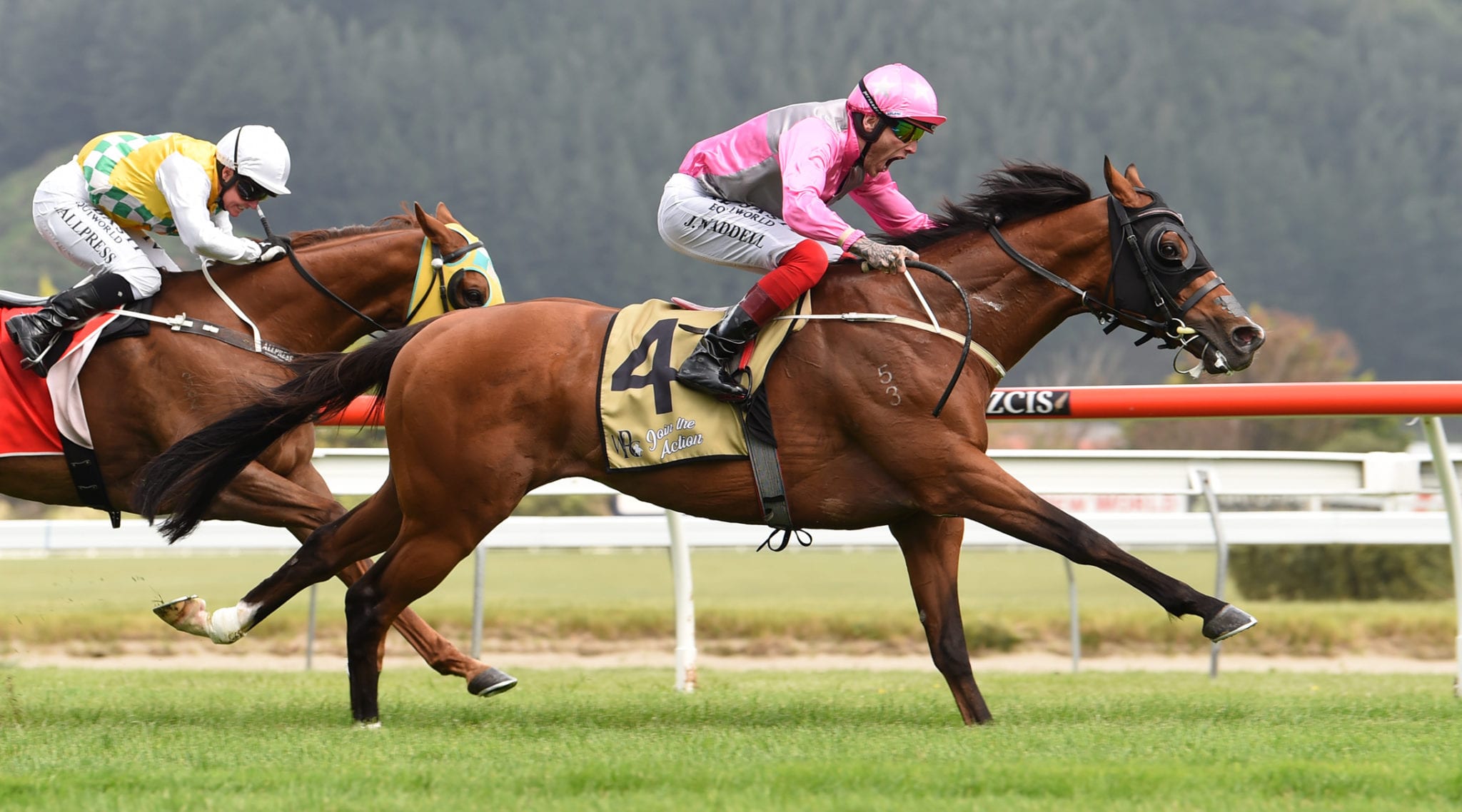 Jason Waddell is in top form with three stakes winners in eight days, but the Cambridge jockey came so close to ending his riding career earlier this season.
Waddell was emotional after Wyndspelle's first Group 1 win in the Captain Cook Stakes (1600m) at Trentham, then a week later he won the Group 3 J. Swap Contractors Sprint (1400m) at Te Rapa on Saturday with his best mate Julius in his comeback from retirement, and he followed that up with a courageous win by Scorpz in the Listed Hynds 3YO Salver (2100m) at Ellerslie on Sunday. "Everything is going well," Waddell said. "I'm getting on good horses and I feel I'm riding with confidence."
It's a far cry from the start of the season when he came so close to calling it a day and contemplated shifting to Australia. On May 27 he underwent surgery on his right leg for a condition called compartment syndrome and had planned to resume at the start of this season, but after riding at the Te Rapa trials on July 29 he got an infection in the leg, then his agent Darryl Anderson announced he was shifting to Hong Kong. "My leg still wasn't right and when Darryl told me he was off to Hong Kong I thought about giving it away," Waddell said.
"I couldn't find that enthusiasm to ride again. New Zealand racing hadn't been going the way I hoped it would. "I applied for a trackwork rider's job with Gai Waterhouse in Sydney, but I got turned down which was a bit of a shock. "I then decided to go back riding again and gradually managed to get my focus back. "I got Ted McLachlan as my agent and started off riding a lot more slower ones than I normally would, but it got me going again. "I began riding in mid-September and it's been hard work for the last couple of months, but lately the winners have come more regularly and my passion is there again. I'm focused and confident."
Waddell (33) is no stranger to comebacks, having given away riding in the past or been sidelined through official bans. He spent four seasons off the scene, including a 12-month disqualification, before making a comeback in 2016-17. Since then he has taken his New Zealand record to 657 wins and with 14 wins and 28 placings this term, he is already halfway to breaking the $1 million in prizemoney for the season, which he has done for the last two seasons and three times previously in New Zealand.
Among his 55 Group or Listed wins are 10 Group 1 victories, with the promise of more to come within the next few months, possibly with Wyndspelle in the Group 1 Cambridge Stud Zabeel Classic (2000m) at Ellerslie on Boxing Day and Julius in the Group 1 Sistema Railway (1200m) on New Year's Day, while he has confidence in Scorpz's prospects in the Group 1 Vodafone New Zealand Derby (2400m) on February 29.
On Sunday, Scorpz completed a hat-trick of wins, with Waddell riding him raceday for the first time in the second of those victories, the Group 3 Wellington Stakes (1600m) at Trentham. "I've got a massive opinion of him," Waddell said. "I started riding him in work for Stephen (Marsh) last June as a two-year-old and I could see the potential he had. "I thought he'd have won his maiden before he did, especially after his first-up run (for fifth) this season behind Harlech. But he went through a growth spurt and putting the blinkers on helped." The son of Charm Spirit was finishing strongly in his races and with blinkers on for the first time he was a close third when stepped up to 1600m at Te Rapa last month and has since been unbeaten.
Waddell admits it wasn't a pretty ride on Scorpz on Sunday, but it was effective and proved a point. "It was half similar to my ride on Vin De Dance when we won the New Zealand Derby," Waddell said. "I probably went close to 2200 to 2300m on Scorpz, being wide and making my move to be handy on the turn, but it proved he will have no trouble with the 2400m in the Derby. "I think he's a bit classier than Vin De Dance. He's got a better turn of foot. "It will take a crowbar to get me off him."
Meanwhile, Waddell is focused on the Ellerslie carnival, especially riding Wyndspelle and Julius. "It was pretty amazing to win the Group 1 on Wyndspelle at Trentham and he should be a top chance in the Zabeel Classic," Waddell said. Co-trainer Johno Benner confirmed Wyndspelle will continue on a Group 1 path after the Zabeel Classic. "He's nominated for the Herbie Dyke Stakes (Group 1 2000m) at Te Rapa and he could go there, but if he's placed in the Zabeel we could look at dropping him back for the Thorndon Mile (Group 1 1600m) at Trentham and there's also the Group 1 at Otaki (Haunui Farm WFA Group 1 Classic, 1600m)."
Waddell was also delighted with the comeback win of the John Bell-trained Julius on Saturday, though he said it was no surprise to him. "I felt confident after his first-up run (for fourth at Pukekohe) that he would win," he said. "I have ridden him all the way through in trackwork. "Originally the plan was to have a quiet trial at Te Aroha (Monday), but after riding him last Monday and Tuesday he felt so well we decided he might as well run around in a $70,000 race than trial. "And by winning he's got an extra 1kg for the Railway and that's a big help to me. I would have struggled to make 55kg, but I'd have done it. He'll be lethal with 56 kilos in the Railway."
Like most other jockeys, Waddell has to keep his weight in check over the festive season while everyone else is enjoying a good Christmas meal and drinks. "But we're a bit different than others," Waddell said. "My wife, Anna, is Swedish and she is used to celebrating Christmas on Christmas Eve. We've done that for the last 10 years and it works well with me. "I can enjoy our Christmas, then chill out and watch my weight on Christmas Day without as much pressure as other jockeys. "I will do training first thing in the morning, have some lunch, then train again at night and have a spa on the morning of the races.
"I also started a largely vegan diet with the rest of my family last week, just in case I had to get down to 55kg for Julius. "I've been to a nutritionist and sports well-being coach and trained with him for the last five weeks, boxing and doing cardio exercises. "The transition to a predominantly vegan diet is something we'd planned for the last three or four weeks and, though we do eat meat twice a week, it's about 30 percent of my diet. "I find my recovery rate has been better."