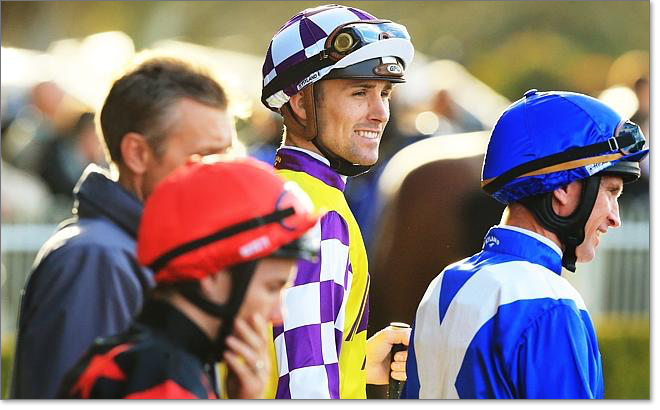 Estimated Reading Time: <1 minutes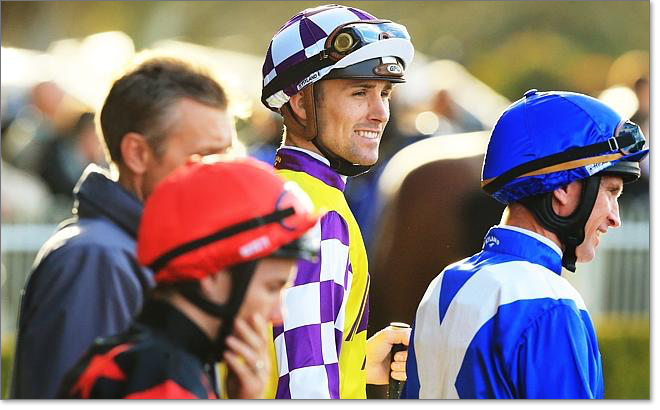 THE 2015 Origin Jockey Series kicks off this Saturday at Doomben where four of the nine selected jockeys will have a ride.
The new initiative from Racing Queensland will pit riders representing Queensland, Victoria, New South Wales and New Zealand. Starting this Saturday, there will be two races every week which are involved in the series.
The jockeys involved in the series include:
Tye Angland (NSW) – $3.50
Damian Browne (NZ) – $4.80 at Sportsbet.com.au
Craig Williams (VIC) – $5
Jim Byrne (QLD) – $5
Glen Boss (QLD) – $6
Opie Bosson (NZ) – $13
Dwayne Dunn (VIC) – $13
Danielle Johnson (NZ) – $17
Darren Gauci (VIC) – $21
Only Williams, Boss, Angland and Johnson will ride this Saturday in the Rating 70 [1350m] and Class 6 [1200m] at Doomben where Craig Williams is the $2.70 favourite to win the day.
Jockeys are awarded 10 points for a first placing, six points for second, three points for third and one point for being unplaced.
The winner will be decided on Boxing Day at Gold Coast. All betting options are available at Sportsbet.
2015 Kingston Town Classic market
Unbeaten runner Perfect Reflection heads the market for the Group 1 $1 million Kingston Classic at Ascot this Saturday.
A field of 16 runners has been confirmed where trainer Grant Williams will line up three entrants, including Perfect Reflection which is looking to remain unbeaten from five starts. The early mail suggested that Oaks and Derby winner Delicacy would open as the favourite, but William Pike has chosen to ride Perfect Reflection and the bookmakers took notice.
Delicacy was unlucky last time out after almost falling at the start, but it has class and the $5 available at WilliamHill.com.au could be worth taking. Perfect Reflection is stepping up to the big time and that's a big query for punters, but this runner could be the next big thing to come out of Perth and it will carry only 50kg.
The field also features the Andreas Wohler-trained Magic Artist which brings strong international and Melbourne form into the race. It's currently on the second line of betting in front of Delicacy ($5), Real Love ($7.50) and Black Heart Bart ($9).
Kingston Town market:
Perfect Reflection – $3.80
Magic Artist – $4.60
Delicacy – $5 at WilliamHill.com.au
Real Love – $7.50
Black Heart Bart – $9
Neverland – $13
Man Booker – $19
Blackwood – $21
Extra Zero – $26
Balmont Girl – $26
Hazzabeel – $26
London Line – $31
Tower Of Lonhro – $67
Bass Strait – $81
Dark Muscat – $126
Woodsville – $201
Trio plead not guilty in cobalt cases
Trainers Danny O'Brien, Mark Kavanagh and veterinarian Dr. Tom Brennan have pleaded not guilty to knowingly administering cobalt to horses.
The two trainers and vet were accused of feigned ignorance and feigned innocence in their evidence to stewards as they faced the Racing Appeals and Disciplinary Board on Monday.
All three denied knowing cobalt was used in IV drips given to horses that tested above the cobalt threshold. They also pleaded not guilty to intentionally administering the substance that affected four O'Brien-trained runners and one from the Kavanagh stables.
Jeff Gleeson, QC, representing Racing Victoria, said their stories were "farcically and transparently false".
He also stated the trainers made "rookie errors" as they tried to pick their way through "problematic maze of lies".
Gleeson stated that O'Brien originally told stewards he had no experience as to how cobalt could be administered, but when he was questioned later by stewards, O'Brien admitted he had "trials" with a new IV vitamin complex that was provided and administered by Dr Tom Brennan.
O'Brien also admitted to paying $3000 [$1000 a bottle] into Brennan's account. He also claimed he was unaware of what was inside the drips used by Brennan, and he would not take a risk if he knew otherwise.
A staff member of the Flemington Equine Centre – where Brennan works, said she had seen Brennan using the same bottle of vitamin complex that he had sent to Sam Kavanagh in NSW in the IV drips at Danny O'Brien's stable.
O'Brien denied ever having seen the staff member.
"I would not know her if she was sitting here right now," O'Brien told stewards.
Kavanagh told stewards he had never used cobalt or had it at his stables.
"We don't do any administration ourselves, the vet does everything… we don't even inject vitamins," he told stewards.
Both trainers were sticking to their stories that they would never inject a horse themselves and they seemed to be laying all the blame on Brennan, but when Kavanagh was later questioned by stewards he admitted that "injectable vitamins" recommended by Brennan caused the elevated cobalt levels in his horse Magicool.
Kavanagh said it was "absolute lies" that he had paid Brennan $3000 for a vitamin complex. He said cobalt was never mentioned when Brennan recommended he use new drips last Spring.
Brennan has denied knowing the vitamin complex included cobalt.
The hearing continues throughout the week.