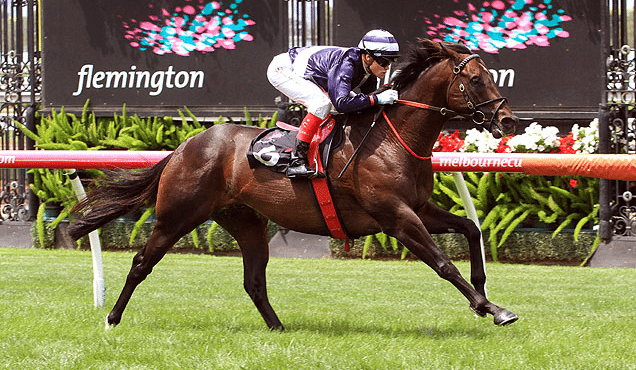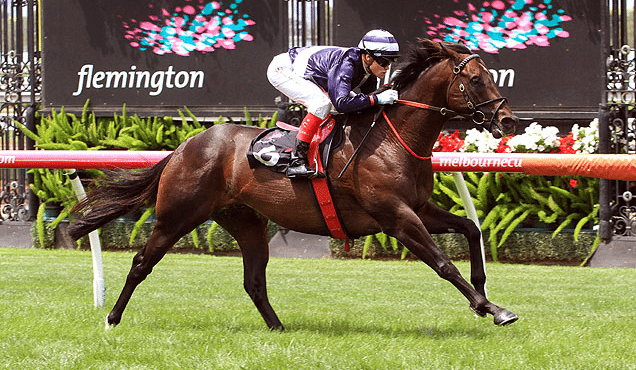 THE Goodwood Handicap is one of South Australia's biggest races and with $500,000 in winnings on offer, it carries group 1 status.
The 1200m sprint has attracted a full field of 19 runners this Saturday and the barrier draw was released on Tuesday.
The top two runners of Flamberge and The Quarterback probably wished they could have swapped draws as The Quarterback (barrier 1) likes to drop back and launch its run, which can be difficult when locked up on the inside.
The in-form runner with a big future, Supido, has drawn favourably in barrier nine and current Goodwood Handicap favourite and last-start winner, Black Heart Bart, has drawn nicely in barrier two.

2016 The Goodwood Handicap field, barrier draw and odds:
1. Flamberge (17) – $15
2. The Quarterback (1) – $15
3. Black Heart Bart (2) – $3.75
4. Churchill Dancer (15) – $26
5. Griante – scratched
6. Big Money (14) – $31
7. Smokin' Joey (5) – $51
8. Nostradamus (20) – $41
9. Fast 'n' Rocking (16) – $21
10. Daytona Grey (18) – $81
11. Under The Louvre (11) – $7.50
12. Admiral (6) – $13
13. Faatinah (10) – $34
14. Super One (13) – $15
15. Supido (9) – $5.50 @ Sportsbet.com.au
16. Sirbible (19) – $81
17. Cashed (4) – $101
18. Miss Promiscuity (8) – $31
19. Sheidel (12) – $13
20. Sooboog (7) – $15
Under The Louvre on track despite setback
Under The Louvre was meant to have a hit out at the Cranbourne trials last week, but poor conditions forced an abandonment on the meeting.
The Robert Smerdon-trained sprinter didn't seem fazed by the missed trial and instead he galloped it on the course proper at his home track in preparation for this Saturday's Group 1 Goodwood Handicap at Morphettville.
"The trials were washed out before Under The Louvre's trial, but he had the opportunity to work on the course proper with a mate and had a solid gallop," Smerdon said.
"I reckon his work was really good and I think his fitness is where we need it.
"Even though he is four weeks between runs and missed that trial, I am not concerned and believe he is right where we need him. So it's all systems go."

Smerdon said that the race has been made harder to win in the clubs efforts to attract the big stars. The likes of Black Caviar and Takeover Target have won the Goodwood and Smerdon believes the races conditions have made it harder on some horses.
"It went from a handicap to a set weight and penalty [race] and we were looking at it some years later, saying they haven't changed it back and lots of horses are being poorly-treated," Smerdon said.
"But then of course they got Black Caviar, who was enticed by the weight scale."
Under The Louvre carried 60kg when third behind Sheidel last start, but drops to 55.5kg for this, in which Smerdon thinks is a winnable weight.
"Some horses deal with weight better than others and it's not always their stature," Smerdon said.
"That's why today's high weight scale disadvantages a lot of horses because they just can't deal with weight."
Flamberge ready to shine for new trainers
The team of Ellerton/Zahra inherited a recent group 1 winner in Flamberge only a month ago and, although it ran well down the track in the Group 1 T.J. Smith Stakes at Randwick, they are putting that run behind them heading into the $500,000 feature.
"You need to space his runs," co-trainer Simon Zahra said.
"We backed him up going into Sydney and that was always against him.
"That [short break between runs] isn't his go.
"He also hadn't had a gallop that way of going, either.
"There was a lot of money on offer but it was a bit of a throw at the stumps, really."
Now with some time in the paddock under its belt, Flamberge ($15 at williamhill) is back to its best and the team are expected a forward effort.

"He had a jumpout last Friday at Flemington and went nicely. He had a nice blow and now we're just keeping him fresh into Saturday," Zahra said.
"He's spent a bit of time up on the farm and he's had a half-dozen gallops just to bring him into race fitness.
"He's settled into our routine nicely. He's a triple group one winner, so obviously they work good and look good when they're doing it.
"There are no frills about him, though. He's pretty laid-back and pretty quiet."
Drawing barrier 17 might have been a deterrent, but Flamberge won the Goodwood Handicap last year from barrier 16. The defending champion will likely head back from the draw when he's suited best according to Zahra.
"I think he's a better horse when there's speed and he's ridden back to let him finish off," Zahra said.
"I think he nearly draw the outside gate in the Oakleigh Plate and he had topweight but just went back and hit the line.
"Those outside gates don't worry him too much. He can sit three-deep with cover and still win.
"But this year he's got young horses snapping at his heels.
"It's definitely not going to be an easy feat but we can't have him any better."
Goodwood fancies forced to withdraw
Both the David Brideoake-trained Grinate and the Peter Morgan and Craig Widdleson-trained Zebulon will not take their places in the $500,000 sprint.
Zebulon has suffered a repeat tendon injury which will see it sidelined for 12 months.
"It's very disappointing, he's got some activity in his off-fore flexor tendon which is the same one he's had the trouble with before," Morgan said.
"He'd done so well since the win we were thinking he would be hard to beat in the Goodwood. It was just not us either as plenty of jockeys had been ringing to see if they could ride him."
Zebulon shortened to $9 with Bet365 before being taken out of the market. It has raced only eight times, but the training duo will give the four-year-old the time it needs to heal.
"He's a very good horse and he's still young so you have to try," Morgan said. "We're only a small stable and it would have been good to go there with a chance in a big race, but that's racing as they say."
Group 1 The Galaxy winner Griante pulled up sore after Tuesday's trackwork and will not run in the race.