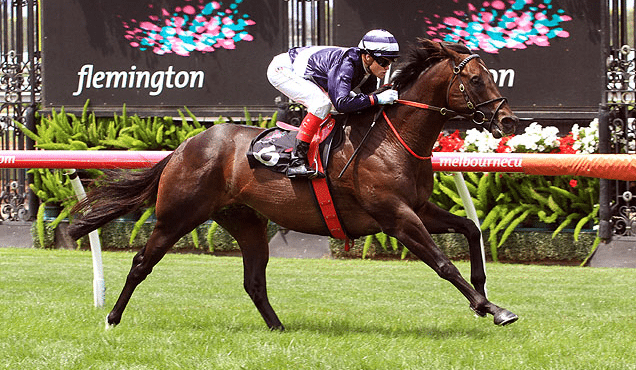 Estimated Reading Time: <1 minutes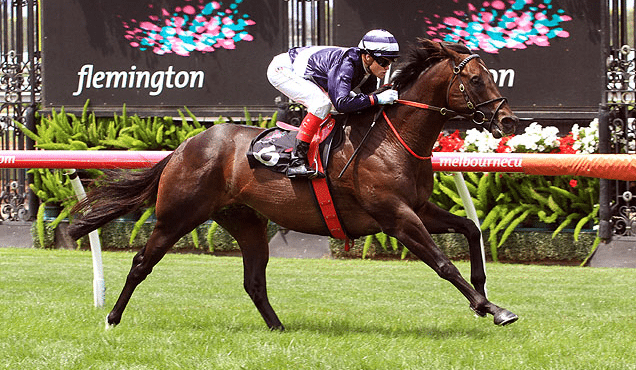 SUPIDO won its fifth consecutive race on ANZAC Day for trainer Michael Kent and now the Group 1 Goodwood in Adelaide is on the cards.
The four-year-old cruised to victory down the Flemington straight on Monday to record another stylish win and Kent's only worry is that Supido might need another run before the $500,000 Group 1 Goodwood on May 21.
"I'm going to nom for the Goodwood. That's my main aim so I'll have to look at the weights and if I have to run him again, I have to," Kent said.
"There's the race two weeks before in Adelaide or there's a 1000[metre] race here [Flemington] a fortnight before.
"Ideally, he'd go straight in but I have to weigh up whether he'd get a run or not."
The son of Sebring has been troubled by throat problems in a limited career, but based off its most recent where Luke Nolen was in the saddle, the jockey is confident it will compete well in higher grades.

"From the first time I rode him at the races, he's got a fair bit stronger and he gave me a really good feel," Nolen said. "He chased what was a pretty solid speed and he didn't have a drag into the race.
"We were sort of in the middle of no man's land a little bit so the effort was first rate and that of a sprinter of some quality going forward to better races."
The Group 1 Goodwood is shaping up to be a very even field with the current favourite priced at $6.50. Group 1-winning sprinter The Quarterback is on the second line of betting with Supido on the third line at $11.
The Goodwood market:
All-in markets do not provide refunds if your selected runner does not start*
Under The Louvre – $6.50
The Quarterback – $7.00
Supido – $11 at Sportsbet.com.au
Miss Promiscuity – $13
Flamberge – $13
Shiraz – $13
Lord Of The Song – $15
Fast 'N' Rocking – $15
Griante – $15
Thermal Current – $17
Nostradamus – $17
Admiral – $21
Almighty Girl – $26
We've Got This – $26
Rageese – $26
It Is Written – $34
Sheidel – $34
The Messina Nymph – $41
Riziz – $41
Karacatis – $41
Tuscan Sling – $41
Gregers – $41
Cashed – $51
Daytona Grey – $51
Pittsburgh Flyer – $51
Yesterday's Songs – $51
La Passe – $51
Hellova Street – $61
Heart Of A Lion – $61
Northern Zhar – $81
Miss Vista turns heads at Flemington
Striking filly Miss Vista made the headlines for more than one reason on Monday at Flemington. The daughter of Show A Heart made it two-from-two with an impressive victory in The Euroa VCS Handicap, but its unusual markings has made it an instant star.
The bay and white-coloured filly with blue eyes is a standout in the yard and many fans are already relating it to the great Apache Cat, which also has distinctive white facial markings.
Trainer George Osborne has been offered advice about training a high-profile horse and he is expecting the interest to continually grow.
"She's only had two runs and she's already the people's horse," Osborne said.
"In another couple of seasons she might become the face of the nation.
"I can appreciate far greater horses than her such as Might And Power and Black Caviar, what their trainers went through."
Miss Vista opened at $1.80 on Monday, but drifted out to $2.35 with Sportsbet.com.au. The filly led from the outset and Osborne will now set it for a quick spring campaign before tackling the autumn next year.
"Next autumn I think she'll be a serious horse," Osborne said.
The win was also jockey Ben Allen's first metropolitan winner and at the age of only 16, Allen has a promising future ahead of him.
"I can't believe I'm winning a race at Flemington a year after I've started," Allen said.
Aussie sprinters dominate Chairman's Sprint market
Buffering has been a big firmer in the Group 1 Chairman's Sprint Prize in Hong Kong this Sunday. The Robert Heathcote-trained runner is now on the second line of betting at $6.50 behind fellow Australian runner Chautauqua at $2.25.
Support has come for Buffering after its international win in Dubai and the favourable track bias at Sha Tin. The famous Hong Kong racetrack had a tendency to favour runners on the pace this time of the year and punters have caught onto that.

For backers of Chautauqua, which likes to settle back before unleashing its sprint, they should be concerned, but there looks to be plenty of pressure up front and that could help the back markers.
Buffering, Aerovelocity, Peniaphobia and Not Listenin'tome could all battle for the lead which should make for an interesting contest.
Sportsbet.com.au is offering an Australian quinella special involving Buffering and Chautauqua. A fixed price of $10 is available for both runners to finish first and second, which is much better than it will pay come race day.
Updated Chairman's Sprint market:
Chautauqua – $2.25
Buffering – $6.50
Lucky Bubbles – $7.50
Aerovelocity – $7.50
Thewizardofoz – $7.50
Gold-Fun – $8.00
Peniaphobia – $21
Not Listenin'tome – $21
Amazing Kids – $26
Strathmore – $81
Charles The Great – $101
Dundonnell – $101
I'm In Charge – $151
Super Jockey – $151
Key Witness – $201