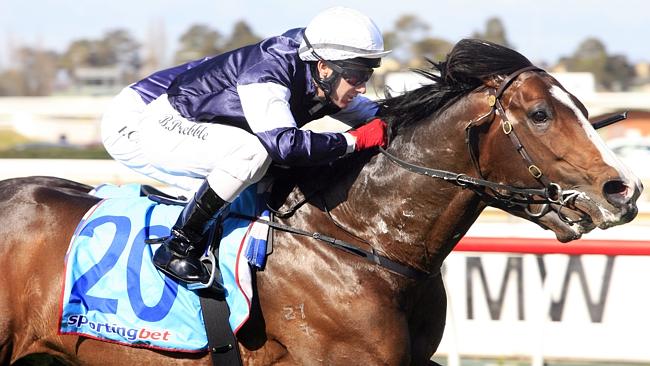 The Gai Waterhouse trained Fiorente is an easing favourite for today's $6.2 million Melbourne Cup at Flemington.
Fiorente's odds have drifted from $7 to $8 at Sportingbet as punters rally behind Sea Moon, one of six runners for owner Lloyd Williams.
Sea Moon has firmed from $19 into $15 fourth favouritism at Sportingbet after a significant overnight push for the Steven Arnold mount.
"Sea Moon has been by far the best backed horse over the past 12 hours and we've taken some significant wagers including bets of $20,000 and $10,000," Sportingbet's Andrew Brown said.
"Simenon is also being well supported late with punters cutting his odds from $21 into $15," Brown said.
Mount Athos, a luckless fifth in the race last year, remains a solid second favourite at $10 with Sportingbet.
Caulfield Cup runner-up Dandino has also been steady at $13.
Hawkspur, one of two runners for Sydney trainer Chris Waller, has been friendless in betting and has drifted from $14 out to $18.
2013 Melbourne Cup
Sportingbet Australia market
Fiorente $8 (was $7)
Mount Athos $10 (steady)
Dandino $13 (steady)
Sea Moon $15 (was $19)
Simenon $15 (was $21)
Fawkner $17 (was $16)
Verema $16 (steady)
Seville $18 (was $17)
Hawkspur $18 (was $14)
Dear Demi $17 (steady)
Voleuse De Coeurs $18 (was $17)
Tres Blue $21 (was $19)
Brown Panther $19 (steady)
Royal Empire $20 (was $19)
Masked Marvel $34 (was $31)
Foreteller $31 (steady)
Green Moon $31 (was $41)
Dunaden $41 (steady)
Ruscello $61 (was $51)
Super Cool $34 (was $51)
Ibicenco $51 (was $81)
Red Cadeaux $51 (was $81)
Ethiopia $71 (was $81)
Mourayan $101 (was $126)