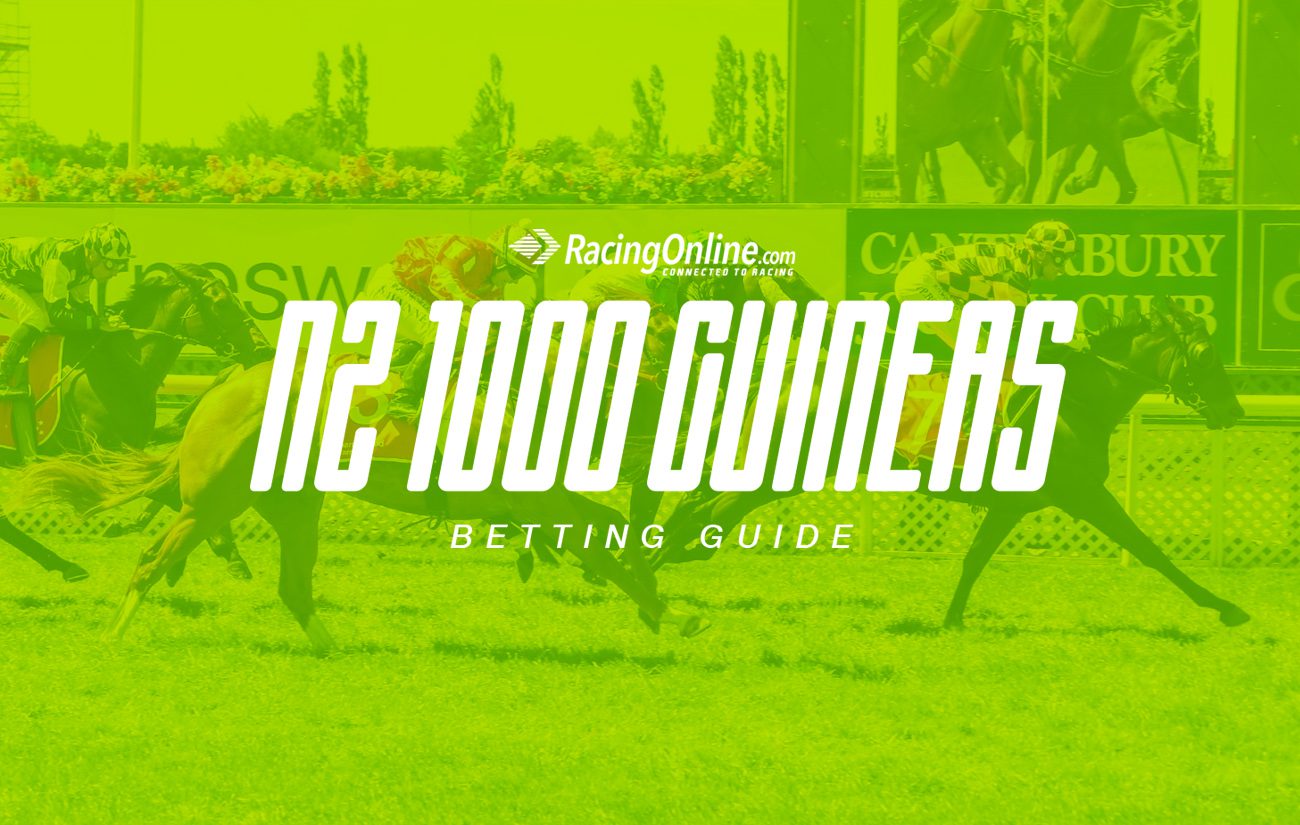 New Zealand 1000 Guineas
Date
November 13, 2021
Venue
Riccarton Park, Christchurch
Distance
1600 metres
Prize Money
NZ$300,000 (US$213,000)
First Running
1973
2020 Winner
Kahma Lass
The New Zealand 1000 Guineas is one of the nation's premier thoroughbred races for three-year-old fillies. Run every November over 1600m at Riccarton Park, the Group 1 event headlines the final Saturday of Christchurch's New Zealand Cup Week. Here, we cover all you need to known about the NZ 1000 Guineas, including how and where to bet on the race.
---
Best bookmakers for NZ 1000 Guineas betting
NZ bookmakers do a roaring trade on the New Zealand 1000 Guineas, while there is also plenty of action to be had with wagering operators in Australia, Asia, Europe and North America. For the best NZ 1000 Guineas odds in 2023, we recommend the regulated betting sites below.

Bookies for the Hong Kong Sprint
---
2020 New Zealand 1000 Guineas results
| Result | Horse | Trainer | Barrier | Jockey | Weight |
| --- | --- | --- | --- | --- | --- |
| 1st | KAHMA LASS | JW Richards | 7 | OP Bosson | 56.5 |
| 2nd | MISS TYCOON ROSE (AUS) | M & M Pittman | 13 | SL Lynne | 56.5 |
| 3rd | CORNFLOWER BLUE | JW Richards | 2 | DS Johnson | 56.5 |
| 4th | TINKER McPHEE | S & K Alexander | 9 | SR Weatherley | 56.5 |
---
NZ 1000 Guineas history
When the New Zealand Derby (Ellerslie) and New Zealand Oaks (Trentham) were moved from Riccarton in 1973, two new three-year-old races were created to fill the void: the New Zealand 2000 Guineas and the New Zealand 1000 Guineas. Both are named after English classics which are run at Newmarket each May.
While the 2000 Guineas is open to three-year-old horses of any sex, the 1000 Guineas is for fillies only. Both races are run over 1600m at set weights.
The name '1000 Guineas' refers to the prizemoney that was awarded when the British race was founded in 1814. A guinea was the equivalent of £1.05, so the purse was a little over £1000. In New Zealand, the prize pool for the 1000 Guineas started at NZ$20,000 and now stands at $300,000.
While the Kiwi version of the race is relatively new, it is now a mainstay of the NZ racing program. The two three-year-old classics bookend New Zealand Cup Week in Christchurch each year, with the 2000 Guineas on the opening Saturday and the 1000 Guineas closing the carnival seven days later.
The race has produced some notable winners over the years. In 1982, Our Flight backed up her Levin Classic win with a 1000 Guineas triumph; Tycoon Lil saluted in 1997 and went on to win Group 1 races on both sides of the Tasman; in 2005, Seachange made it the first of her record seven NZ Group 1 titles; and in 2009, Katie Lee became the first horse to win both the 1000 Guineas and the 2000 Guineas.
---
New Zealand 1000 Guineas records
Most wins by a trainer: Two;
FP Campbell – Burletta (1983), Merry Maiden (1991)
DJ & PD O'Sullivan – Cure (1986), Snap (1993)
Jason Bridgman – King's Rose (2010), Costa Viva (2013)
Peter & Dawn Williams – Planet Rock (2011), Media Sensation (2018)
Most wins by a jockey: Four;
Chris Johnson – Canterbury Belle (1984), Phillipa Rush (1989), Tartan Tights (1994), Lil Tycoon (1997)
---
Recent NZ 1000 Guineas winners
| YEAR | HORSE | TRAINER | JOCKEY |
| --- | --- | --- | --- |
| 2020 | Kahma Lass | Jamie Richards | Opie Bosson |
| 2019 | Loire | Tony Pike | Michael McNab |
| 2018 | Media Sensation | Peter & Dawn Williams | Michael Coleman |
| 2017 | Hasahalo | Stephen McKee | Sam Spratt |
| 2016 | La Diosa | Mandy & Matt Brown | Racha Kuneen |
| 2015 | Risque | S Autridge & J Richards | Matthew Cameron |
| 2014 | Platinum Witness | Lisa Latta | Darryl Bradley |
| 2013 | Costa Viva | Jason Bridgman | Leith Innes |
| 2012 | Rollout The Carpet | J McVean & E Brown | Mark Du Plessis |
| 2011 | Planet Rock | Peter & Dawn Williams | Hayden Tinsley |