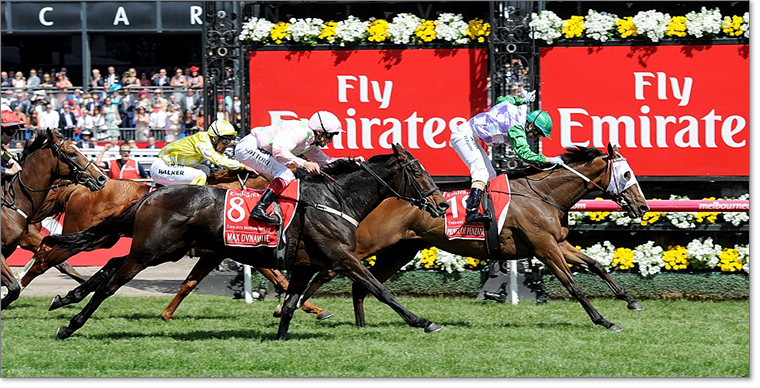 Estimated Reading Time: <1 minutes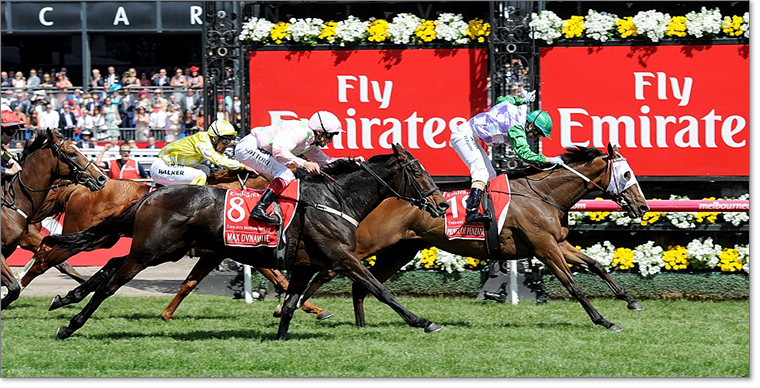 "Michelle Payne has created history. The first lady to win the Melbourne Cup. The Melbourne Cup has been turned on its head."
Those were the words of race caller Greg Miles as Prince Of Penzance crossed the line first in the $6 million Emirates Melbourne Cup.
Prince Of Penzance caused one of the biggest boil-overs in the 153-year history of the Melbourne Cup when it won paying over $65 at Flemington on Tuesday.
The Darren Weir-trained runner wasn't a fancied chance prior to the start, but the Weir stable had a few surprises in store in what was a tough road to Group 1 glory.
"He's an amazing horse – he's had two joint surgeries, nearly died once with colic and he keeps coming up," Weir said.
"To be honest, I was thinking we're a chance of finishing in the first 10 and getting some of that prize money, to win it is just amazing.
"It was a great ride from Michelle [Payne] and a great team effort from everyone at both stables.
"Everyone works real hard and all the success I've had is the result of all the work from everyone in the team."
Michelle Payne gave the son of Pentire a beautiful ride in transit and its race-rivals were left in its wake down the lengthy Flemington straight.
The 30-year-old hoop became the first female jockey to win the Melbourne Cup and will forever go down in the history books.
Payne's association with Prince Of Penzance has been a long one. She has ridden it in all but one of its 24 starts and she only missed one because of suspension.
"It's like a dream come true, this horse is awesome," Payne said.
"I think Joao Moreira was a bit pissed off with me because he was trying to get my spot but I wasn't giving it up. He [Prince Of Penzance] was going so well before the straight I kept checking and checking and waiting and waiting.
"What this horse has been through, unbelievable training to get him here like this today. This is everybody's dream as a jockey in Australia and now probably the world.
"My sister Margaret and I both had a feeling we would win this race. It's such a chauvinistic sport, a lot of the owners wanted to kick me off.
"Everyone else can get stuffed who think women aren't good enough."
The beaten brigade
Racing Victoria chief steward Terry Bailey described the 2015 Melbourne Cup as "the worst that we've seen for a while" when making reference to the amount of carnage caused by interference.
Finishing in the runner-up spot was Max Dynamite, ridden by champion jockey Frankie Dettori, but he coped an almighty fine and suspension from the stewards for his dangerous riding tactics.
Dettori got fined $20,000 and will serve a one-month suspension for abruptly shifting out on Max Dynamite which impacted on many runners chances in the Cup. The worst of the lot was Grand Marshal, which was ridden by Jimmy Cassidy.
Cassidy stated he was happy to be alive after suffering a horrible check during the run and all but ending his mounts chances of winning. The interference also caused Gust Of Wind to be held up before it flashed home late.
"It was very disappointing to see that level of interference," Bailey said.
"They know what they have got to do. They are the best jockeys in the world.
"It's all disappointing to see but fortunately everyone stayed up and went home in one piece.
"It's the worst Melbourne Cup that we've seen for a while."
Three-time placegetter Red Cadeaux failed to finish the race as a 10-year-old and it will never race again after suffering a serious fracture to its medial sesamoid.
The Ed Dunlop-trained runner was eased out of the race at the 200 metre mark when it blundered before jockey Gerard Mosse pulled it up.
"Diagnostics undertaken on Red Cadeaux at the University of Melbourne Equine Centre at Werribee this afternoon show the horse has sustained a fracture to his medial sesamoid in his left fore fetlock," a Racing Victoria statement read.
"The horse is comfortable with his leg in a splint and the fracture is stable.
"Dr Chris Whitton from the University of Melbourne advised that the injury is not currently life-threatening, however the horse will not race again.
"Dr Whitton stated that a plan to repair the injury is being formulated in consultation with other world-leading equine orthopaedic surgeons.
"He further advised that he is not planning to undertake surgery tonight, noting that the horse is comfortable and that there are several options being considered to treat his injury."
It's a sad end to the career of such a great horse, but Dunlop looks to have another star in the making with Trip To Paris, which was game in defeat.
2015 Melbourne Cup – where did they finish?
It's tough to know exactly where every horse finished in the Melbourne Cup, and in this year's edition was made tougher by the amount of interference caused in the straight.
The field looked to be split in two heading into the straight and the back-markers were left floundering. The pace of the race and the track bias were too much for some of the fancied runners to overcome, with race-favourite Fame Game never looking like a winning hope.
1. Prince Of Penzance – $65.90
2. May Dynamite – $4.20
3. Criterion – $5.30
4. Trip To Paris
5. Big Orange
6. Gust Of Wind
7. Excess Knowledge
8. The Offer
9. Quest For More
10. Our Ivanhowe
11. Who Shot Thebarman
12. Sertorius
13. Fame Game
14. The United States
15. Hartnell
16. Bondi Beach
17. Hokko Brave
18. Almoonqith
19. Kingfisher
20. Preferment
21. Grand Marshal
22. Sky Hunter
23. Snow Sky
24. Red Cadeaux
2016 Melbourne Cup market
Sportsbet.com.au are always quick to put up a Melbourne Cup market for the following year and they have three runners as equal favourites for 2016.
Tarzino, Order Of St George and Max Dynamite are the co-favourites at $17 with the Ed Dunlop-trained Trip To Paris currently on the second line of betting at $21.
After a luckless 2015 Melbourne Cup, the John Sargent-trained Gust Of Wind looks a solid chance at $26 and Criterion sits on the same line.
2015 winner Prince Of Penzance is a $34 chance to win a rare Melbourne Cup double, but there will be some punters jumping on that price after winning at $65.90 on Tuesday.
Market subject to change*
Tarzino – $17
Order Of St George – $17
Max Dynamite – $17
Trip To Paris – $21
Amralah – $21
Kia Ora Koutou – $21
Gust Of Wind – $26
Mongolian Khan – $26
Preferment – $26
Criterion – $26
Etymology – $26
Bondi Beach – $26
Prince Of Penzance – $34
Our Ivanhowe – $34
Hauraki – $34
Negligent Treatment – $34
Excess Knowledge – $34
Big Orange – $34
Kobalt – $34
Almoonqith – $34
Magic Hurricane – $34
The United States – $34
Signoff – $34
Who Shot Thebarman – $41
Shelf Stacker – $41
Geetee's Backlash – $51
Chance To Dance – $51
Kingfisher – $51
Ruling Dynasty – $51
Shambles – $51
Guardini – $51
Havana Cooler – $51
Unexposed – $51
Benchmark – $51
Amiable Idiot – $51
The Offer – $51
Manndawi – $51
Gifted Gelding – $67
Trainwreck – $67
Box Ticker – $67
Thunder Set – $1001