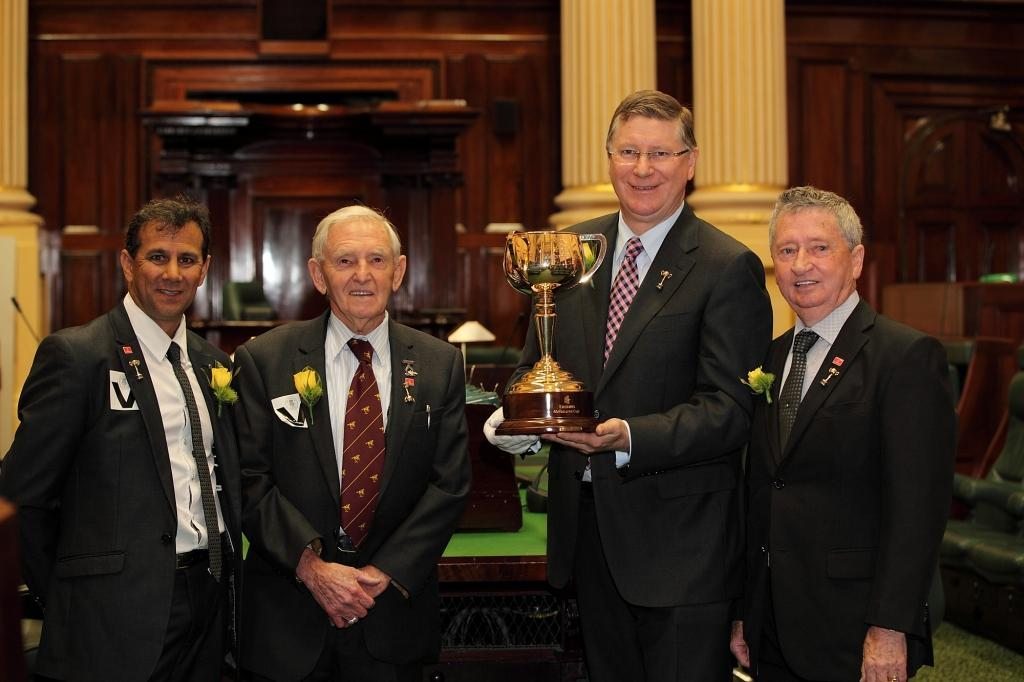 An historic occasion was marked today with the first ever known visit of the Emirates Melbourne Cup to Parliament House.
Premier of Victoria and Minister for Racing Denis Napthine said the Melbourne Cup was an iconic trophy around the world; playing a strong role in the social and economic fabric of Melbourne and Victoria.
"The Melbourne Cup Carnival is one of the premier sporting events in Australia that generates excitement around the world," Dr Napthine said.
"However, the Cup is also an important economic contributor to the state, providing a boost to the retail, tourism and hospitality sectors.
"In 2012, the Victorian economy benefited from more than $366 million in economic benefit generated by the Melbourne Cup Carnival, an increase of nearly 5 per cent from 2011."
Last year's Melbourne Cup attracted:[dt_list style="1″ dividers="true"][dt_list_item image=""]more than 134,000 out-of-state visitors, including more than 21,200 from overseas contributing a significant portion of the total attendance of over 350,000 over the four days of the carnival;[/dt_list_item][dt_list_item image=""]about $29.6 million in spending on fashion and clothing by racegoers attending the carnival;[/dt_list_item][dt_list_item image=""]and about $26.7 million in spending on hotels and other accommodation, the equivalent of more than 175,060 nights.[/dt_list_item][/dt_list]
"Of course, the Melbourne Cup Carnival is part of the broader Spring Racing Carnival which goes over 50 days seeing 10 major raceways in Melbourne and, importantly, 76 great racing events across country Victoria," Dr Napthine said.
"These events provide great stimulus to local businesses as well as being a fun and exciting time for the many hundreds of thousands who get to the track."
At the Parliament House reception for the Cup, Dr Napthine was joined by Victoria Racing Club (VRC) chairman Michael Burn to welcome the 2013 trophy along with a display of artwork and photographs of the Melbourne Cup throughout its history.
The colour of the Spring Racing Carnival was also captured in a flower display by Flowers Victoria florist suppliers with all four flowers of the four days of the Emirates Melbourne Cup Carnival gracing Parliament House.
"I'm sure that the 153rd Melbourne Cup will be another outstanding race and I wish all the owners, trainers, jockeys and horses the best of luck and that the VRC has another successful Melbourne Cup Carnival," Dr Napthine said.