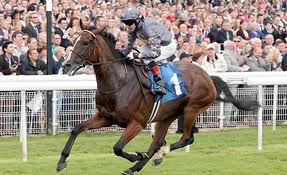 The Luca Cumani-trained Mount Athos continues to be well backed with Sportingbet Australia to win Tuesday's Melbourne Cup firming into a clear second favourite at $8.50 behind easing favourite Fiorente who is now out to $7.
"Mount Athos has easily been best backed in the past few days firming from $10 since Monday. There's been a groundswell of support for him and its getting stronger by the day, there is a good chance he could be favourite by Cup day," Sportingbet's Michael Felgate said.
"Punters plunged on Mount Athos in the last 24-hours before last year's Cup backing him into favouritisim and we are bracing ourselves for a similar scenario this year," Felgate said.
Ruling Melbourne Cup favourite Fiorente has been easy in betting following the support for Mount Athos, drifting from $5.50 out to $7.
"Punters have definitely gone cold on Fiorente in the last few days with most of the money coming for the international raiders,"
Caulfield Cup runner-up Dandino is an $11 third favourite but has had little support in the past week along with Caulfield Cup favourite Hawkspur, $11 out to $13, who has been friendless in betting.
Jet Away, who has to win on Saturday to force his way into the Cup, has been well backed firming from $26 into $21 since the Mackinnon Stakes field was released yesterday.
"Punters are confident he will win on Saturday, we have taken a lot of bets on Jet Away in the last 24-hours. It could be a good gamble because if he does win he'll probably be third or fourth favourite in the Cup," Felgate said.
2013 Melbourne Cup (All-in)
Sportingbet Australia market
Fiorente $7.00
Mount Athos $8.50
Dandino $11.00
Hawkspur $13.00
Verema $13.00
Voleuse De Coeurs $13.00
Sea Moon $15.00
Seville $19.00
Tres Blue $19.00
Jet Away $21.00
Simenon $21.00
Brown Panther $26.00
Dear Demi $26.00
Foreteller $26.00
Masked Marvel $28.00
Others $31.00+