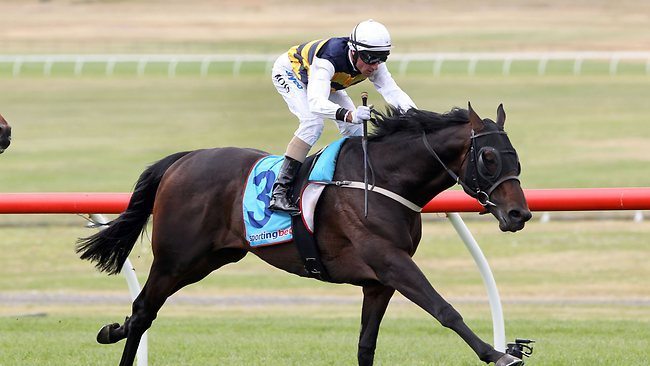 The Peter Moody trained Ibicenco is $71 into $41 at Sportingbet for the 2013 Melbourne Cup after landing some big bets winning today's Sportingbet Geelong Cup.
"Due to the wet track punters completely abandoned favourite Forgotten Voice and they came for Ibicenco late," Sportingbet's Andrew Brown said.
"We took a bet of $10k each way for Ibicenco and a number of other significant four-figure wagers for him," Brown said.
Forgotten Voice remains a $35 chance at Sportingbet for the Melbourne Cup and has firmed from $71 since Tuesday.
In other Melbourne Cup changes, Dandino is $8 out to $8.50, Fawkner is $16 out to $21, Tres Blue is $19 to $20 and Simenon is $17 out to $20. Masked Marvel has firmed from $19 into $18.
2013 Melbourne Cup
Sportingbet Australia market
Fiorente $6.50
Dandino $8.50
Mount Athos $10
Hawkspur $11
Puissance De Lune $11
Voleuse De Coeurs $13
Verema $14
Sea Moon $17
Masked Marvel $18
Tres Blue $20
Seville $20
Fawkner $21
Simenon $21
Dear Demi $26
Jet Away $26
Royal Empire $31
Green Moon $35
Forgotten Voice $35
Ibicenco $41
Kelinni $41
Silent Achiever $41
Foreteller $41
Brown Panther $41
Dunaden $41
Julienas 441
Moriarty $41
It's A Dundeel $41
Red Cadeaxu $41
Super Cool $61
Goldoni $81
Mourayan $81
Trevieres $81
Sneak A Peek $81
Mr Moet $91