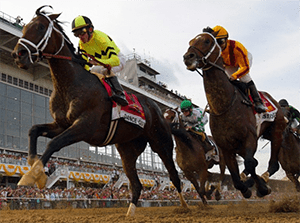 Estimated Reading Time: <1 minutes
THE Preakness Stakes is the second leg of the U.S Triple Crown where Kentucky Derby winner American Pharoah will hope to go one step closer to the coveted Triple Crown.
The US$1.5 million race for three-year-olds is considered the easiest of the three races to win, but the Pimlico Race Course in Maryland plays tough as the race record still stands with Secretariat in 1973.
All the focus has been on current favourite American Pharoah ($1.62 at Sportsbet.com.au) which won the Kentucky Derby by toughing out Firing Line and stablemate Dortmund.
The big talking point in the Derby was whether or not it could win from such a wide barrier, but Wednesday's Preakness Stakes barrier draw hasn't left trainer Bob Baffert any more pleased after drawing the inside gate.
In American racing, especially in the big races, the inside barrier draws are considered to be bad as the horses get squeezed up on the inside. They don't mind running three-wide without cover, so when Baffert's two entrants American Pharoah and Dortmund drew barrier 1 and 2, he couldn't quite believe it.
"I can't believe I drew the 1-2 of all draws," said a displeased Baffert, noting that if American Pharoah is the best horse, "we're going to find out."
"It's the luck of the draw. I don't love it, but it will be easy to watch."
Justin Zayat, the son of owner Ahmed Zayat, gave his opinion via Twitter.
"The champ will just have to work for it from the rail. I have faith in AP," Zayat said.
The last horse to win the Preakness from barrier 1 was Tabasco Cat in 1994 and the last to win from barrier 2 was Snow Chief in 1986.
There are only eight runners in this year's Preakness Stakes, which will make for a vastly different race to the Kentucky Derby and Baffert agrees.
"It's kind of a different vibe here," Baffert said.
"But, unless they re-draw it, we'll have to live with it," he added about the barrier draw.
If American Pharoah was to win on Sunday, it would be vying to become the first Triple Crown winner since Affirmed in 1978 if it were to win the toughest and final leg at Belmont.
Baffert said both his runners have traveled well from Kentucky.
"He [American Pharoah] was revved up," Baffert said. "His motor I can just feel, shut down. He's a very intelligent horse.
"This was just a routine walk, a new place and he settled in well."
We're not under the impression American Pharoah has the 2015 Preakness Stakes all wrapped up, so we'll preview all eight runners in the field and predicted their finishing position.
2015 Preakness Stakes preview, odds and tips
1. American Pharoah
Trainer: Bob Baffert
Jockey: Victor Espinoza
Odds: $1.62 at WilliamHill.com.au
Drawing the inside barrier hasn't helped the Kentucky Derby winner's chances, but class will take it a long way and the small field almost negates the inside barrier draw.
It raced wide throughout the Derby and still managed to run down both Firing Line and stable Dortmund, so will a more economical run, we could see a very easy victory to American Pharoah here.
The name might be misspelled, but this colt is quickly becoming the Pharaoh of the race track and the odds available look juicy enough to include in multi-bets.
2. Dortmund
Trainer: Bob Baffert
Jockey: Martin Garcia
Odds: $5
Stablemate to American Pharoah, Dortmund didn't disgrace itself in the Kentucky Derby where it finished third, and drawing barrier 2 will actually play to its favour.
Trainer Bob Baffert doesn't agree, but it will be able to find a forward position without expending much energy and there doesn't look to be much pressure coming from any other runner.
American racing heavily favours front runners, as we witness in the Derby, so expect Dortmund to be fighting out the finish in the Preakness.
3. Mr. Z
Trainer: D. Wayne Lukas
Jockey: Corey Nakatani
Odds: $41
The son of Malibu Moon wasn't expected to go well in the Kentucky Derby and it didn't fire a single shot.
It finished 13th and was a long way from the leaders so we can't see it improving enough to feature in the Preakness.
It won on debut as a two-year-old, but it hasn't won in 12 starts since and it best finish was a second placing behind Ocho Ocho Ocho which finished a lowly 14th in the Derby.
The long odds look about right for this and we're not expecting it to run well.
4. Danzig Moon
Trainer: Mark Casse
Jockey: Julien Leparoux
Odds:
Danzig Moon ran very well for fifth in the Derby and looms as a legitimate winning chance in the Preakness at value odds of $17.
The Mark Casse-trained colt has scored only one career win which came at maiden level, but it finished fourth in the Tampa Bay Derby and then a second in the Group 1 Blue Grass before the Kentucky Derby.
It didn't get much luck in the Derby as it encountered traffic problems at a vital stage.
"He got knocked around pretty good in the Derby, but he's a fighter," said Casse.
We agree and the $17 looks like good value, especially for the place which should pay in the $3-4 region.
5. Tale of Verve
Trainer: Dallas Stewart
Jockey: Joel Rosario
Odds: $67
Tale of Verve was on the ballot for the Kentucky Derby and didn't get a run, so there is a lot of unknown about the Dallas Stewart-trained colt.
It's coming off a last start win, but the level of racing wasn't at Group 1 level and the bookmakers are expecting the son of Tale of Ekati to struggle here.
Upsets can happen in horse racing, but we want to see more of this runner before we get excited at those odds.
6. Bodhisattva
Trainer: Jose Corrales
Jockey: Trevor McCarthy
Odds: $67
This three-year-old colt was a last start winner at Pimlico and it hasn't finished worse than fifth in seven career starts.
None of those starts have come at a level close to the Preakness, but it hasn't been fully tested and there is form behind both Frosted – which ran super in the Kentucky Derby – and Keen Ice which finished seventh in the Derby.
We don't think it's up to this level just yet, but look out for it in the future.
7. Divining Rod
Trainer: Arnaud Delacour
Jockey: Javier Castellano
Odds: $26
The three-year-old colt by Tapit bypassed the Kentucky Derby and it looks a danger to the favourites for the Preakness.
The Arnaud Delacour-trained colt is coming off a smart win in the Group 3 Coolmore Lexington Stakes at Keeneland and it has form behind some smart types.
It finished third behind Carpe Diem in the Group 2 Tampa Bay Derby and Carpe Diem was a strongly supported runner in the Kentucky Derby.
There is a lot to like about this runner and the $26 available at Sportsbet.com.au represents value.
8. Firing Line
Trainer: Simon Callaghan
Jockey: Gary Stevens
Odds: $5.50
Firing Line showed its class by finishing second in the Kentucky Derby and it looms as the biggest danger to American Pharoah once again.
The colt by Line of David fought gamely down the Kentucky straight and appeared to have American Pharoah's number, but it was narrowly beaten and will come out of that race much stronger.
It has yet to finish worse than second in six career starts – two wins and four seconds – and it should at least fill one of the three placings up for grabs.
2015 Preakness Stakes projected running order
1st – American Pharoah – $1.63
2nd – Firing Line – $5.50
3rd – Danzig Moon – $17
4th – Dortmund
5th – Divining Rod
6th – Bodhisattva
7th – Tale of Verve
8th – Mr. Z
We're expecting American Pharoah to win again as it looks to have the class edge over this field.
Firing Line comes out of a Kentucky Derby a stronger horse and will again test the favourite at each way odds, and Danzig Moon represents good value after being unlucky last time out.