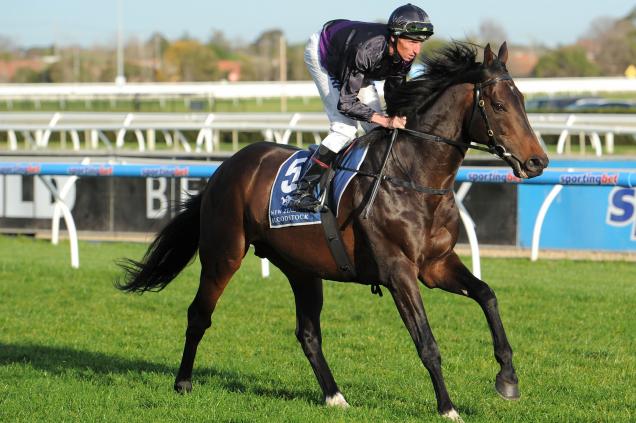 Trainer Gai Waterhouse is set to capture her first Melbourne Cup according to punters who have heavily backed her star six-year-old Fiorente into clear-cut favouritism at Sportingbet for tomorrow's $6.2 million race that stops a nation.
Fiorente's odds have been crunched from $9 into $7.50 at Sportingbet on Cup eve after a high volume of significant wagers, including one bet of $30,000.
"We took a set against Fiorente but the punters smashed us. We held our ground for as long as we could but the money was relentless," Sportingbet Australia CEO Michael Sullivan said.
"Fiorente was backed to win more than $600,000 with us in the space of 12 hours," Sullivan said.
"We've written two significant five-figure wagers for Fiorente and a long list of four-figure bets," Sullivan said.
Caulfield Cup winner Fawkner, one of six runners  for owner Lloyd Williams, has been best backed to beat the favourite, shortening from $26 into $16 at Sportingbet.
"Dandino has also been extremely solid at $13 and there's been strong nibbles for Dear Demi, which suggests the Caulfield Cup form will once again play its part," Sullivan said.
Other horses well backed on Cup eve include 2011 runner-up Red Cadeaux, which has firmed from $81 into $61 at Sportingbet.
Another Williams runner, Sea Moon, firmed from $19 into $15 after a string of bets including one of $8,000.
"It's a wide open Cup but punters have finally settled on Gai and Fiorente and the money suggests that combination is going to be very tough to beat," Sullivan said.
2013 Melbourne Cup
Sportingbet Australia market
Fiorente $7.50 (was $9)
Mount Athos $10 (steady)
Dandino $13 (steady)
Sea Moon $15 (was $19)
Fawkner $16 (was $26)
Verema $16 (was $14)
Seville $17 (was $15)
Hawkspur $16 (was $17)
Simenon $21 (was $16)
Dear Demi $17 (steady)
Voleuse De Coeurs $17 (steady)
Tres Blue $19 (steady)
Brown Panther $19 (was $21)
Royal Empire $19 (was $26)
Masked Marvel $31 (steady)
Foreteller $31 (was $34)
Green Moon $31 (was $41)
Dunaden $41 (steady)
Ruscello $51 (steady)
Super Cool $51 (steady)
Ibicenco $51 (was $81)
Red Cadeaux $61 (was $81)
Ethiopia $71 (was $81)
Mourayan $126 (was $81)