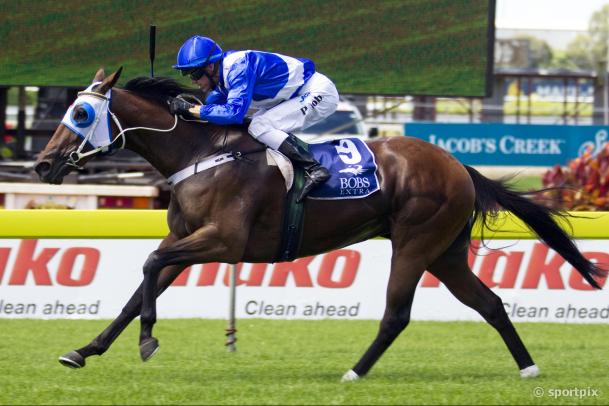 She may not have won the Mackinnon Stakes today, but Dear Demi has been a big mover for the Melbourne Cup, in from $34 to $17 with online bookmaker Sportsbet Australia.
Ruscello has also firmed significantly, in from $201 to $41 after winning the Lexus Stakes, while Jet Away's disappointing run has seen him drift out from $21 to $34 for the Cup.
"Those who got on Ruscello early will be happy, while Dear Demi has moved from an outsider to a genuine threat at $17," said Sportsbet's Shaun Anderson.
Fiorente and Mount Athos remain the joint Cup favourites at $7.50 each.
Melbourne Cup
(Prices in brackets from Friday 1 November)
$7.50   Fiorente                      (steady)
$7.50   Mount Athos             (steady)
$10      Hawkspur                    (steady)         
$12      Dandino                       (steady)       
$13      Voleuse De Coeurs      (steady)
$13      Verema                       (steady)
$17      Sea Moon                    (steady)
$17      Seville                          (steady)
$17      Dear Demi                  (in from $34)
$19      Tres Blue                     (steady)
$21      Simenon                      (steady)
$26      Royal Empire, Fawkner, Brown Panther, Foreteller
$31      Masked Marvel           (out from $26)
$34      Jet Away                      (out from $21)
$41      Dunaden, Green Moon, Super Cool, Ruscello (in from $201)
$51      Red Cadeaux, Ethiopia
Others quoted