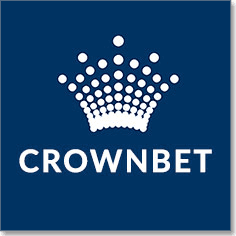 PUNTERS will say goodbye to the popular BetEasy name, with the less-than-year-old bookie being rebranded Crownbet, after gambling giant Crown Resorts bought a controlling share in the bookmaker recently.
The re-branding comes after billionaire James Packer secured 67% of the company in December last year, teaming up with betting pioneer Matthew Tripp, the CEO of BetEasy, in a move which signalled the intentions of the pair to take on global giants like William Hill and Paddy Power.
The company will announce the change on Tuesday morning with both Packer and Tripp expected to make a joint announcement, which teams up two of Australia's most successful businessmen, who also happen to have fathers who crossed paths numerous times when Alan was a leading bookie and Kerry one of the world's biggest gamblers went head to head for millions of dollars.
Matthew Tripp is one of the most successful people in the Australian betting world, he was the mastermind behind the success of leading bookie Sportsbet, buying the company for a measly $250,000 in 2006 before selling it just five years later — for a whopping $338 million.
Tripp then reportedly paid $10 million for the assets of the Betezy business, re-branding the company as BetEasy last year.
During its short time on the online bookmaker ranks, BetEasy quickly made a name for itself as the best 100 per cent Australian owned option for punters, with the new venture set to become a powerhouse with the Crown brand and its money behind it.
Packer, head of the Crown Resort Empire, is also a force to be reckoned with in the online gambling scene. James, made headlines after securing 100% of Betfair Australasia, which has since continued to operate as an individual entity, last August, before incorporating BetEasy into his master plan.
As BetEasy begins to fade into the memories of punters, Crownbet will provide the same outstanding service for customers and potentially has even greater scope for growth. With the power of Packer's Crown Casinos working in unison with the skilful and savvy Tripp, there is few that would dare to say that Crownbet cannot become one of the world's largest and most powerful bookmakers, continuing both men's already emphatic domination of the online betting world.
The new domain is expected to be launched sometime early on Tuesday morning, you can go to www.Crownbet.com.au to see if the new website is up.