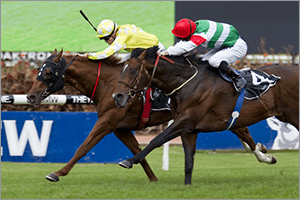 Estimated Reading Time: <1 minutes
THE final field and barrier draw has been confirmed for the 2015 $3 million Group 1 Doncaster Mile at Randwick this Saturday.
The major race of day one of The Championships features two-time winner Sacred Falls and two Japanese runners World Ace and Real Impact.
The field won't include talented three-year-old's Sweynesse and Kermadec, as the Australian Turf Club has elected to ignore their powers to allow them into the field.
"The board considered the final acceptances and after due consideration came to the conclusion that the best outcome was to stick with the field the way the balloting conditions were advertised so there were no changes made to the final acceptance field," ATC spokesman Colin Tuck said.
"In this case Sweynesse and Kermadec become first and second reserves."
Despite not making the initial field, second emergency Kermadec is the second favourite at $6.50 at CrownBet.com.au, but will need some luck to get into the field.
A field of 20 was decided upon (four added emergencies) with the top weight going to the Chris Waller-trained Sacred Falls which is looking to win its third Doncaster Handicap.
Current favourite Hallowed Crown has been dealt a harsh blow of barrier 23 but its price has stayed steady throughout the week.
2015 Doncaster Handicap field, barrier and odds
*Odds courtesy of Sportsbet.com.au
1. Sacred Falls (20) – $18
2. Happy Trails (2) – $21
3. World Ace (16) – $17
4. Real Impact (21) – $7.50
5. Moriarty (5) – $67
6. Royal Descent (18) – $9 at CrownBet.com.au
7. Ninth Legion (8) – $51
8. Puccini (17) – $101
9. Cosmic Endeavour (15) – $34
10. Hallowed Crown (23) – $5.50
11. Hooked (12) – $21
12. It's Somewhat (4) – $17
13. Diamond Drille (22) – $26
14. Pornichet (13) – $8
15. Destiny's Kiss (9) – $67
16. Arabian Gold (5) – $17
17. Leebaz (3) – $26
18. Rudy (6) – $21
19. Suavito (1) – $15
20. Plucky Belle (10) – $34
21. Sweynesse (7) – $13
22. Kermadec (19) – $6.50
23. Aomen (14) – $101
24. Malavio (24) – $101
Allowances for overweight jockeys
Racing NSW stewards have granted weight concessions for jockeys riding in the Group 1 Doncaster Mile at Randwick this Saturday.
Stewards are contacting all riders to assess their progress to targeted weights and with jockeys still to be announced for Destiny's Kiss and Leebaz, an updated jockeys list will be available at all bookmakers on Wednesday.
At this point in time there are three riders who have been granted permission to ride at half-a-kilo overweight for the mounts in the Doncaster Handicap.
Dwayne Dunn will ride Ninth Legion at 53kg.
Craig Williams will ride It's Somewhat at 52kg.
Corey Brown will ride Suavito at 50.5kg.
Hallowed Crown preparing well for Doncaster
Co-trainer James Cummings couldn't have been more impressed with Hallowed Crown's work in its lead up to the $3 million Group 1 Doncaster Handicap this Saturday.
The three-year-old worked on Tuesday morning in the dark at Randwick, galloping over 1400 metres with stablemate Maximilian on the Randwick course proper.
Both runners ran their last 600 metres in 38 seconds, with their last 200 metre splits covered in 11.74 seconds.
"He did everything I wanted to see this morning," James Cummings said.
"I was very satisfied with his work.
"He just cruised up to his mate and matched strides, going to the line in a beautiful controlled piece of work. Just what I wanted.
"He came off the track a very happy horse."
Hallowed Crown ($5.50 at Sportsbet) will attempt to become the fifth three-year-old in the last 10 years to win what is considered one of the toughest handicap's in the world. Haradasun, Sacred Falls, Racing To Win and Triple Honour all won as three-year-old's
It will also look to emulate Sacred Falls' win after it placed in the Rosehill Guineas.
"I'm just really impressed with the way the horse has progressed since the Rosehill Guineas," James Cummings said.
"That horse has done exactly as I'd hoped physically going forward into a Doncaster.
"Saturday has to be a career best performance to beat these tough older horses."
Blackiston relieved with Doncaster berth for Suavito
Flemington trainer Nigel Blackiston was anxious during the days leading up to the Doncaster Handicap but he's a relieved man now that Suavito ($15 at CrownBet.com.au) has made the final cut.
Blackiston based Suavito's entire campaign of getting the talented mare into the field for the $3 million feature but even a win in the Group 1 Futurity Stakes was enough to secure a spot in the field.
Suavito's handicap of 50kg remained untouched with it's Futurity and Blamey Stakes wins not counting towards a higher handicap.
"Until you see your name in the field, you don't know, so it was a bit of a relief to see her there," Blackiston said.
He believes the Doncaster is one of the toughest races to win but is pleased with the conditions of the race, especially seeing as his mare drew the inside barrier.
"For me it is the hardest on the Australian racing calendar. It's just a tough, tough race to win.
"She's got a light weight and she's a tough mare. Now she's got a decent gate, she'll be right there."
The daughter of Thorn Park has already caused an upset win in the Group 1 Futurity Stakes when it defeated odds-on chance Dissident and Blackiston is pleased with its work throughout the week.
"She's pretty clean winded and I galloped her on Saturday morning.
"She worked on the steeple grass with her mate and worked over six furlongs and home nicely over the last three furlongs. She ran her last 400 in about 23 [seconds].
"She's ready for a tough mile."